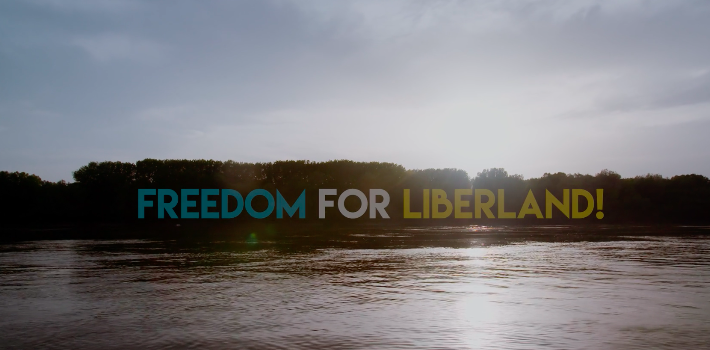 EspañolNear the border of Serbia, in a small field located northeast of Croatia, Czech politician Vit Jedlicka proclaimed the founding of a microstate, more than one year ago.
In that space, a motto now prevails: live and let live.
It is a land that now fights for permanence, autonomy and independence: Liberland.
"Freedom for Liberland!" Is the name of a short documentary released a few days ago explaining the emergence of the country's goal to become a state and spread its ideas of freedom throughout the world.
Liberland came to be in 2015 when Jedlicka founded the microstate on land that had not been claimed by Serbia, nor by Croatia for more than 20 years after the division of Yugoslavia.
"It is easier to create a new country, than to change the old system," Jedlicka said in the documentary.
According to the international law of terra nullius, if no one has claimed a land no one can say that space is theirs until someone claims it. And thus, Liberland was born.
Serbia did not mind the idea, but Croatia was far less openminded.
"The idea that someone from outside can come to this border and claim the territory was not very popular for Croatia. Since then they have been arresting people trying to enter the area," Jedlicka said.
Jedlicka was arrested twice by police in Croatia last year. When he tried to enter Liberland this April, he learned that the Croatian Government had banned him.
However, he has not given up. Since his arrest, the President of Liberland has maintained a constant push for getting the country recognition. He has made several international tours taking the message of the free nation around the world. So far he has visited more than 50 countries with the aim of establishing diplomatic connections and recognition.
To Jedlicka, Liberland is not just a country, but a message transcending physical boundaries.
"Liberland is an idea, but all nations are," he said during an interview with PanAm Post.
Jedlicka hopes that the success of their nation will become an example for future models around the globe.
The documentary, which was filmed during the first anniversary of the nation, demonstrated the optimism that surrounds the emergence of a nation and an idea. Different people attended the first anniversary in order to contribute and invest in the nascent state.
The film noted that in August 2016, 412,000 people had applied for citizenship.
"Vit continues fighting," the documentary concluded, "Freedom for Liberland."