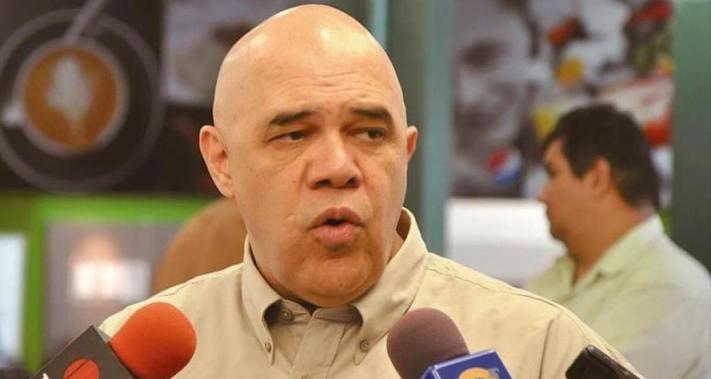 EspañolOn Saturday, May 23, Venezuelan opposition leader Leopoldo López released a video from the jail cell where he has now spent over a year, calling on civil society to join a march on the following Saturday. Its purpose: to demand that President Nicolás Maduro release all political prisoners and establish a firm date for this year's legislative elections.
The march came and went, with at least 10,000 assembling in Caracas to hear the request from López's wife, Lilian Tintori, that they "pledge to unity, pledge to peace, pledge to freedom for Venezuela." The peaceful protest was mirrored by demonstrations in some 10 other cities in Venezuela, and 20 worldwide. But one organization was notable by its official absence.
On the Tuesday, after López issued his call to protest, Venezuela's principal opposition coalition, the Democratic Unity Roundtable (MUD), released a statement saying it would not officially attend or support the demonstration convened by López's party Popular Will (VP). As the MUD receives heavy criticism for its refusal, the PanAm Post reached out to its General Secretary Jesús "Chúo" Torrealba to explain his position.
What did you want to achieve with the statement?
The intention was to establish that, since the MUD is not a party but rather a coalition of various organizations, our way of reaching decisions is by consensus or considerable majority. Popular Will's initiative, although legitimate, was presented to the country and not to the MUD, so some organizations object to it. That makes it impossible for the MUD to officially support the event.
The MUD did exactly what the statement reads: it says the protest is legitimate and leaves it up to individuals to attend if they wish to do so. More than a stance, the document acknowledges the objective facts: that there is a protest, coming from one party, not the whole coalition, and that it is legitimate.
Were all parties and organizations aware of the press release before its publication?
The release doesn't state a position by the political parties, rather it documents the fact that, when asked, a number of organizations showed skepticism and distanced themselves from the demonstration. There was no previous decision. This demonstration was called via a video broadcast by a government-run TV station. There was no space within the coalition to process this information.
Do you believe the opposition is united in Venezuela?
We believe in three things: firstly, the opposition is much more united than in the past. We're constituted through a primary election, where every member organization took part — all of them working to build consensus and participate in the internal polls. Secondly, the people reward this unified behavior, as we saw during our recent primaries.
Finally, this behavior impacts the country, not only among the opposition grassroots. Recent polls have shown that we have earned more than three times the government's support. And for this potential victory to become real, this unity must be maintained and strengthened.
With 80 percent of the public rejecting the government, the only chance for the Maduro administration to recover is if the opposition splits. The only concern I have is over one-sided initiatives like this one, which can cause partial disagreements.
Ten days ago, Venezuela was celebrating the victorious opposition primaries, and today the hot topic is whether or not we are going to attend to this unilateral demonstration. This shows why decisions should be based on consensus, defending the supreme objective: unity.
Then Leopoldo López is sabotaging this unity?
No. I think we are all important, we are all necessary, and all the organizations form part of our political capital in the fight against Chavismo.
What we need to understand is that no leader or party is above the MUD. No leader or party is exempt from consulting with the coalition. It's not about making outrageous claims and saying that since Leopoldo [López] is jailed he couldn't check with [us].
Of course, he is jailed, and that's why we're fighting, but his party is not. And those working with him had the chance to check this with us, or any initiative. Looking forward, there are many highly important decisions that the MUD has to take, and all of these decisions must be the result of debate.
The problem here is not the march, but whether a united, democratic society will triumph, or be divided and defeated.
Was Saturday's rally a mistake by Popular Will?
It was a legitimate rally. It was not embraced by the coalition, because it was not discussed within our ranks. But alliances are not a straitjacket, and organizations can set up their own, independent events.
Everyone has the right to organize their own activities. However, for these events to be embraced by the coalition, they must be discussed within it, and this was not the case.
The government's attempt to make this a schismatic event, and providing press coverage that the primaries didn't receive, doesn't seem like a coincidence. To me, it looks as though the government was, as ever, trying to highlight the opposition's problems and not its progress.
Don't you think that the MUD's decision not to attend an event by a MUD member is proof of divisions? 
No. It's false that MUD has decided not to attend the rally. The coalition has said that this is not a coalition-endorsed rally, but created by an organization, so anyone willing to attend can do so. This is why Henrique Capriles Rodanski, a highly important leader within the MUD, decided to attend. This is not proof of division, but of free will — something that some have forgotten after 16 years of Chavismo.
When you took office as chair of the MUD you said that you would organize huge street protests. Is this still the plan?
That's correct. We also said that what we care about is filling the streets with people, especially those who are yet to be persuaded by the opposition's arguments. We said and wrote that. What do I mean by persuaded? I mean going out and protesting peacefully, and rejecting tactics which have been proven to be useless.
There are people who think about protests as an opposition march, building barricades, or burning tires in the street. The problem is that these versions of the protests have an important defect: they don't convince anyone. Barricades are also a form of struggle that I don't condemn a priori, but it's a form of struggle that doesn't bring in more people.
Right now, as we speak, the nation is protesting because of power cuts. A third of the country is protesting over water shortages, and another third is complaining about insecurity. This is the protest vote we need to embrace and guide. These are the protests that I believe we need to organize, promote, and mobilize.
Will you attend the protest yourself?
I'm not ruling it out, but I have other activities scheduled for that day. I founded and manage a civil-society group called Neighborhood Radar, which is about to turn 10 years old, so on Saturday I already have an event. I hope I can organize my schedule so I can attend.