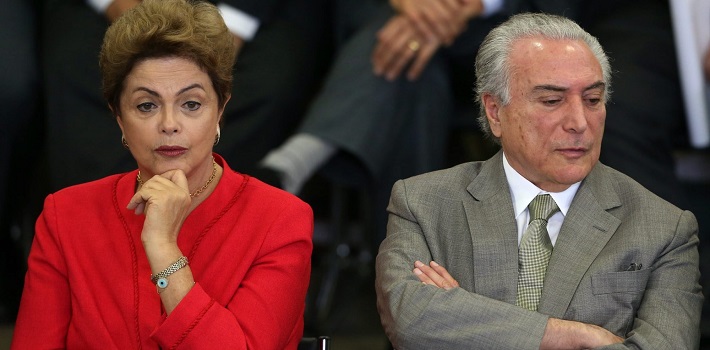 Suspended President Dilma Rousseff's impeachment trial, which cannot last longer than 180 days, and her temporary replacement by her former vice-president Michel Temer, who leads the Brazilian Democratic Movement Party (PMDB), transcend Brazilian politics.
In particular, the current situation in Brazil weakens leftist regimes, parties, movements, and multilateral organizations in many other Latin American countries still dominated by "21st Century Socialism." This is the case for obvious reasons.
Brazil's Workers' Party governments under former president Lula Da Silva and Rousseff (2003-2016) sought a prominent place in international affairs. They also played a fundamental role in maintaining Latin America's balance of power and in strengthening the hemisphere's radical left.
Brazil, in fact, was very influential in the Mercosur regional trading block and in the creation of the Union of South American Nations (UNASUR). These were used as umbrella organizations that fostered the spread of leftist regimes while weakening the Organization of American States (OAS).
Brazil also played a shameful role in condemning the supposed coup d'état in Honduras in 2009 and in financially supporting the "revolutionary" regimes in Cuba and Venezuela, with whom the Brazilian socialist leadership fostered bilateral and multilateral partnerships.
Brazil's former support for Chavista regimes explains the eloquent defense of the Lula-Rousseff tandem which Latin American governments have pronounced in recent days. One of Rousseff's most stalwart defenders has been UNASUR president Ernesto Samper, a former president of Colombia who himself faced impeachment proceedings in the Colombian congress, which was controlled by his own party, for his campaign's acceptance of money from drug cartels.
Samper declared that the proceedings against Rousseff are "worrying" since "the instability in Brazil could spread to other countries in the region." He added that "if the charges (against Rousseff) are considered valid, then any president might be impeached for a simple administrative act considered to be mistaken."
Venezuelan President Nicolás Maduro and Cuban strongman Raúl Castro soon followed Samper, declaring that the impeachment proceedings in Brazil were part of an "imperialist reactionary counteroffensive" and a "fundamental step towards a coup d'état."
Rousseff's own defense, in fact, is that the impeachment trial against her is no more than a disguised coup attempt. This, however, is mere grandstanding by a weak leftist leader who is aware of her own vulnerability.
After the defeat of Cristina Kirchner in Argentina, Evo Morales's failed referendum in Bolivia, Rafael Correa's refusal to run again for the presidency in Ecuador, and the international outcry caused by Venezuela's worsening economic and humanitarian crisis, it is evident that the Latin American left is mortally wounded.
We are witnessing the death throes of a continental movement that has fought for decades, both before and after the Foro de Sao Paulo, an event organized in 1990 by the Brazilian Workers' Party and Cuba's Communist Party in order to redefine the continental left's aims and activities.
All eyes are upon Temer, Brazil's new head of state, and his cabinet. They will inevitably have to take measures to correct the country's wayward economic path. They will also have to wage a tough battle against Lula, Rousseff, and the entire Workers' Party.
Until now, Temer's appointment of José Serra, a center-right senator, as the new head of Brazilian diplomacy sends a strong signal to the world. Serra has been a fierce critic of Lula's foreign policy, continued by Rousseff.
Michel Temer seems to be taking advantage of his interim presidency to weaken the neo-communist left which has governed much of Latin America in the 21st century.