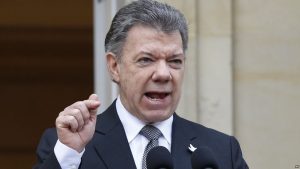 EspañolPresident Juan Manuel Santos' struggles to reach a peace agreement with the Revolutionary Armed Forces of Colombia (FARC) are becoming increasingly evident as he continues his peace negotiations in Havana.
Santos was all but forced to begin peace negotiations, and no doubt invested more time and effort in and out of Colombia than he ever planned. He had no choice but to postpone the mythical March 23, 2016 date he had set for the peace agreement signings last year, and now has to redouble his efforts to make up for it. In late April, he replaced seven cabinet members with people fully committed to the negotiation process.
On the outside, President Santos has also accepted all the international support he can get — including from the Vatican and the United States. After Santos' February 2015 visit to Washington DC, he won Barrack Obama's approval of the "Paz Colombia" plan to fight drug trafficking and guerillas.
"Paz Colombia" is an aid program backed by more than US $450 million for maintaining negotiations with FARC.
Santos has continuously said 2016 is the year of peace, and that the negotiation process with FARC will be "irreversible." During an April 19 speech, he warned that the country could return to the era of "massacres and terrorist acts" if a peace agreement with the FARC is not signed.
Despite all his efforts, Santos still has several hurdles to overcome on his way to achieving the peace deal he so desperately wants, as pitfalls continue to plague the negotiating process in Havana. Though four out of five points for "ending the conflict" have been agreed upon — including a bilateral cease-fire — FARC still insists they will only surrender if given security guarantees. They also demanded the end of para-militarism, but continue armed attacks in the region of Caqueta.
It's obvious FARC is constantly violating the ceasefire their leader "Timoshenko" previously announced, leading some to believe he does not actually want to reach a peace agreement that would FARC less than a "political force."
According to the latest report by the Resource Center for Conflict Analysis (Cerac), since reaching an agreement on bilateral measures of "de-escalation" in July 2015, FARC have violated the pact eight times.
Moreover, Santos and his government continue to face poor public response to the negotiations in Havana, according to recent opinion polls and the massive march held last month, April 2, which saw thousands of Colombians across 25 cities protest the peace negotiations.
The latest polls show three-quarters of Colombians have serious doubts about the guerrillas' commitment to lay down their weapons. According to a May survey by Gallup Colombia, "most Colombians think that the peace talks between the government and the FARC have gone astray (66 percent) and only 28 percent of respondents trust that this year a final peace agreement with the FARC will be signed."
In general, the Colombian president's approval rating fell to 21 percent, his lowest numbers since taking office in August 2010.
President Santos continues to ensure people that the agreement will be signed before September 2016. His administration will present a referendum proposing peace so Colombians can have their say on the Havana meetings.
One wonders then, what else will President Santos yield to FARC? This is the only option President Santos has left if he wants to succeed in reaching the long-awaited peace agreement.
Little is known about it, but confidential sources say the president is negotiating an agreement that would result in jail time for many FARC members, while others would simply be confined to a specific area of the country — all of which would be terrible for Colombia.