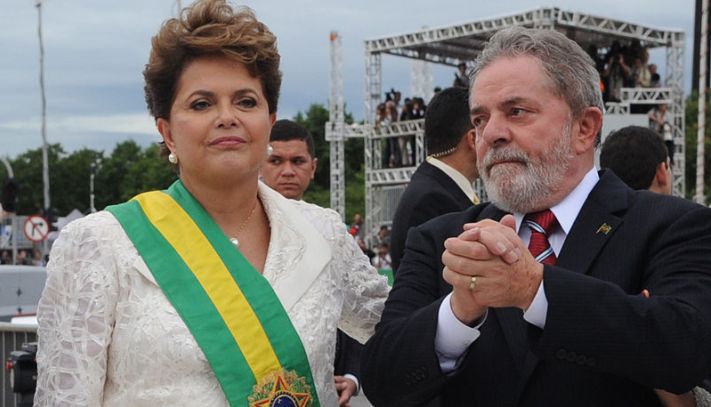 EspañolUntil very recently, most Brazilians may not have thought that the massive protests, corruption scandals, and economic crisis would lead to an early exit from President Dilma Rousseff. However, the events of the last few weeks suggest it is a growing possibility.
Both she and former President Luiz Inácio Lula Da Silva, Rousseff's mentor, have refused to acknowledge these signs, along with Brazil's increasingly grim economic, political, and social outlook.
In her recent speech at the UN General Assembly, Rousseff attempted to appease the international community: "Today, the Brazilian economy is stronger, more solid, resilient, than some years ago. We have the conditions to overcome current difficulties and walk through the path to development.… We are transitioning towards a lasting, solid expansion cycle," she claimed.
But reality shows a different picture.
While Brazil is not on the brink of economic collapse, as is frequently the case in Latin America, most local and international analysts predict at least a two-year recession period. The Brazilian Central Bank's own forecast for 2015 is a 2.8 percent drop in GDP, and a 1 percent decrease in 2016.
In addition, unemployment and inflation levels are expected to rise, which will force the government to adopt bolder, and naturally more unpopular, austerity reforms.
Rousseff's approval rate, which has remained around 9 percent since June amid a historic devaluation of the national currency and the recent slashing of public spending, is likely to suffer another blow.
On October 2, President Rousseff announced her administration would eliminate eight ministries, 30 secretariats, and 3,000 state-employee positions, in addition to cutting ministers' salaries by 10 percent. The decision would mean R$200 million (US$50 million) in yearly savings for the Brazilian government. How the public will react to this reform has yet to be seen, although it seems to have already appeased her main opponents in Congress.
The idea of impeaching the president is now openly discussed in Congress. On September 23, Chamber of Deputies Speaker Eduardo Cunha read the procedure to review the requests for Rousseff's impeachment that have already been filed.
Surely, negotiations with the majority party, the Brazilian Democratic Movement (PMDB), has allowed Rousseff to pass these austerity measures and helped her dodge impeachment and other issues for the time being.
Meanwhile, the PMDB, whose members include Vice President Michel Temer, and the heads of both chambers of Congress, Eduardo Cunha and Renan Calheiros, secured control of the state institution with most funds, the Health Ministry, along with seven others.
[adrotate group="8″]
But how long can this weak alliance last? There is no guarantee, and the PMDB is well aware that the future of Rousseff's political life is in their hands.
Lastly, the widespread belief among Brazilians that Rousseff is incapable of steering the country back on the path of economic growth and political stability is yet another indicator that her reign is coming to an end. This is further evidenced in recent polls, and this is why opposition leaders and thousands of Brazilians have been demanding her resignation.
Everything points to the likelihood that President Rousseff will not make it to the end of her second term on January 1, 2019.