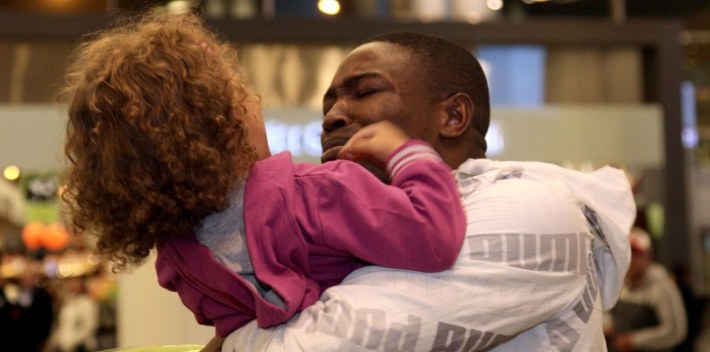 EspañolAs a young soccer player, Phil Jackson Ibargüen abandoned his hometown of Itsmina, Colombia, to pursue a professional career in the big leagues. He became a rising striker in Bogotá's Independiente Santa Fé in 2005, and went on to play in Ecuador and Portugal.
In 2008, he fell into the hands of unscrupulous managers who took him to Bosnia and Herzegovina, where he was kept in semi-slavery for four years.
His odyssey began when the Bosnian Premier League club, FK Laktaši, hired him for 18 months in the summer of 2008. It was shortly after his fourth month that they stopped paying him. Ibargüen left and continued his career on various low-tier European clubs. However, he claims the clubs never paid him in full, and even withheld his passport.
"I had to go out, and do whatever I was a offered, living day to day," Ibarguén says. "I couldn't just stay at home while my family went hungry. If I had to unload a truck, I'd do it. If I had to work on a farm, I'd do it."
After years of tremendous adversity, Ibarguén received a job offer in 2013 that would allow him to return to Colombia. Since he could not afford to bring his family with him, he returned to South America alone. In the end, however, the deal never went through. Concerned that he may never see his family again, Ibarguén filed a report with the Ministry of Labor and confessed to having been a victim of human trafficking.
A foundation helped him reunite with his family, and while his personal life has improved, the soccer player remains concerned by the little progress his case has made in two years.
"I would like to be compensated for all the damage they did to me. They ended my career, and after many years of struggle, I still don't have a decent wage with everything that happened there," he says.
While Ibargüen's story is somewhat unique, many Colombians leave the country based on false promises, only to end up in the hands of human traffickers abroad. Female victims are generally forced into prostitution, forced marriages, or made to become servants, nannies, and maids. Men, however, are subject to other forms of forced labor, and in many cases are used in drug-trafficking operations.
[adrotate group="8″]
Sexual exploitation accounts for most of the 60 cases reported annually to Colombia's Inter-Institutional Committee to Fight Human Trafficking, followed by forced labor and forced marriage.
The organization has received 28 complaints so far this year. UN numbers, however, suggest the situation could be worse. The United Nations reported 155 cases of human trafficking between 2010 and 2014 in Colombia. Most of them, 112, were related to sexual exploitation, and 43 involved forced labor.
The Colombian Ombudsman has aided 32 victims of human trafficking with legal and psychological assistance so far in 2015, surpassing the yearly average of the last five years.
"The issue of numbers in human trafficking is always a problem," says Carolina López Velardo, coordinator for the Fight against Human Trafficking at the International Organization for Migration (IOM).
"There is no single system to consolidate the data on victims, and authorities have no knowledge of this issue. Sometimes they register it as another kind of crime, and for victims, it's also difficult to admit it. It's not easy, after living under such harsh conditions, to tell the world about it," she says.
For its part, the IOM has recorded over 130 cases of human trafficking in Colombia between 2012 and 2015.
"The IOM purportedly assists one out of seven victims. We know that behind every kidnapped woman there are many more being exploited. According to other estimates, for every person that escapes, there are between 15 or 20 people who continue being exploited," López says.
Domestic Trafficking
Human trafficking is also a serious problem within Colombia's borders. The departments of Valle del Cauca, Antioquía, Eje Cafetero, and Cundinamarca are home to citizens who are most vulnerable to sexual exploitation.
The US State Department's Trafficking in Persons Report 2015 highlights the difficulties Colombia faces in preventing kidnappings and facilitating access to the courts for victims.
"Authorities reported high rates of child prostitution in areas with tourism and large extractive industries, and sex trafficking in mining areas sometimes involves organized criminal groups," the report states.
The State Department notes that "Colombian labor-trafficking victims are found in mining, agriculture, and domestic service," and include child workers. "Colombian children and adults are exploited in forced begging in urban areas," the report adds.
Furthermore, the US government also claims that illegal armed groups in Colombia forcibly recruit children to serve as combatants and informants, to grow drugs, or to be forced into prostitution.
"It's an open secret. The institutions know that rings start at the local level, and then grow beyond our borders," López explains. "But it is hard to know how many [networks] are established in the country because that's classified information."
As for external networks, human traffickers usually take Colombian victims to Panama, Trinidad and Tobago, Ecuador, Argentina, and China.
According to the IOM, many of the kidnapped women in the coastal city of Buenaventura are taken by boat to Trinidad and Tobago through Venezuelan territory. Those transported to Panama are often sent via plane from the airport in Pereira. "You can sometimes see planes full of girls, and you know something fishy is going on," López says.
"Some years ago, [human traffickers] used to take them to Asia, but the trend now is to send them to countries in the region, because it's easier to cross land borders, legally or illegally."
Recently, Colombia has also become a popular destination for indigenous people from Ecuador, who come to the country to sell handcrafts on the street or work as domestic workers.
The United Nations has registered some 510 routes for human trafficking, and has found Colombians to be victims of this crime in Argentina, Mexico, Ecuador, Paraguay, Peru, Costa Rica, Trinidad and Tobago, Brazil, Indonesia, and China.
According to López, women are especially vulnerable to human trafficking. Victims usually come from low-income households, have little or no education, and are single mothers who got pregnant in their teens, according to the IOM.
López says that Colombian women who meet the beauty standards of men overseas have also been abducted while using public transportation. She notes, however, that victims frequently know their kidnappers, and may be relatives, friends, or someone who earns the victim's trust in a short time.