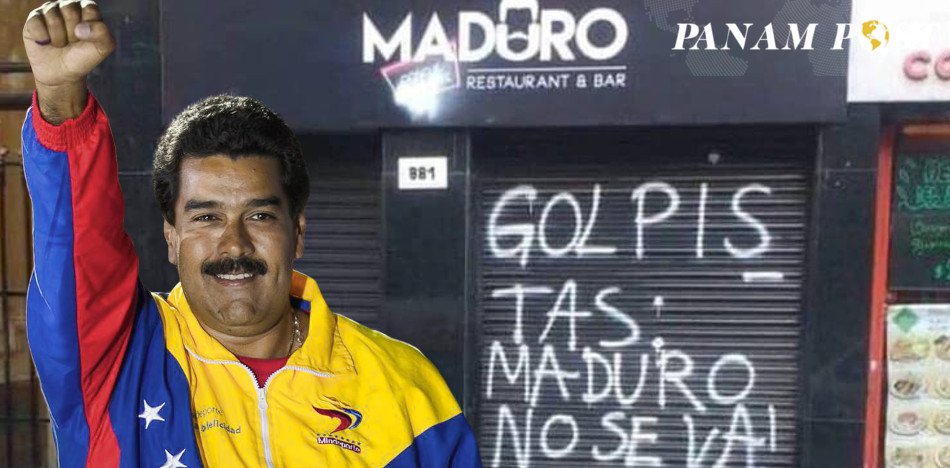 Argentina is one of the most desirable destinations for Venezuelans forced to escape the Venezuelan crisis caused by Hugo Chávez and Nicolás Maduro. Many manage are able to find work here, and some even arrive with a small amount of capital and are able to start businesses.
That was the case of Alexander Fajardo, who decided to open a bar and restaurant in the Buenos Aires neighborhood of San Nicolás. His goal was to be able to gain enough financial stability to be able to bring his family, still in Venezuela. But in addition to traditional food, signature dishes, and drinks from the Caribbean, Fajardo decided that the venue should have a clear theme: protest and repudiation of Chavismo, which caused so much damage to his family and his countrymen. To leave no doubts, he called the place "Maduro, screw your mother." Inside the establishment, in addition to the beautiful images of tourist attractions of Venezuela, he showed images of the repression, chaos, and deprivation caused by the Chavista dictatorship.
Fajardo described the theme of his new business as "gastronomy of the resistance." That's why on the menu you could find drinks and dishes with names like "Pepito El Manifestante" (Pepito the Propestor) or "Pepito Resistencia" (Pepito from the Resistance).
But it wasn't long before Fajardo had problems. First he arrived to find that a gang of Chavista thugs had spray-painted and vandalized his business overnight, painting "Maduro is not leaving" on his front door. They left this as a warning. At first, Fajardo set aside the incident, and continued working in his business and saving the resources to bring his family to Argentina.
Recently, Fajardo received worrying news from his wife in Caracas: "My wife called me, she told me that colectivos (Chavista paramilitary gangs) had arrived at the business we have at the Central University of Venezuela. They extorted our business, and said if we didn't pay the would burn it down," he told the Infobae website.
But the situation worsened when they learned that his family was the owner of a restaurant in Buenos Aires with a theme that was critical of the dictatorship. "They found out that I was the owner of the business in Argentina with a name that offends them. They spoke directly with my wife and told her that if I did not end its operations, they would burn our business down."
Worried about his family in Venezuela, Fajardo had to close the bar and lose his investment. The threats were clear: "If you do not shut it down, you will pay the consequences," they told him through their relatives.
"Hitherto the dictatorship persecuted me, and the misfortune of Venezuela arrived here in Argentina," said Fajardo.