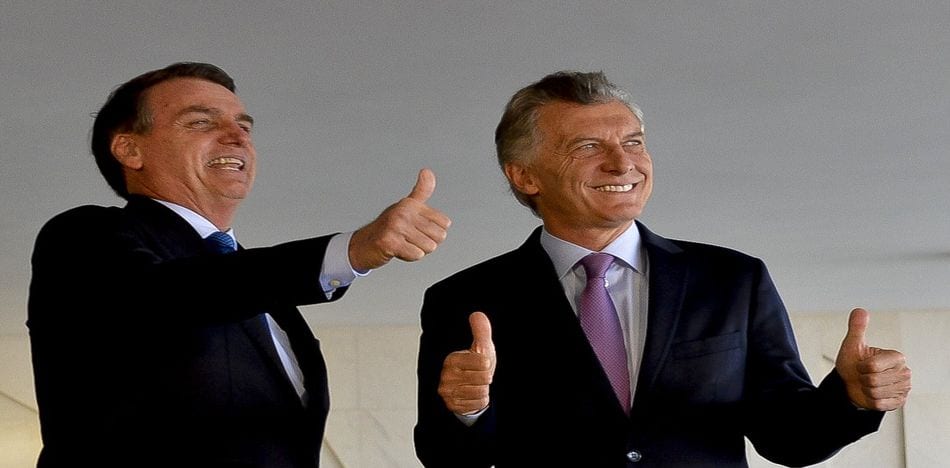 The presidents of Argentina and Brazil recently sat down for a bilateral meeting with an expansive agenda. With Jair Bolsonaro playing host, they issued stern words regarding Nicolás Maduro, whom they called a "dictator," signed a new treaty to expedite extraditions, and promised to meet again soon in Buenos Aires. Mauricio Macri thanked him for the warm reception and promised to cherish the "historic friendship" between both countries and "work together for a better future."
The question of Venezuela loomed over the agenda and after the meeting, Macri made a statement: "We share the concern for Venezuelans; we reaffirm the condemnation of Nicolás Maduro and we do not accept this mockery of democracy. The international community has already realized: Maduro is a dictator who seeks to perpetuate himself in power with illicit elections. We recognize the National Assembly as the only legitimate institution in the country."
In the press briefing, the Argentine head of state stressed that the meeting took place "in a climate of joy and enthusiasm…We feel that we have many things ahead of us and this partnership moves us forward along the lines of the values ​​we share. That is seen in the synergy between our economies. When one is doing well, it helps the other," said Macri.
New extradition treaty
Accompanied by their respective foreign ministers and justice ministers, Macri and Bolsonaro signed a new extradition treaty that is expected to ease criminal proceedings. Brazilian Justice Minister Sergio Moro said that from now on "there will be faster communication," which will allow countries to exchange information in emergency situations, outside diplomatic channels. Moro argued that the current regulations were "a little dated" and did not provide sufficient options in certain situations, such as those involving detentions.
Mercosur
In the signed document, both presidents committed themselves to work on the "revision of the common external tariff", on "improving markets" and "advancing in trade facilitation." They also agreed to "promote the promising negotiations in progress and support the start of new negotiations with other partners." This would indicate that Brazil's position would be closer to opening up Mercosur and inviting new partners into the regional trade bloc, as opposed to throwing in the towel and leaving the organization.
Visit to Buenos Aires
Mauricio Macri formally invited his Brazilian counterpart to attend an official state visit in Argentina, an offer that was received warmly by Bolsonaro. According to the text agreed upon between the parties, the negotiation of the date now remains in the hands of "the diplomatic channels" of both countries.
The relationship between Brazilia and Buenos Aires got off to a rocky start, with Macri's conspicuous absence from Bolsonaro's swearing-in ceremony on January 1, and suggestions by Bolsonaro's top economic adviser Paulo Guedes that Mercosur would not be a top priority for the new administration. The January 16 meeting appears to have dispelled concerns about personal animosities between the two leaders.
The Mercosur trade bloc, which also includes tiny neighbors Uruguay and Paraguay, has long been beset by claims of protectionism and favoritism, which dramatically impact the lives of consumers in the large regional trade bloc. Imports for consumer goods are notoriously expensive, due to prohibitive and byzantine regulations to defend against foreign competition.
Macri also mentioned the urgent need for a trade deal with the European Union; a deal which has gone nowhere despite a decade of talks on the subject.