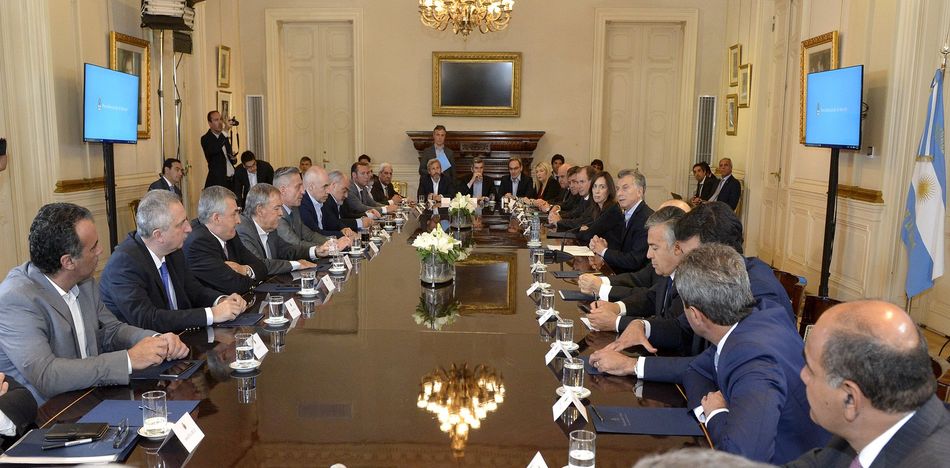 Español Argentina President Mauricio Macri has signed a "fiscal deal" with the country's governors intended to correct imbalances in the budget and end pending conflicts between the provinces.
One of the most interesting points of the agreement is the promotion of credit lines that finance retirements in the public sector at both provincial and municipal levels. The enormous size of the government in Argentina and the country's massive fiscal deficit was caused by the public employment required to keep that bureaucracy afloat, and only increased under the Kirchner years.
The "Retirement Programs" portion of the document touches on a sensitive issue, however, as it proposes "to finance retirement and/or early retirement programs for provincial and municipal public employees with special lines of credit."
"I have spoken with several of you on the issue of public employment and the level of salaries, because we are creating all these conditions to generate work in the private sector," Macri told the governors attending the meeting. "The problem is that if we compete by offering higher wages, the private sector will not be able to generate the labor that it needs to grow."
The Ministry of Finance is reportedly planning to establish credit lines according to the specific personnel reduction programs organized by the different administrations.
Economist José Luis Espert said that in order to solve the fiscal problem between the federal government and the provinces, it's necessary to "repeal federal co-participation."
In this sense, to reduce provincial costs, Espert stressed that in the educational field, for example, the provinces provide exclusively for the first primary cycle. He also warned that the VAT and profit taxes could be reduced by half, and that from that moment on the provinces should have their own taxes "to pay for the bureaucracy that they want."
According to Espert, once the local governments generate their own resources, they should also be free to decide the size of the state they are willing to finance.
Source: Cronista