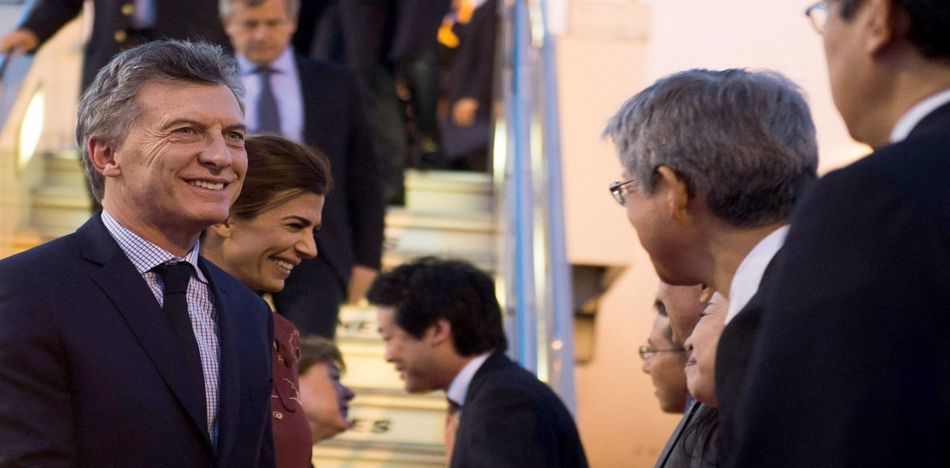 Japanese Prime Minister Shinzo Abe was delighted following his meeting with Argentine President Mauricio Macri, who aims to strengthen the relationship between the two countries.
For the Japanese premier, "Argentina plays the role of economic engine on the South American continent" and stressed that its intention is to increase their nations' ties in the wake of what he described as an "economic opening" spearheaded by Macri.
"With the opening of the Argentine economy, I am convinced that Japanese investments are going to grow every day," Abe promised.
The leader of Japan stressed the need to "collaborate" with Argentina to "fight against protectionism" and seek "concrete achievements with the strategic partnerships of both countries."
It should be noted that in his visits abroad, the Argentine president often projects a different attitude in relation to free markets and free trade. While in his local appearances he seems more supportive of the status quo in the famously regulated and tightly controlled Argentine economy, in his foreign media appearances he seems much more favorable to an opening of Argentina to the world.
During the last leg of his Asian tour, Macri met with different Japanese CEOs and highlighted the advantages of investing in Argentina.
"It is difficult for you to find a country in the world that has more potential for growth than Argentina," said Macri.
Macri took the reigns of Argentina following a decade in power by populist left-winger Cristina Kirchner, who pursued economic policies questioned by many economists, and cultivated close relationships with key "pink tide" regimes, including Venezuela, Bolivia, and Brazil.
While the South American left was once a force to be reckoned with, it has seen its influence diminish, with voters across the region rejecting its brand of left-wing populism at the ballot box, and ousting leftist regimes in Brazil, Argentina, and Peru, as well as handing the Venezuelan opposition a large majority in the National Assembly.
Source: La Nacion