EspañolOn Friday early morning, officers from Venezuela's Military Intelligence burst into the cells of political prisoners Leopoldo López, Daniel Ceballos, Enzo Scarano, and Salvatore Lucchese. The agents "brutally beat" them and confiscated away all their belongings. For almost five months now, López, national coordinator for the Popular Will party, Ceballos and Scarano, former mayors of San Cristóbal and San Diego, and Lucchese, former director of the San Diego police, have remained in Ramo Verde prison awaiting for trial.
While López is being accused of instigating the violence associated with February's student protests, Ceballos, Scarano, and Lucchese are accused of not complying with the Supreme Court's order to repress the protests.
Patricia de Ceballos, current mayor of San Cristóbal and wife of one of Ceballos, denounced the group of hooded men who entered the individuals cells at dawn and severely assaulted the four opposition leaders. According to Ceballos, the perpetrators destroyed all of his husband's writings and beat Lucchese on the back, which caused him deep bruises on both arms.
Scarano's wife in turn presented the medical reports issued by the prison's nursery, prescribing his husband painkillers due to all the injuries.
"Last night our husbands were assaulted in a counter intelligence operation … It's urgent that the world knows what happened," Scarano explained. According to the wife of the former San Diego mayor, a group of men dressed in all black and wearing masks stealthily entered the four cells and wrecked all of the prisoners' belongings. Enzo Scarano demanded a certificate that registered all the objects that were being confiscated, but received a brutal beating instead. Lucchese, in the next cell over, tried to defend Scarano, but was also beaten.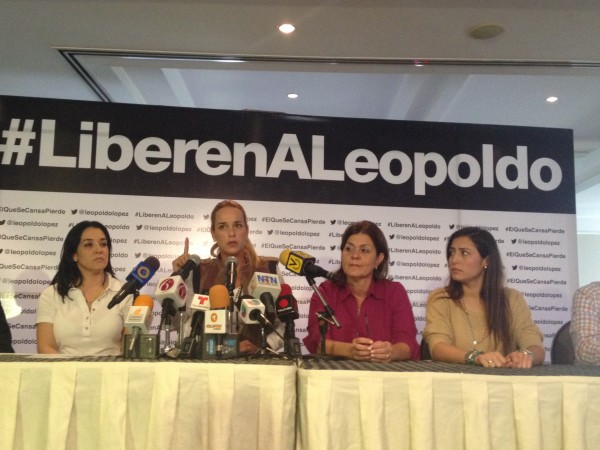 Lilian Tintori, wife of Leopoldo López, said they requested that the attorney general and the Ombudsman check and certify the physical conditions of the political prisoners. Unfortunately, this wouldn't be the first time that Tintori has demanded that the government respect her husband's human rights. In days prior, Tintori condemned that López was being held in isolation, and receiving "arbitrary sanctions." Further, in April and May, López was suspended from any kind of visits, as punishment for "writing letters" from prison.
According to López's attorney, Juan Carlos Gutiérrez, on July 21 the prison director, Colonel Omero Miranda, and the Fundamental Rights Department director, María Bertely, signed a document to lift the ban on visits for the four prisoners. However, they never implemented the decision.
"What happened early in the morning is very serious. Not only because of the flagrant human rights violations against political prisoners who remain in Ramo Verde military prison, but also because it was a breach of the written agreement that was presented last Monday," López's attorney stated.
The agreement Gutiérrez referred to would have allowed López, Scarano, Ceballos, and Lucchese to have contact with other inmates, participate in sport activities, and receive family visits. The purpose was to guarantee the prisoners' fundamental rights, the lawyer explained, and "to obey the law that prohibits the application of sentences and punishments to individuals who are still being processed, and are presumed not guilty."
Attorney General Luisa Ortega Díaz, however, has rejected claims that there of solitary confinement applied to López: "When the prosecutor arrived [to verify their confinement conditions] this individual [Leopoldo López] was at mass. I have a picture of him, next to the priest reading psalm … and he's with a group of other inmates. This evidence proves that he's not isolated," Ortega Díaz explained.
However, according to councilman Freddy Guevara, a representative from López's political party, the authorities simply allowed the four political prisoners to participate in a mass, and nothing else. Guevara described it as a "trap" to cover for the continued persecution and psychological torture on López and the rest of the regime's political prisoners: "This was a set up so that [the political prisoners] could be outside … long enough to take a picture of them, spread it at a national and international level, and argue that they were never isolated," Guevara asserts.
Pictures of López alongside Ceballos, Scarano, and Lucchese, attending the mass and hanging out outside their cells, proceeded to go viral on social media.
https://twitter.com/ResistenciaV58/status/491935180190253057/

A new picture has leaked with Leopoldo Lopez, Enzo Scarano, Daniel Ceballos, and Lucchese at Ramo Verde
https://twitter.com/Verdadjudicial/status/491335158310903809/

Leopoldo López isolated? This picture was taken on Thursday…
However, "the solitary confinement continues," Guevara insists. "They even took away their books and belongings, while being assaulted. It's not true they have the right to see other people…"
On July 24, the trial that will decide the future of Leopoldo López, began. "This is a trial with no evidence," López affirmed at the beginning of the session. The judge, however, admitted all the evidence introduced by the prosecution, and denied all the ones presented by the defense. Therefore, the trial will have 138 witnesses against López, and only one in favor of the opposition leader.