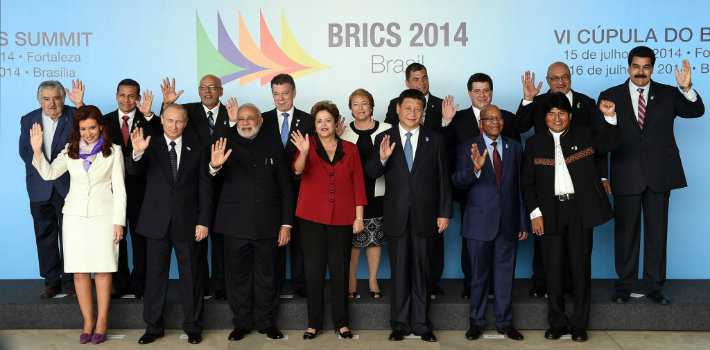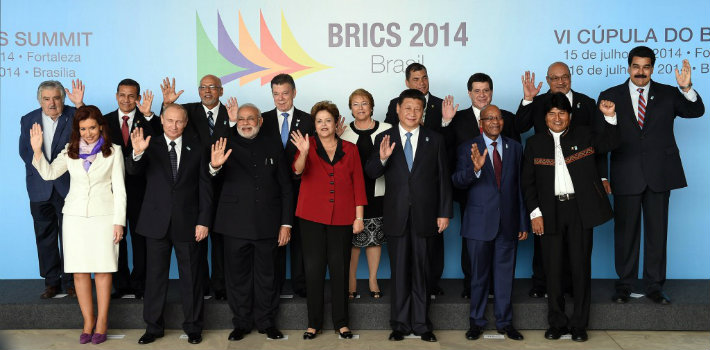 EspañolThis week representatives from five rising economies — Brazil, Russia, India, China, and South Africa (BRICS) — gathered in Fortaleza, Brazil, buoyed by their rising international stature. At the tail of their annual summit and relocated to Brasilia, the heads of state met with members from the Union of Southern Nations (UNASUR) to discuss "growth with social inclusion," as described by host President Dilma Rousseff.
On the side, Chinese President Xi Jinping also took the opportunity to meet with members of the Community of Latin American and Caribbean States (CELAC) to initiate a China-Latin America Permanent Forum.
Two countries, however, stood out among the guest list: Venezuela and Argentina. These two nations have led the "anti-imperialism" rhetoric on the continent, but economic crises have pushed them to seek amenable allies. The BRICS could well become the new go-to bloc for South American nations in desperate financial need.
The most notable outcome from this week's summit was the BRICS New Development Bank. The newly created institution will finance infrastructure projects, and seeks to better the International Monetary Fund and the World Bank. Brazil's President Dilma Rousseff described the new bank as "an alternative source of financing for developing countries," and an institution that will help to "improve the global financial architecture."
Similarly, presidents from Latin America welcomed this initiative. Evo Morales, Bolivia's head of state, stated that "what the [World Bank] and the [International Monetary Fund] actually did was blackmail governments.… I'm certain that the new development bank will put an end to policies of neoliberalism and new colonialism."
The new financial institution will allow emerging economies to borrow funds for infrastructure projects, and have capital of US$50 billion. The initial $10 billion of that will come from donations split equally between the five members.
The initiative will work hand in hand with a Contingent Reserve Arrangement (CRA) of US$100 billion, funded through contributions from China ($41 billion), Brazil, Russia, and India ($18 billion each), and South Africa ($5 billion). According to Rousseff, the fund will become a defense mechanism for member countries in situations of financial crisis.
BRICS and Latin America: A Win-Win Situation?
Venezuela and Argentina made no attempt to conceal their interest in relationships with the BRICS members.
Argentina's President Cristina Kirchner, joined by Foreign Minister Héctor Timerman and her economy and industry ministers, took the opportunity to draw attention the nation's legal battle over the vulture funds and its sovereign debt.
Argentinean cabinet chief Jorge Capitanich added that this summit is an opportunity "to deepen dialogue, establish agenda items, and fix the situation that has Argentina in debt … its ongoing struggle against international forums on the issue of vulture funds."
In the midst of a deep economic crisis, Venezuela's President Nicolás Maduro got straight to work and negotiated a line of credit with Russian President Vladimir Putin. Already heavily indebted to China, Maduro has resorted to the Russians for more financial aid.
https://twitter.com/DrodriguezMinci/status/489552489365397504
After the meeting, Venezuela's President Nicolás Maduro stated, "this is about a win-win alliance, formed by those who were dominated in the past, and have now become emerging economies."
Jorge Garzón, research fellow for the German Institute of Global and Area Studies, talked exclusively to the PanAm Post about what this meeting could mean for the the future of Venezuela, and Argentina.
"They are both countries that are clueless as to how to diversify their foreign relations with different extra-regional powers to get access to capital and markets. While Chile, Colombia, Peru, and Brazil have successfully diversified their trading relations, Argentina and Venezuela's approach remains almost entirely regional."
Former President Hugo Chávez used to reach out to controversial leaders from outside the region, like Libya's Muammar al-Gaddafi, Zimbabwe's Robert Mugabe, and Iran's Mahmud Ahmadineyad. However, according to Garzón, Venezuela has used its oil wealth to achieve political dialogues with the wrong actors, those with bad international reputations.
In this context, the international affairs expert doesn't regard the decision to borrow more from Russia as something negative: "This could be considered a form of diversification in the country's relations."
This line of credit, he explains, will add to the $7 billion that Venezuela already owes Russia, and the $53.9 billion it owes to China.
On the other hand, Argentina will have to return to the capital market, something that it hasn't been able to do due to the court's ruling against the country in the United States: "Argentina could perfectly become the first client of the BRICS Development Bank," Garzón explains.
The expert also says that in this regard, the Kirchner administration could seek to become an associate member of the BRICS, just as South Africa was for a long time before becoming a permanent member.
"This would improve Argentina's international image, which was internationally isolated during the last few years. Argentina has never been seen as an emerging economy. Being close from the BRICS could really improve their image. Keep in mind that the BRICS managed to capture more investments given all the publicity the BRICS term brought, and made them seem as emerging economies."
According to Garzón, even though these three actors, China, Russia, and Latin America, have great differences, they share one common interest: the creation of a multi-polar order. "They believe that in a world like that one, they would have more freedom of action, more options to attract capital, to look for more markets, and ultimately, more autonomy in their foreign policy."