EspañolOn Monday, a protest took place outside the General Attorney's Office in Caracas, Venezuela — like the latest student protests, but this one was different. Those who attended and shouted for hours in front of the government building were victims of one of the biggest scams in the country.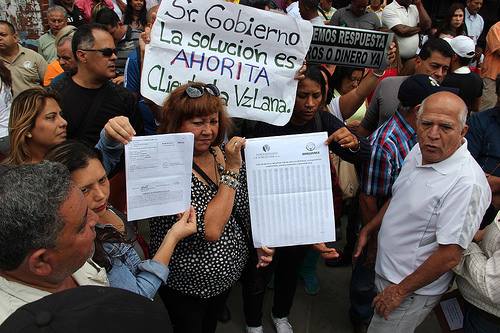 Around 6,000 Venezuelans were ripped off by a car dealership that for the past year operated under the name La Venezolana, charging all clients an upfront fee, but never delivering their vehicles. While the owner remains a fugitive at large, the victims want their cars or their money back.
In a country that imports more than 70 percent of what it consumes, Venezuela's strict exchange controls have affected every major economic activity, including automobile imports. For the last few years, it has become more and more frequent in Venezuela to see car dealerships with no cars, but long waiting lists.
According to the Automotive Chamber of Venezuela (CAVENEZ), during the first five months of 2014, only 7,147 new vehicles were sold in the entire country, 88.6 percent less than what was sold in the same period a year ago. From that figure, only 54 vehicles were imported; the rest was assembled in the country.
Meanwhile, the national production of vehicles dropped 92.09 percent over the last twelve months, which means that the industry barely reached 3 percent of its capacity.
Strict exchange control policies and hard-line price controls have subjected the car industry to its most difficult period in the nation's history. For Venezuelans, buying a car has become an odyssey. Customers choose from a scarce range of options before they sign onto a waiting list of more than two years to receive the vehicle. Waiting lists, long queues, and empty car dealerships have become the norm, rather than the exception in Venezuela.
Better Than You Can Believe

Three weeks ago, Jhon Quiroz, the president of the car dealership La Venezolana informed buyers that the promised vehicles were about to arrive in Venezuela on a cargo ship.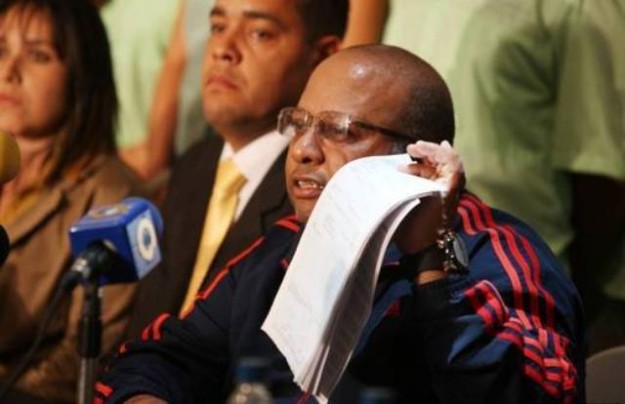 "We have more than 15 years of experience," assured Quiroz. However, this couldn't be farther from the truth. In fact, his company was created last year, according to an investigation performed by prominent newspaper El Universal.
In March 2013, La Venezolana was created at first as a used-car dealer. However, it soon started to promote via newspapers and advertisements new Chinese model vehicles such as the Zotye, Brilliance, and Kawei. The company even promised up to 60,000 vehicles per year — an astronomical figure compared to the 7,000 cars that were sold in total by all dealerships last year in Venezuela.
Competing with empty dealerships that had nothing to offer but long waiting lists, La Venezolana presented itself as an ideal, and almost unbelievable, choice for many disappointed clients.
In car shows, people made long queues to book their vehicles without ever imagining that the few on display were the only ones the dealership had. The owners had brought just a few cars from Colombia, crossed the border with a tourist permit, and presented them as the first of many more "in stock."
But how can a car dealership with neither cars nor licenses to import be created overnight and operate for an entire year without any suspicion?
Apparently, the founders only needed 300,000 Bs. (about US$4,200) to legalize their enterprise last March, and six months later, La Venezolana had already multiplied its capital and acquired over 100 million Bs. (US$1.4 million).
In was in November when Jhon Quiroz joined the board as president and senior partner. Quiroz had already made his living as a con artist, and had two identity cards with two different names. Until last year, Quiroz worked as a baker, selling bread at a restaurant in San Antonio, in the suburbs of Caracas, and faced two charges for contract violations.
Relationship with Chavismo Goes Sour
Despite this, Quiroz wasn't afraid to get near government authorities. In fact, La Venezolana looked for any opportunity to participate in state-sponsored events such as military fairs, sell their vehicles to military officials, and sponsor state sports competitions.
Actually the company displayed a deep affection for Chavismo, as a way to stay in a friendly position with the regime. In a press release, the company even stated: "we are convinced of the path we must follow, and it's no other than the absolute defense of the legacy left by Comandante Supremo Hugo Chávez."
Nonetheless, the numerous complaints from clients who had paid the upfront fees but had no trace of their new cars pressured the government to freeze the company's operations and open an investigation.
After some research, the government soon found out that the car dealership didn't even have the necessary licenses to import vehicles from the three Chinese car manufacturing companies. Far from accepting it, Quiroz denied these allegations, and assured they had 20 containers filled with vehicles in Port La Guaira waiting for administrative procedures.
Leaked documents by El Universal confirm that even though La Venezolana had sealed an actual deal with these three Chinese car companies, the total sum surpassed US$11 million, more than what the dealership could afford. The upfront fee had to be paid in dollars, and La Venezolana didn't even have the approval of the state foreign exchange control body (CENCOEX) to pay for that kind of transaction.
Even though representatives from Zotye, one of the Chinese car assembly plants, confirmed having sold 162 cars to La Venezolana and assembling 1,100 after receiving an upfront fee, they weren't going to ship anymore vehicles until the payment was complete.
Catch Me If You Can
As scrutiny rose, it didn't take too long for Quiroz to flee the country. Last Friday, the president of the car dealership tried to escape the country in a private plane headed to Panama. The authorities stopped the flight's departure, but Quiroz managed to grab a cab and still escape. Police agents could only arrest the pilot, copilot, and two of his bodyguards. His whereabouts remain unknown.
According to the Attorney General's Office, there are almost 6,000 victims, including military officials, who paid an upfront fee of 30 percent, and were waiting for months for the arrival of their cars.
Given the absence of a response from the company or from the authorities, the thousands of clients that were ripped off organized themselves and created a Facebook group to plan and promote upcoming protests.
"As everything in this government, everyone is useless and incompetent. I'm sure they [police agents] caught him and he [Quiroz] just bribed the police, so much corruption," Douglas Bruzual, one of the victim states.