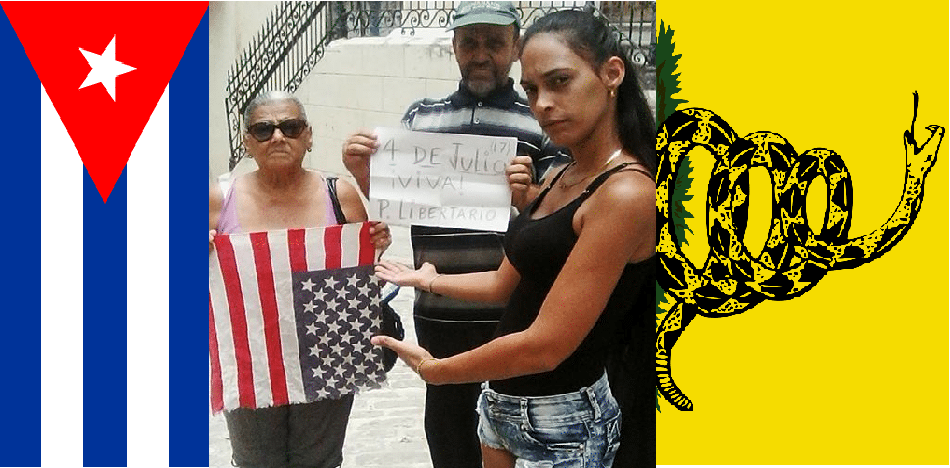 Every 4th of July the independence of the first nation of the Americas, the United States, is commemorated in Cuba. Yanet Padrón Naya, secretary of the Cuban Libertarian Party-José Martí, celebrates the day in defiance of the totalitarian Cuban government.
Since she dared to fly the United States, symbol of the eternal enemy of Castro's Cuban Revolution, Yanet was the victim of political persecution.
The photo appeared on social media, on the party's official page, where she is listed as party secretary. To the socialist dictatorship, hellbent on denying its citizens freedom of speech, this was an unforgivable crime.
The only legal party in Cuba is the Communist Party. Thus, belonging to any other political party constitutes a crime in the repressive Caribbean state.
On July 16, 2017, she was arrested for "unruly behavior."
The government sought to keep her away from areas frequented by tourists, where she might have a space to disseminate her ideas, so they arraigned her on trumped up charges of prostitution.
She was banned from accessing the internet "navigation rooms"; the places where Cubans can connect to the internet, always under the watchful eye of Big Brother. She was isolated in an attempt to contain her "counterrevolutionary" behavior.
Following a year of visits by state security agents and judicial summons, Yanet was finally arrested and charged.
His mother said she was sentenced for a year, on the prostitution charge; a charge which the family claims is not true.
Contrary to accusations by state security forces, Yanet and a friend of hers – who preferred to remain anonymous but gave her testimony – young women like them resort to seducing the police to avoid being arrested.
"If I had to make love to him, I was not going to jail," she explains.
She clarified that a technique that has been used involves leading a police officer into thinking that they will have relations, while secretly recording the conversation. Then, there is evidence against the police officer in question, and sexual relations are not necessary because the incriminating evidence forces the officer to back off.
"Many young women who have no experience go to bed with the police to avoid being imprisoned, because they are afraid, because they have children," she added.
Yanet is the mother of a minor who is now in the care of her grandmother Rosa, also an activist of the Cuban Libertarian Party-José Martí, who is also involved in the Damas en Blanca organization.
Rosa is overwhelmed. She is close to 80 years old and in addition to the anguish over the detention of her granddaughter, she must take care of her great-grandson and another grandson who suffers from Down Syndrome.
She has gone to party headquarters to denounce the arrest of her granddaughter.
Since then, there have been state security forces surrounding the headquarters of the party.
Currently, she is being held in the party headquarters.
Miguelito Cartelito, is another party activist: he earned his nickname for carrying cardboard posters to demonstrate against government injustice.
He has also been deprived of his freedom in several instances for merely expressing his freedom of speech. One time, he was detained and released barefoot, more than 30km away, and forced to walk back to headquarters.
Although many have criticized the libertarian activists for posing with the American flag, they do not understand the significance of the protest.
It is an act of defiance against authority, and an act that, in rejection of the evil Cuban Communist regime, gives hope to those who advocate for freedom of speech.
Yanet was sentenced to one year in prison. She is one of many political prisoners on an island that is regarded to be the most repressive regime in all of the Americas.