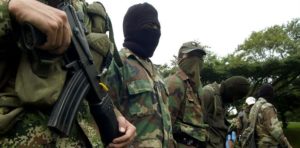 Colombians' disapproval of the Peace Agreement between President Juan Manuel Santos' administration and FARC should have been a major dose of reality to anyone uncertain of the way the government of the South American nation is handling the "FARC problem."
The question of the referendum, "Do you support the accord that puts an end to armed conflict and constructs a stable and durable nation?" was written so as to coerce Colombian citizens into voting Yes. Moreover, the campaign for Yes was overwhelming. It received support from almost all print media outlets, TV and radio, in addition to the active participation of a big part of the central government.
The government tried to instill fear in the population by arguing that it would not be possible to renegotiate the agreement, that there was "no plan B" and that if the agreement was not approved FARC would attack urban areas.
Under these circumstances, the victory of No is an evident rejection to the accord. Santos should not expect minor adjustments to suddenly make it acceptable. The current agreement is dead, and the new one has to be very different.
Besides, the "FARC problem" needs to be understood, dimensioned and contextualized in order to find the right solution. Throughout its history, the FARC have caused more than 15,000 deaths, including soldiers, civilians, and their own combatants. In addition to this, they have conducted 8,000 kidnappings and extortions.
Although it has been in existence for 52 years, FARC was minuscule during the '60s and '70s. At the end of the '90s, it managed to have up to 20,000 men in its ranks.
In its last years of activity (2009-2013), the FARC caused 100 to 200 deaths each year, amid 20,000 to 30,000 murders per year. This group is just one more factor in the violence that has occurred in large areas of Colombia and, therefore, its silencing (though desirable) will not solve all of the country's problems.
The agreement to demobilize FARC members must be simple, concrete and easy to implement. Otherwise, there will be major interpretation problems in the future.
In addition, the accord should be limited to the conflict with FARC. It should not legislate on agricultural policy, nor on coca cultivation, justice or electoral organization. It must not pretend to include favors or punishments to other groups or individuals.
The agreement should not usurp the mechanisms of Colombian democracy or its constitution, nor should it give members of FARC an automatic representation in any legislative, governmental or judicial authority.
It could give immediate amnesty to FARC's foot soldiers, and give senior guerrilla members a comfortable punishment that would temporarily restrict their mobility (for example, 10 years of exile). After the exile, they could return to the country and participate in politics if they want
It should consider that many other stakeholders with greater number of affiliates, acting within the law, will also want to establish direct negotiations with the Executive branch to receive special treatment similar to that granted to FARC.