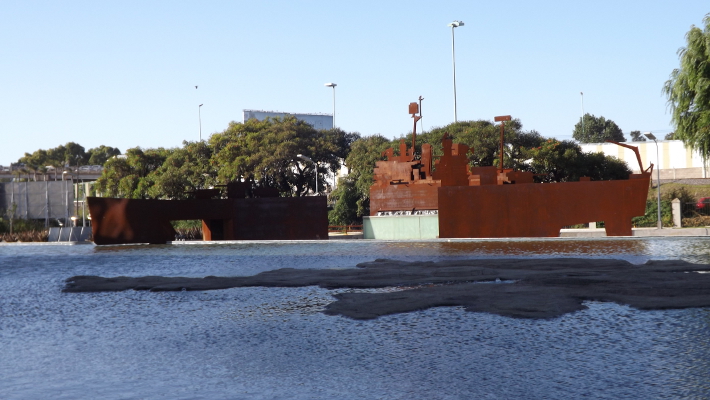 EspañolGustavo Pirich, a 19-year-old conscript in the La Plata 7th Regiment, was one of the first to see the enemy. For hours, artillery shells rained down from the sky. The United Kingdom's battle-hardened Parachute Regiment then came out the mist, and after bloody fighting, British forces took Wireless Ridge. The next day, they accepted Argentina's surrender in the Falkland Islands. The date was June 14, 1982.
A windswept archipelago in the South Atlantic, 300 miles from Patagonia and 8,000 miles from London, the Falklands were occupied by France, Britain, Spain, and Argentina from the mid-1700s onwards. In 1833, Britain expelled a garrison sent by Buenos Aires, replacing it with shepherds and farmers. Some 150 years later, Argentina's military junta invaded the Falklands, and London dispatched a huge task force in response. Three months later, 255 British soldiers, 649 Argentinean troops, and three islanders were dead.
But for Pirich, and the thousands of conscript soldiers like him that made up the bulk of Argentina's army, the battle was only beginning. "We've had almost 1,225 veterans killed by illness, alcoholism, and drug addiction. There aren't official statistics, but we count around 419 suicides," says Alfredo Pucci, another former conscript soldier. "There are some where they say it was a car accident, but he clearly killed himself, you know?"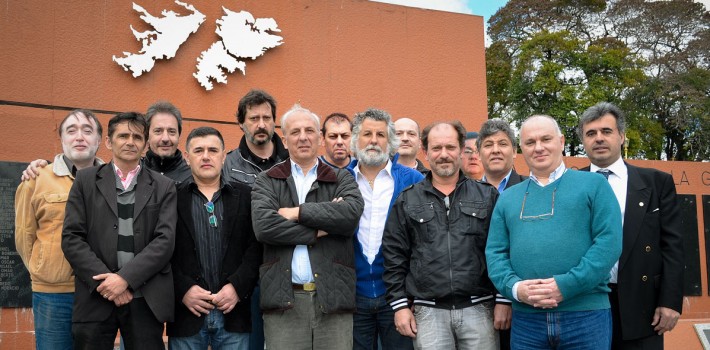 Lack of food, inadequate clothing and equipment, and mistreatment by their officers took a lasting toll on their mental and physical health. Since then, it's been a constant struggle, Pirich explains.
"Now, we're not rich, but we're not begging. At least there are pensions. But no one gave us anything. We had to fight for every step, fight and fight, and it was tough."
War of Words
The fight continues. The state promised but never provided a health-screening process to all veterans which could catch the signs of mental illness. The government also never investigated the abuses committed by their officers, including torture and executions of their own men, aside from by a sham military court, Pirich adds.
In response, the former infantryman has joined forces with his old comrades to form the Association of Malvinas Combatants for Human Rights (ACOMADEH). Speaking to the PanAm Post opposite the Congress building in Buenos Aires, members of the group are mulling over their next move, after two Supreme Court decisions rejected their demands to open an inquiry and deliver mandatory health provision.
The court's rulings contrast with the government's rhetoric on the islands, which it claims as Las Islas Malvinas. Abroad, Argentina repeatedly calls for Britain to negotiate over the status of its overseas territory.
The dispute won't be resolved with militarization, massive electronic espionage, or the appropriation of natural resources.
The motions issued by regional multilateral bodies echoing that demand fill a 300-page tome. London refuses to negotiate, citing a 2013 referendum in which 92 percent of eligible islanders voted to remain British.
At home, new laws by the administration of President Cristina Kirchner mean that all public buses, trains, and planes must carry the legend Las Malvinas son Argentinas (the Falklands are Argentinean).
A new AR$50 note (US$4 on the unofficial exchange market) bears the islands' image. The Argentinean offices of oil firms drilling in Falklands waters face legal action, and Argentina's case — that it inherited the islands from Spain, and was illegally expelled in 1833 by an "implanted population" — is embodied in a new Malvinas Museum in Buenos Aires.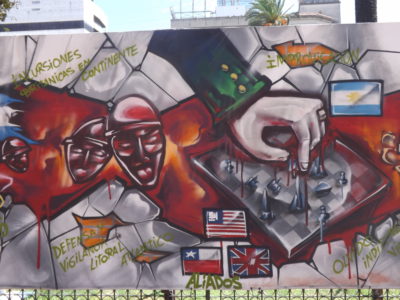 Visitors are first ushered into a cinema, where images of windswept fields, penguins, and kelp forests give way to a montage of bloodstained English monarchs. In cartoon images, the British navy expels the gaucho settlers by force. An uneasy peace soon gives way to machine-gun fire and torpedo explosions.
Before long, Néstor and Cristina Kirchner assemble a photoshopped gang of regional giants — Chávez, Correa, Morales, Mujica — to joyfully restate Latin America's peaceful claim.
Two enthusiastic guides show the PanAm Post around, pointing out furniture belonging to Luis Vernet, a German merchant commissioned by Buenos Aires to settle East Falkland in 1828 (he also wrote to the British ambassador for permission). There's a stuffed walrus, some fossils, and a children's area.
The top floor houses interactive panels detailing the last outposts of "colonialism" around the world — including the Falklands, Gibraltar, French Polynesia, and Guam. It also honors the memory of Argentina's fallen conscripts, while taking care to condemn the military junta that caused the conflict.
"Implanted" Population
The cultural offensive seems to be working. In comments made to the PanAm Post, Argentina's ambassador to Paraguay, Ana María Corradi, highlighted strong international support for a negotiated solution to the sovereignty dispute, citing a host of regional statements and the non-binding UN Resolution 2065, passed 50 years ago this December.
"This recognized the dispute between Argentina and the United Kingdom, calling on them to negotiate as the only way of resolving it, bearing in mind the interests of the population, but not their desires," says Corradi, a former senator with Argentina's ruling Front for Victory.
The islanders have nothing to fear from Argentina, which is bound by its constitution and the UN resolution to respect the way of life of the islanders, the ambassador continues, drawing a contrast between Argentina's "pacifistic" stance and "under-equipped" armed forces, and the heavy British garrison on the islands.
"The dispute won't be resolved with militarization, nor with massive electronic espionage, or the appropriation of natural resources. The only way is direct diplomacy," Corradi concludes, adding that the Kirchner administration has directed the veterans to international human-rights bodies.
We've been here about 170 years, longer than most people who call themselves Argentines.
But Gavin Short, the Falklands Legislative Assembly member responsible for relations with Latin America, disputed the ambassador's claim that as a "colonial" population the Falklanders don't enjoy the right to self-determination.
"I'm just as implanted as most Argentines," says Short cheerfully, speaking via phone from Stanley. "They came to Argentina looking for a better life, just as my forefathers did. We've been here about 170 years, longer than most people who call themselves Argentines," he argues.
Boasting a strong economy and a prosperous community of around 3,000, including a few dozen Argentinean residents, life on the islands goes on. For Short, Argentina's rhetoric "isn't the first, second, third, or even 17th thing I think about when I wake up in the morning."
"But what it does do is harden our attitude. By the time Kirchner is finished, they'll have turned a whole new generation against them. They've shot themselves in the foot," he sighs. "We've had agreements on oil, on fisheries, and they've walked away from everything. They've hurt their own people more than they have ours."
Wasted Chances
The sense of a wasted opportunity is shared by Sacha Cleminson, a recent arrival to the islands with the RSPB, a conservation charity working with the authorities to preserve their unique biodiversity.
"It's a wildlife Mecca. It's extraordinary: there are whales, my family goes snorkeling most weekends with dolphins, penguins, and sea lions in tussocked forests. But one of the sad things is that environmental cooperation with Argentina has been lost," says Cleminson, who makes for an unlikely colonialist.
"Birds, fish, and squid know no borders, so it's really important that resources are managed as a whole. Conservation is a brilliant forum for international cooperation," he adds.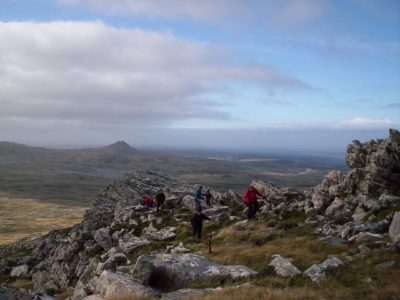 With regard to the island's human residents, Pirich and his fellow veterans have mixed feelings. They recognize that the islanders have their own way of life and attachment to the islands. But they maintain that Argentina's rights triumph over the wishes of "the Kelpers."
Gustavo Moledo, a former conscript pilot, recalls the Argentinean Air Force's efforts to keep communications open with the surrounded ground forces as defeat became inevitable.
"I feel proud that up until the last moment it didn't abandon them. At least in my area, there was no surrender," he says. "They behaved like the professionals they were. And in some places, I was with them."
The veterans promise to show the same determination in their struggle for justice. It will likely prove an easier battle than gaining sovereignty over the islands, as Argentina's legal case is far from convincing. And with many of Britain's veterans also suffering from post-traumatic stress disorder, they might even find allies in an unexpected quarter.