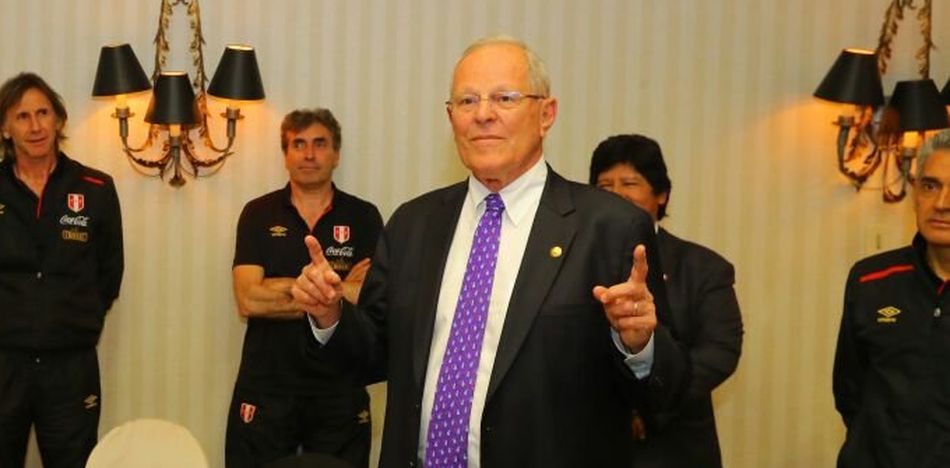 Español President of Peru Pedro Pablo Kuczynski strengthened his denial against accusations that he had ties to a corruption scandal involving the Brazilian construction company, Odebrecht. He said he wants to release his bank records to prove it.
In an address to the nation, Kuczynski said he intends to cooperate with the investigation so as to prove his innocence. He also clarified that he will not resign despite calls from five officials to do so.
"I am not going to abdicate my honor or my values or my responsibilities as President of all Peruvians," Kuczynski said.
The scandal stems from an investigation into Odebrecht, whose executives admitted to giving Us $29 million to Peruvian politicians between 2005 and 2014 — a time period that coincides with the presidential terms of Alejandro Toledo (2001-2006), Alan García (2006-2011) and Ollanta Humala (2011-2016).
Nos costó mucho recuperar esta democracia. No la volvamos a perder. No voy a abdicar ni a mi honor, ni a mis valores, ni a mis responsabilidades como presidente de todos los peruanos.

— PedroPablo Kuczynski (@ppkamigo) December 15, 2017
Tweet: It wasn't easy to recovery our democracy, and we aren't going to let go of it so easily. I am not going to abdicate my honor, or my values, or my responsibilities as every Peruvian's President.
Kuczynski claimed he has nothing to hide and that he is willing "to defend the truth before the Lava Jato commission," which is why he requested that his bank records be released.
"Let them review whatever they want, and I'll take responsibility for my actions," he said in a recorded message shown to both ministers and congressmen. To demonstrate his willingness to clarify a supposed link to the Brazilian company, Kuczynski agreed to meet with members of the Lava Jato Commission to answer questions directly.
He decidido reunirme con los miembros de la comisión Lava Jato. pic.twitter.com/6z7hcvuu1U

— PedroPablo Kuczynski (@ppkamigo) December 14, 2017
Kuczynski's statements came in response to the Lava Jato Commission's announcement that it had obtained reports of alleged payments of services from Odebrecht to companies owned by Kuczynski.
"Let's not get confused. I want to explain what's happening. This biased report said that I received more than $4 million. That is false," Kuczynski said.
As the President explained in his message to the country, the first two pages of the Odebrecht report refer to the company First Capital, which he "has no relationship" with. The only deposit that is related to him is one that "deals with a financial advisory service that I lent to this company, in an absolutely legitimate way, while I was not holding any public office."
Kuczynski said the third and last page refers to seven consultancies to Westfield Capital, a one-person investment banking advisory company linked to Kuczynski. "I have never been in charge of the management or administration of the company while I held public office," he said.
He continued, "We can see the payments in detail. They all correspond to contracts signed by Mr. Gerardo Sepúlveda, not me. I had nothing to do with signing these contracts (with Odebrecht)."
During Kuczynski's message, members of the ministerial cabinet and the Peruvians for Change Bank were in attendance, but not the Minister of Justice and Human Rights Enrique Mendoza, the Minister of the Interior Carlos Basombrío, or the Minister of Energy and Mines Cayetana Aljovín.
The political crisis the country currently faces could lead to serious ruptures in the government or the constitutional succession of the presidency. However, there are still many unanswered questions and Kuczynski seems determined to continue in his role as President and prove that he is innocent.