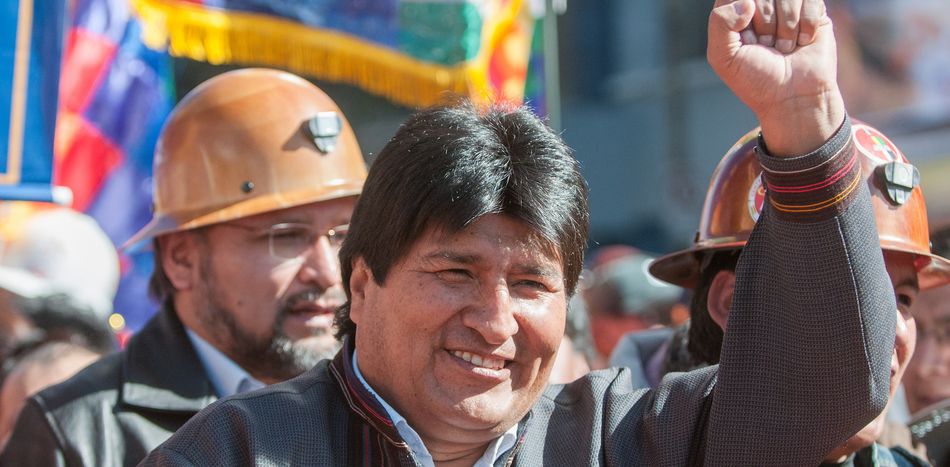 Español Bolivian President Evo Morales welcomed a decision by the Plurinational Constitutional Court to approve what many have claimed to be an unconstitutional bid for reelection.
Morales issued a brief statement in which he said he was surprised by the court's decision, and said it will be a "great opportunity" to continue governing. The court decision also favors incumbent governors, mayors, assembly members and councilors, declaring "the preferential application" of "political rights" over the articles of the constitution that allow only two consecutive terms.
The decision, Morales said, not only "guarantees a democratic continuity, but also guarantees stability." He neglected to comment on the referendum held in February 2016, in which the majority of the country voted against Morales' desire to run again.
In 2014, Morales demonstrated a disregard for the constitution when he submitted an application for a third candidacy based on another ruling "that pointed out that Bolivia was re-founded with the new Magna Carta that the same president put into effect in 2009."
The court made the ruling following an appeal filed last September by Morales' Movement to Socialism party, which argued that the limits of the constitution run contrary to the Inter-American Convention on Human Rights.
The court ruled that there was clear discriminatory treatment, as some individuals could freely exercise their political rights while others could not.
Una de las vías constitucionales planteadas por movimientos sociales en diciembre pasado ha sido reconocida: estamos habilitados para que el voto del pueblo defina darnos su apoyo para una nueva gestión. La Revolución Democrática y Cultural sigue. ¡Hasta la victoria siempre!

— Evo Morales Ayma (@evoespueblo) November 29, 2017
Tweet: One of the constitutional avenues to reelection submitted by our socialist party in December has been recognized: we are now in position to allow the will of the people to support us for another term. The democratic and social revolution continues. Forward to victory forever.
Morales is already Bolivia's longest-serving President in the country's history. With a win 2019, Morales wouldn't have to face pressures of reelection until 2025.
Reactions
The TCP's failure has led to numerous criticisms from the international community, including from the opposition and Secretary General of the Organization of American States, Luis Almagro.
En realidad, el Artículo 23 de la Convención Americana de DDHH citado en sentencia del #TCP de #Bolivia no contempla derecho a perpetuarse en el poder. Además, la reelección presidencial fue rechazada en referéndum por voluntad popular en #21F de 2016 https://t.co/Ua2Kit5EhF

— Luis Almagro (@Almagro_OEA2015) November 29, 2017
"There is no seperation of powers, there is hegemony," Deputy of the Democratic Unity Aliiance Wilson Santamaría said. "Here, every organ of the state has to do what MAS wants."
Senate leader Edwin Rodríguez added, "Today marks the end of democratic rule in our country, as a new regime is established in the Venezuelan-Cuban vein."
Former President of Bolivia Jorge "Tuto" Quiroga, also criticized the court's ruling, and accused the President of not knowing his own constitution. "(Evo Morales) lies repeatedly to try to stay in power," he tweeted.
Evo sigue los pasos de otros tiranos como Obiang que llegan al poder con el voto del pueblo, luego traicionan y buscan eternizarse en el poder, Unidad #2019NoMas pic.twitter.com/OW2hkKVgPh

— Samuel Doria Medina (@SDoriaMedina) November 28, 2017
Tweet: Evo is following in the footsteps of other tyrants like Obiang who rose to power initially through a legitimate election, and later betrayed their voters by looking for ways to stay in power permanently.