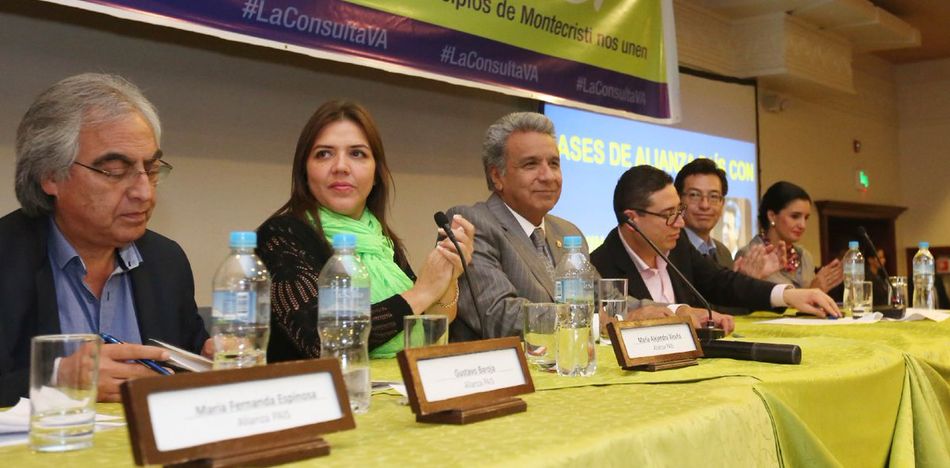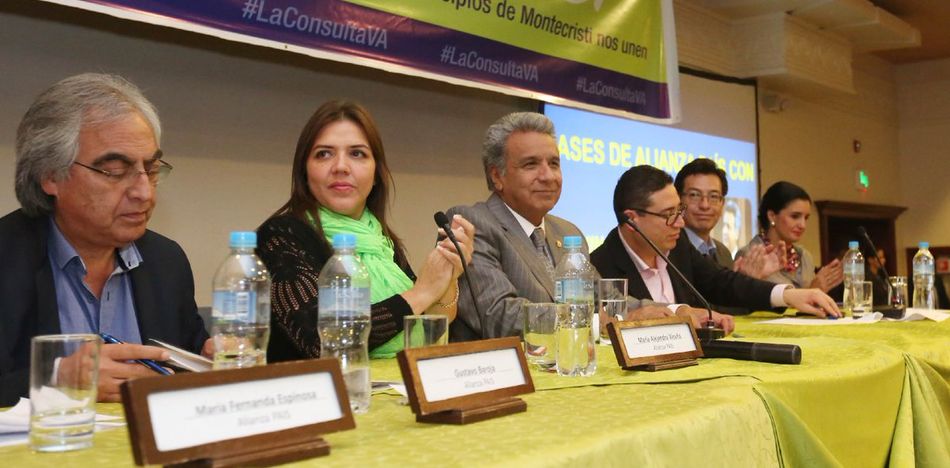 The Secretary General of the Ecuadorian Executive branch, Eduardo Mangas, announced that the illegal decision to remove the president of Ecuador from his position as Alianza País (AP) governing party leader was annulled.
According to the National Secretariat of Communication (Secom), the Criminal Court of Quito ordered "precautionary measures" to guarantee the constitutional rights of President Lenin Moreno, and ordered the National Electoral Council (CNE) not to register the appointment of Ricardo Patiño or of any other leaders of the movement as his replacement.
The "Court orders precautionary measures to guarantee Lenin's constitutional rights, annulling the decision made by some PAIS members." Mangas tweeted.
Mangas also told former President Rafael Correa that the AP "does not belong to him"  and said that "those who participated in this illegal AP meeting will be processed by the Ethics and Discipline Committee and be expelled from the Movement."
Read More: Supporters of Former President Correa Dismiss President of Ecuador as Head of Governing Party
Tribunal ordena Medidas Cautelares para garantizar derechos constitucionales @Lenin dejando sin efecto decisión ilegal d algunos miembros AP

— Eduardo Mangas (@emangasm) November 1, 2017
Tribunal Garantías dispone al CNE que NO inscriba cualquier nombramiento ilegal d Patiño-Rivadeneira. Compañeros, PAIS NO ES DE SU PROPIEDAD

— Eduardo Mangas (@emangasm) November 1, 2017
Quienes participaron de esta reunión ilegal de PAIS tendrán que ser sometidos a Comisión Ética y Disciplina y ser expulsados del Movimiento

— Eduardo Mangas (@emangasm) November 1, 2017
The communiqué issued by Secom, explains that the "judicial decision was issued in response to a request for precautionary measures presented by the Head of State, since the spurious and vulgar action violates his constitutional rights and violates internal procedures."
The president's defenders pointed out that such a decision would have to be made by the movement's assembly, and that "more than 44 Alianza PAIS assemblymen, expressed their indisputable support of President Lenin Moreno", therefore his dismissal is not legitimate.
"There was no due process, there was no participation, there was no respect for due Moreno's right to defend himself. As far as I am concerned he is still the president of the Alianza País movement," said the president of the National Assembly of Ecuador, José Serrano, rejecting the decision made against the president.
Correa announces eventual return
Ricardo Patiño, former Foreign Minister during the Correa presidency and illegal president of AP, announced that the former president will return to the country "in the coming weeks."
Naturally, Correa supported the removal of Moreno as AP leader. The former president has mentioned the possibility of promoting a constituent assembly and running as a possible replacement if they were to remove Moreno from office.
"They want a Convention? Perfect! Let's have one, and we will see how many of those who have allowed so much infamy, persecutions, and secret pacts and corruption all in the name of 'effective government' can look me in the eye," the former president tweeted.
Read more: Ecuador's Ruling Party Divided Over Vice President Replacement Scandal
..nuevo presidente de AP, Ricardo Patiño.
¿Quieren Convención? ¡Perfecto! Ahí estaremos, y veremos cuántos de los que han permitido tanta..

— Rafael Correa (@MashiRafael) November 1, 2017
Recap
The illegal removal of Moreno as Alianza PAIS leader, was carried out on October 31 by an allegedly fraudulent political council that threatens the "organic unity" of the movement.
The man chosen as the new leader of the movement, Ricardo Patiño, went as far as to claim that Moreno is pushing the opposition platform. "The president of the republic won his election with over 50% of the vote, but he was not elected in order to push the opposition's platform" he said. However, Moreno has defended his policies explaining that what he is looking for is "a process of national reconciliation."
The differences of opinion within the governing party began with disagreements between Moreno and his predecessor, which have taken place due to the country's economy and the debts left by the Correa government. Moreno's approach to the indigenous sector, the judicial process against Vice President Jorge Glas, and the appointment of María Alenadra Vicuña as a temporary substitute. Ever since the current president assumed power, he has made it clear that despite the fact that "defending" the same "Citizen Revolution" as him, Correa will not hesitate to expose the mistteps of those who were once his allies.
According to  Correa, criticizing the party is synonymous with disloyalty and betrayal. Moreno sees it as part of his commitment as president, and his attempt to avoid "misunderstanding loyalties."
It is important to note that even Moreno's opponent, Guillermo Lasso, says that the president has carried out ideas proposed by his party:
"Let's go ahead and say what many Correistas (supporters of Correa) are thinking: that Lenín Moreno's government is doing many of the things that CREO (the opposition party) proposed and would have done. It is true, yes, many things, although unfortunately not all. "
Sources: La República, El Diario.es, Metro, La Red21, La Hora, El Deber, El Telégrafo.