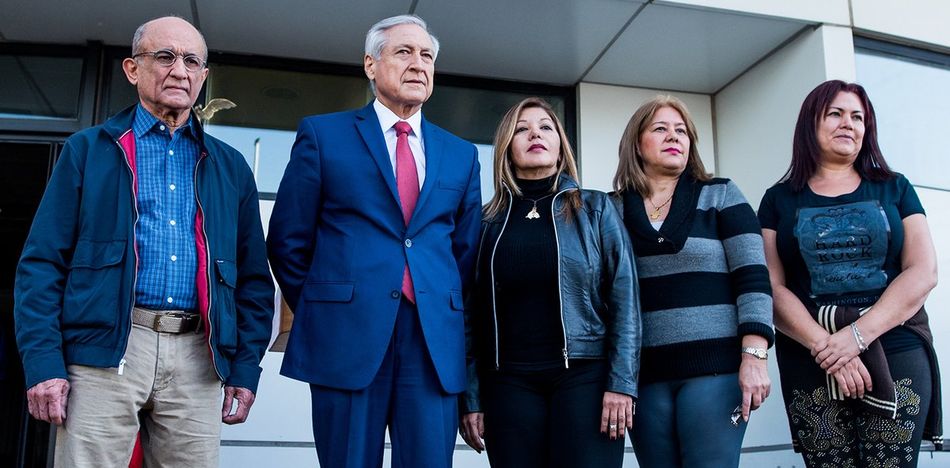 EspañolChile received five Venezuelan judges this Thursday, October 19, who were seeking political asylum from Nicolás Maduro's regime.
Elenis Rodríguez Martínez, José Núñez Sifontes, Beatriz Ruiz Marín, Luis Marcano Salazar and Zuleima Del Valle González were forced to flee to Colombia while being persecuted by Maduro's authoritarian government, where they were received by the Chilean Ambassador and flown to Santiago.
The judges stayed under the protection of the country's embassy in Caracas since last August, but decided to escape to Colombia in search of political asylum.
"We were forced to leave our beloved homeland of  Venezuela, but today another nation gives us shelter. It protects us in freedom. Because that is the fundamental right of man: freedom and life," Beatriz Ruíz Marín, once one of the 33 members of the country's Supreme Court of Justice, said.
The Chilean Chancellor Heraldo Muñoz said during the judges' reception that, as the national anthem of his country says, Chile is an "asylum against oppression" and that the country receives the officials "in the tradition of international law."
Revisa las palabras del Canciller @HeraldoMunoz en la llegada de los magistrados provenientes de #Venezuela que pidieron asilo en Chile ?? pic.twitter.com/rxAGAiWK0s

— Cancillería Chile ?? (@Minrel_Chile) October 19, 2017
Muñoz added that he hopes the judges enjoy their stay in Chile. "Their arrival took place on a sunny spring day, and we hope that this sets a precedent for a positive stay here for you. We will continue to give our solidarity toward the restoration of democratic order in Venezuela." Because their Venezuelan accounts are frozen, he said they should process their paperwork as asylum seekers and receive financial aid.
Canciller @HeraldoMunoz a magistrados venezolanos: "En nombre de la Presidenta @mbachelet y del @GobiernodeChile siéntanse bienvenidos" pic.twitter.com/BJFBrfylH3

— Cancillería Chile ?? (@Minrel_Chile) October 19, 2017
Beatriz Ruiz Marín, on behalf of the judges, said they could not allow themselves to be imprisoned, and thanked the Chancellor, the people of Chile, the President of Chile and the Ambassador Pedro Ramirez back in Venezuela for giving them protection.
The judges requested political asylum after the Venezuelan dictatorship began taking steps to replace them despite having been appointed by the National Assembly. The dictatorship didn't acknowledge their appointment, as it was simultaneously creating their own illegal Supreme Court at the time. Afterward, the members of the real Supreme Court were threatened with jail for "usurping other's functions."
The Supreme Court designated by the opposition is recognized by the Organization of American States, while the illegitimate National Constituent Assembly — made up entirely of ruling party officials — is not. The exiled judges will be sworn in at the Organization of American States headquarters, with the intention of sanctioning acts of corruption in Venezuela.
Pedro Troconis, an exiled member of the Supreme Court, will be able to "make declarations to foreign governments and authorities in order to investigate officials who have committed crimes against humanity, narcotics trafficking or embezzlement."
Sources: La Tercera, T13, La Nación, Europa Press.