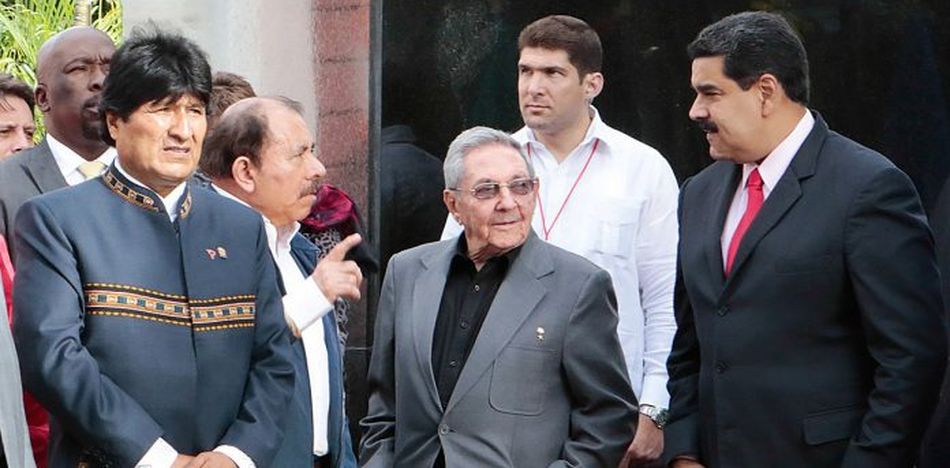 Cuban President Raul Castro on his recent visit to Caracas, expressed his support for Lenin Moreno, former vice president and candidate of Ecuador's ruling Alianza Pais party. Raúl Castro also reaffirmed his support for other socialist leaders in the region.
"We will never abandon Evo Morales, true leader of Bolivia, and all of its original peoples. We will continue to accompany Daniel Ortega and the Sandinista people of Nicaragua," he stated during his speech at the XIV Summit of the Bolivarian Alliance for the Peoples of Our America (ALBA).
Meanwhile, in Ecuador, former Quito mayor and presidential candidate Paco Moncayo surprised many by calling on Ecuadorians to support Guillermo Lasso in the April 2 second round election. Moncayo represented the Democratic Left party, and finished in fourth place in the first round elections on February 19.
"There is no other way to end Correa's rule than by voting for Lasso. There are no other options! I'm not going to wash my hands of the future of this country and say support no one," Moncayo wrote on his Twitter account.
"The Sandinista-Chavista-Correista model does not want  to relinquish power, the AP (Alianza País) wants to stay in power forever," commented the ex-candidate.
Lasso immediately thanked Moncayo for his support, writing on his Twitter account: "Thanks @PacoMoncayo for joining the defense of democracy, and coming together with everyone who wants a CHANGE."
The Movimiento CREO candidate Guillermo Lasso also took aim at ALBA, announcing after regional bloc's 14th summit in Venezuela, that if he comes to power he will remove his country from the organization, and apply to join the Pacific Alliance (formed by Peru, Colombia, Chile and Mexico).
Raul Castro is one of few socialist leaders remaining in the region. While the last fifteen years saw the dramatic rise of power of left-wing governments throughout the region, Latin American voters have taken a sharp turn to the right in recent years, installing new leaders such as Peru's Pedro Pablo Kuczynski and Argentina's Mauricio Macri. The Brazilian Senate also voted to impeach Dilma Rousseff last year, installing her vice president Michel Temer, as interim president.
Next month, Ecuadorian voters could deliver yet another blow to the once ascendant Latin American left.
Source: La Republica