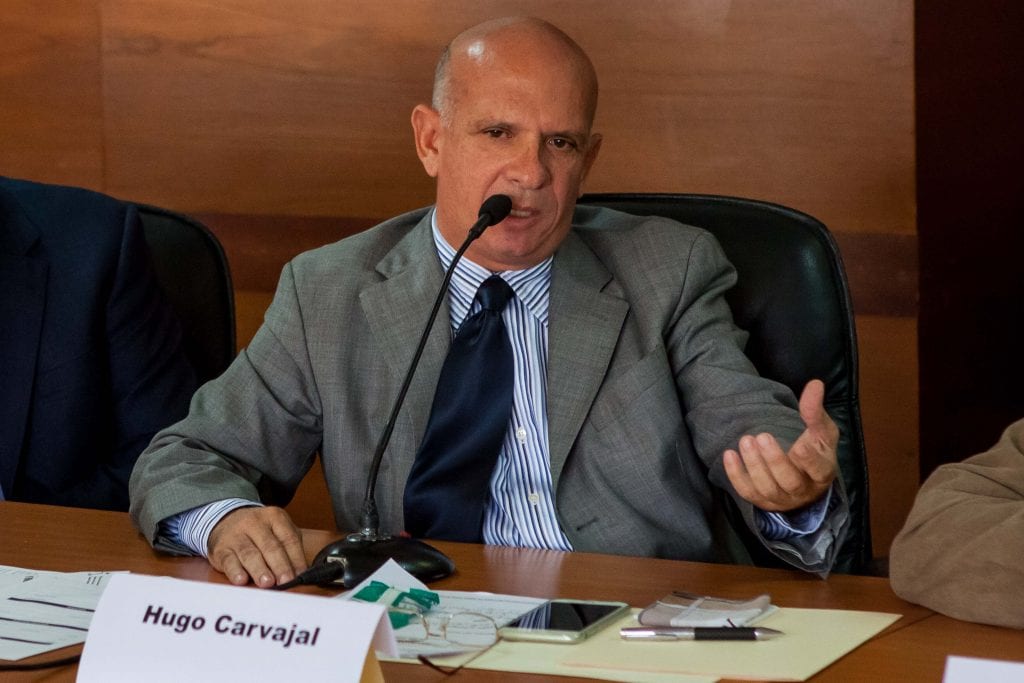 Hugo Carvajal, the former military intelligence head of Venezuela, one of the most well-known figures of Chavismo, and a current elected deputy for the PSUV (United Socialist Party of Venezuela) in 2015, on Thursday recognized opposition leader Juan Guaidó as interim president of Venezuela, and urged his "brothers in arms" to be on the right side of history.
"It has been more than enough. Nicolás, assume your responsibility. Chávez assumed it in his time…Instead, you have murdered hundreds of young people in the streets for demanding the rights that you stole from them, and that's not even counting all those killed due to lack of medicines and rampant insecurity. Assume responsibility for the misery that has brought upon our land, for the humanitarian, economic, political, and social crisis with which you have plagued all of Venezuela," he said in a series of videos on his Twitter account.
He addressed Guaidó as the "interim president of the Bolivarian Republic of Venezuela" and added: "here is one more soldier for the cause of freedom and democracy, to be useful in achieving the goal of restoring Constitutional order that we allow us to call for free elections and thus be able to listen to the true will of our sovereign people."
Carvajal, who is nicknamed "El Pollo" (or the chicken), spoke of his closeness to the late former president Hugo Chávez. He was a very active military man during the Chavez government and reached the rank of Major General in the Venezuelan Army, although he is now retired from military life.
"Everyone knows me for having fulfilled my duties in a military career of more than 30 years, during which I had to lead military intelligence and counterintelligence for more than a decade, during two terms under Hugo Chávez, who besides having been my commander in chief, was also my great friend, and today he is a soul that only God will know how to judge," he said in his speech.
Carvajal knew the intricacies of the Chavez government, including the deep penetration of the Havana regime into the National Armed Forces.
"Gentlemen of the High Command, you have on your shoulders the weight of a liberating of peoples in more than 5 countries; it can not be possible that this same army, now in the hands of a few generals subjugated to Cuban guidelines, has become the greatest collaborator of a dictatorial government system designed to plague the people with misery," he said.
Carvajal was also accused of participating in crimes that have been reported to several senior members of the Chavista leadership. He was singled out for drug trafficking in US investigations and avoided being extradited from Aruba for those charges in 2014 when the Venezuelan government sent him as consul to the island. He was also sanctioned by the US Treasury Department for his alleged support in drug trafficking activities in collaboration with Colombian guerrilla groups.
However, he now views his support for Guaidó as a response to the call of an entire country, fulfilling the principles that the Military Academy taught him, pledging to "fulfill my sacred duties and national rights as a soldier and as a citizen…Always guaranteeing the constitutional order of the nation: that same order that began to be lost with the creation of an illegitimate National Constituent Assembly, against which I expressed myself at the time, which then went through the realization of rigged elections and ended up throwing overboard that order on January 10, with the usurpation of power by Nicolás Maduro," he said.
Carvajal forcefully called out the Maduro regime: "It is inexplicable that a group of people who call themselves the government, illegitimate since January 10, have decided to ignore a humanitarian crisis that, far from being a media fabrication, is palpable to all. It is inexplicable that the desire to hold on to power has generated so many calamities for the Venezuelan people, mercilessly separating hundreds of thousands of families due to a massive exodus of millions of Venezuelans. It is inexplicable how the desire to carry out free elections, was met with disqualifications, persecutions, forced exiles, and imprisonment," he said.
He called on "all those men and women who consider themselves true soldiers" in the face of the crisis in the country, inside and outside the barracks, "let your heart guide your actions at this time when the country deserves soldiers the defense of its people, and not in the service of particular interests. To the high command, that is making us a laughing stock with ridiculous videos, I warn you, stop! In the course of time it will become clear how emaciated our institution has become."