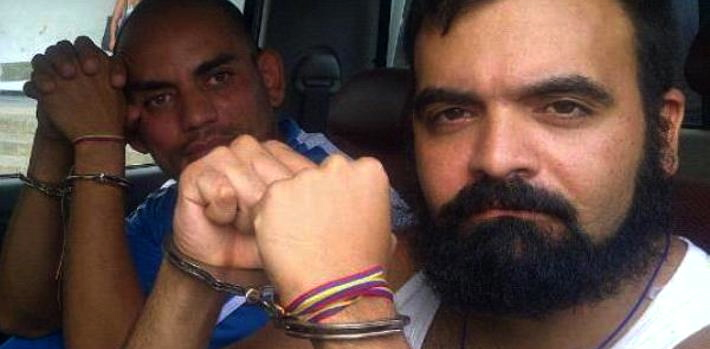 EspañolOmar Mora Tosta is the lawyer to Raúl Emilio Baduel and Alexander Tirado, the first individuals to be formally sentenced for their role in the wave of protests that swept Venezuela in early 2014.
Mora Tosta spoke with the PanAm Post shortly after Baduel, 34, and Tirado, 31, were sentenced to eight years in prison on Wednesday. Their crimes: association and incitement to commit crime, and public intimidation.
But Tosta views their sentence as a repressive message for Venezuelans, as well as an attack on Baduel's father, General Raúl Baduel, who has himself been imprisoned in 2009 for dissent against the government of former President Hugo Chávez.
The lawyer also suggests that the jail term is designed to weaken Tirado's political movement, the Popular Will (VP) party, currently led by Leopoldo López — who has been locked up alongside General Baduel for over a year.
What were Baduel and Tirado doing at the moment they were arrested? 
On the day of March 21, 2014, a demonstration was organized by social-media networks and convened in the Maracay festival complex, to protest against the continued holding of Aragua State festivals despite people mourning [for the death of anti-government protesters over previous days].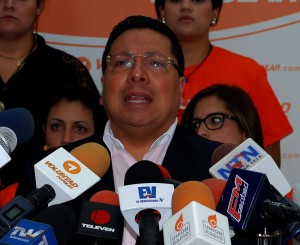 The protest consisted of forming a human chain, with everyone holding cloths of all the colors of the Venezuelan flag between them. Raúl Emilio was at one end of the street with a wooden cross that read "no more bullets," while Alexander was on the sidewalk with a megaphone, telling people to stay on the sidewalk so as not to block the road.
At 6 p.m., police officers asked told Alexander to come with them in a van; he handed over his megaphone and he climbed up with them. Afterwards, they went directly to where Raúl Emilio was, and they told him "now we've come for you, Baduel." They dragged him away, and three women who tried to intervene and stop them from taking him were also arrested.
The police illegally arrested them on two separate cases, one against the women and a minor because he was filming what was going on, and the other against Raúl Emilio and Alexander.
The police forged the case against them, and put down completely different actions, circumstances, and evidence to reality.
They were later presented to different courts, and the other group were handed precautionary sentences, while the young men continued to be detained.
The important thing here is that the police forged the case against them, and put down completely different actions, circumstances, and evidence to reality. They wrote that they'd been arrested at 8 p.m. in a different place, that they were found participating in a violent protest, that they had Molotov cocktails, sticks, rocks, that they'd assaulted the police.
It was proved that this was completely false, because people were filming from the very moment that they were arrested, and the videos and photos are still on social networks.
What were the charges that have justified a sentence of eight years against the pair for protesting?
The sentence hasn't got a leg to stand on; they were condemned in an absolutely illegal and unjust manner.
This sentence has set a terrible precedent, which will further constrain any possibility of dissent and free expression in Venezuela.
The defense was successful in proving throughout the trial that they're innocent, even with the same evidence provided by the prosecution. Tests they did on their clothing showed that there were no traces of gasoline or gunpowder, but they still presented this as part of their accusations.
The police that were called to testify contradicted themselves because they were lying, and we brought 14 people who were present on the day as witnesses. Their testimony conflicted with what the police record said.
The most abominable fact is that the judge used the excuse that they didn't have permission to carry out the protest from the municipal authorities. In Venezuela, the Supreme Tribunal of Justice issued an interpretation, some time after the date of these arrests, establishing that you have to ask permission from the mayor's office when demonstrations cross points in the city where they could slow down traffic.
This sentence has set a terrible precedent, which will further constrain any possibility of dissent and free expression in Venezuela.
Due to the way in which the case was conducted, do you consider Baduel and Tirado to be political prisoners?
Absolutely. When there's not enough evidence to justify their arrest, when they're separated in different cases, when you saw how the judge enjoyed saying they were guilty without any kind of remorse, it's clear that they're not working impartially.
What steps are they going to take now?
The case has already gone to the international level since they were tortured in Uribana prison.
Evidently this judgement will have consequences, and everyone who was intervened in it to guarantee the sentence will have to face both national and international justice.
Once the judge presents the body of the decision, within 10 days we'll present our recourse to appeal, and we can't wait to see the impact this will have on this case of judicial failure.
What kind of situation are Baduel and Tirado in now? 
They're recovering from the agonizing experience they went through at Uribana, and they're very hopeful that they'll regain their freedom sooner rather than later, because they know that this isn't forever, and that one day justice will return to Venezuela.
Translated by Laurie Blair. Edited by Guillermo Jimenez.