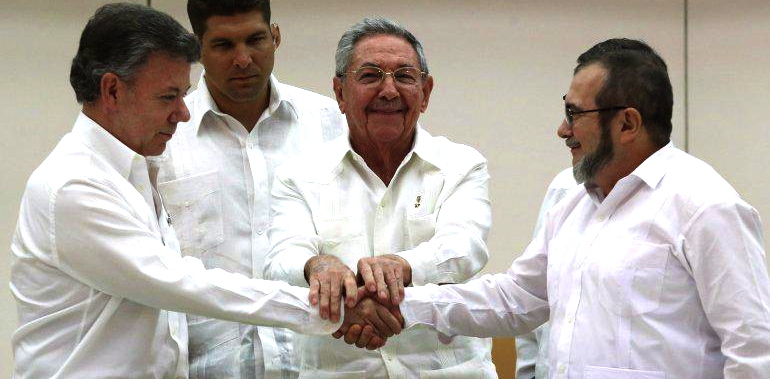 EspañolThere is much speculation about the agreement reached between the Colombian government and the Revolutionary Armed Forces of Colombia (FARC) on September 23, in Havana, Cuba.
Even though the government has not yet released the full text, the public is already debating a number of related issues, including the state's refusal to make the document public; statements by FARC leaders that raise doubts over what was really agreed upon; and the involvement of the two people that most endanger Colombian democracy: Attorney General Alejandro Ordoñez, and state prosecutor Eduardo Montealegre.
The controversy boils down to what kind of justice will be doled out, and for whom. That's why organizations like Human Rights Watch fear that human-rights violators could use the agreement as a get-out-of-jail-free card.
President Juan Manuel Santos's reelection in 2014 made it clear that a majority of citizens want to end the conflict peacefully through negotiation. However, this path involves a distinction between ordinary and political crimes. According to the terms of the agreement, ordinary crimes — motivated by selfish reasons — should be punished, while political crimes — supposedly inspired by some kind of altruism — should receive special consideration.
But how can we be sure that the FARC's ultimate goal was really political change, and not just a group of common criminals seeking to amass a fortune? After all, the guerrilla has been involved in the highly profitable drug trade and engaged in terrorist tactics against civilians.
Nevertheless, Colombians voted for a leader who thought it best to fight the guerrilla through non-military means.
And this approach makes sense. US economist Milton Friedman once said that is a great mistake to judge policies and programs by their intentions rather than their results. The military strategy to defeat the FARC was filled with good intentions, but it failed.
Former President Álvaro Uribe (2002-2010), who also tried to negotiate with the rebels, showed that military strength is an effective way to strike a blow against the guerrilla's leadership, but not to wipe out an entire group.
In fact, Uribe's most important contribution as president was to force the guerrilla to sit down with the current administration, after eight years of increased military confrontations. This is precisely why the peace efforts have moved forward as they have. They may not have advanced as much as Colombian society expected, after several years of conflict, but they have.
It's also true that this negotiation alone won't bring definitive peace to Colombia. The smaller rebel group, the National Liberation Army (ELN), as well as other criminal gangs and drug traffickers with personal armies, are still active. Drug legalization can be an alternative route to reduce violence, as the next generation of Colombian political leaders — like Daniel Raisbeck — have suggested.
[adrotate group="8″]
But in this regard, the Colombian public and their representatives have been cowards. They prefer a flawed negotiation over addressing the root of the problem.
Likewise, the negotiation has basically relied on persuading FARC members to return to civil society. The conversations about political participation, reduced sentences for political crimes, and even land reform are, therefore, not surprising. It seems that the government has forgotten that a peaceful society can only exist when basic principles are agreed upon by everyone, instead of granting privileges to only a few, particularly a violent few.
We must acknowledge that striking a deal with the FARC will mean that justice will not be the guiding principle of this agreement. No one sits down with the government to get a 40-year prison sentence, let alone the cynical FARC leadership. In many cases, the victims of the conflict look forward to reparations and truth, rather than what the traditional justice system has to offer.
In this sense, both parties have something to gain: FARC members will likely not face any prison time; military officers and some political leaders will also skip jail, and instead face restorative justice; and the FARC will become a legal political party.
Can we expect a different outcome? Will these terms be enough to end the conflict with the FARC for good? Will it mean an improvement in the lives of Colombians? Are there any alternatives?
The peace negotiation should be assessed for its results, not its stated intentions. We should at least get this part right.