Homeschooling may represent a small fraction of total school enrollment in Canada, but the alternative education route is gaining considerable momentum. A new Fraser Institute report published this week revealed that the nation's number of homeschooling students increased 29 percent in the five years through 2012, while conventional, taxpayer-funded schools saw a decline of 2.5 percent over the same period.
Deani Van Pelt, author of the "Home Schooling in Canada" report and director of the Barbara Mitchell Centre for Improvement in Education at the Fraser Institute, said the numbers show that more Canadians "feel that their child's interests are best served by an education program that occurs largely outside of a traditional institutional setting."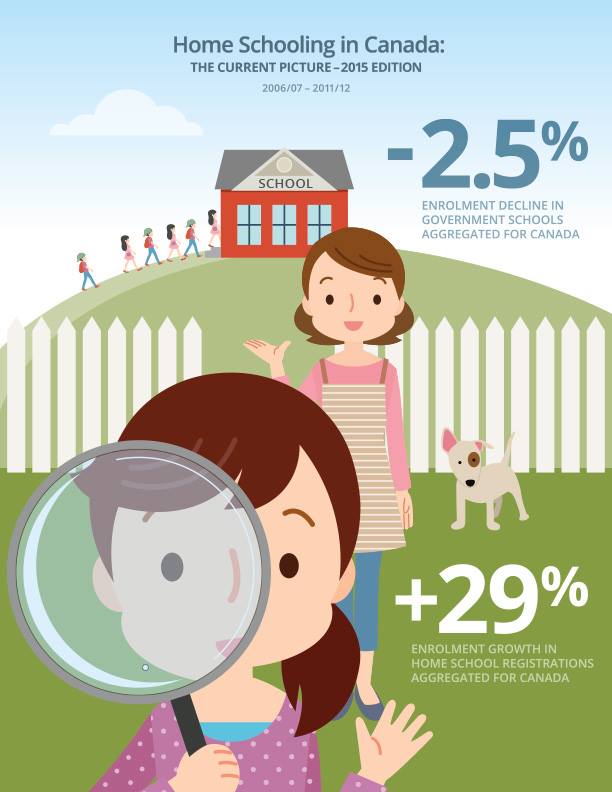 Canada's roughly 22,000 homeschooled students represent less than half of a percent of total enrollment in the country — a small figure compared to that of the United States. According to the most recent US federal education statistics, almost 1.8 million students, or 3.4 percent of the total national enrollment, are homeschooled. Yet despite the small number of Canadian students that chose to forgo a traditional institutional education, homeschool enrollment growth over the five-year period studied was 12 percent higher in Canada than in the United States, as estimated by the National Center for Education Statistics.
Homeschool figures in both countries, however, could be underrepresented due to differing regulations in provinces and states. In the United States, there are 11 states where parents are not required to notify the government of the choice to homeschool, but can do so voluntarily, according to the nonprofit Home School Legal Defense Association. Although all provinces in Canada require families to notify local authorities of home schooling, research shows that not all do so, according to Van Pelt. In addition, four of the provinces have lower levels of regulation that do not require submitting an educational plan.
Van Pelt also highlighted that the motivation for homeschooling has changed from mostly ideological to pragmatic, since it allows for more flexibility for different lifestyles. Homeschooling is now possible for more families, with technology allowing for more widely available support and opportunities. As Ontario Libertarian Party leader Allen Small explains, "the internet has disrupted the entire government/teacher's union educational monopoly."
"These are disruptive technologies that will eventually persuade more and more people that overbearing government regulation and supervision is not in their best interest," Small added. "In the field of education there are options that parents can use to give their children [an] excellent education without using the government school system."
The Fraser Institute report estimates that, even accounting for just official enrollment numbers, homeschooled students during the 2011/2012 school year generated savings of almost CAN$257 million for Canadian tax payers. The provinces Alberta and Ontario generated the majority of the savings — although for the latter it represents a much smaller percentage of total public-school spending for the year.
Van Pelt concludes that policymakers and parents should make use of the increase in homeschooling research and enrollment to facilitate innovation for what she calls the next era of teaching and learning. Likewise, for libertarian Small, it is in the interest of Canada to have "a more diverse, competitive school system with as little government involvement as possible."