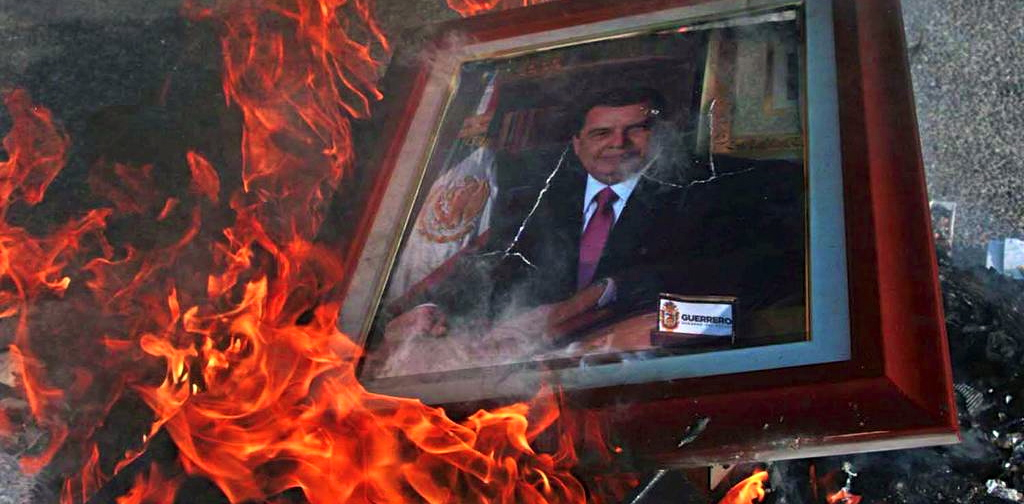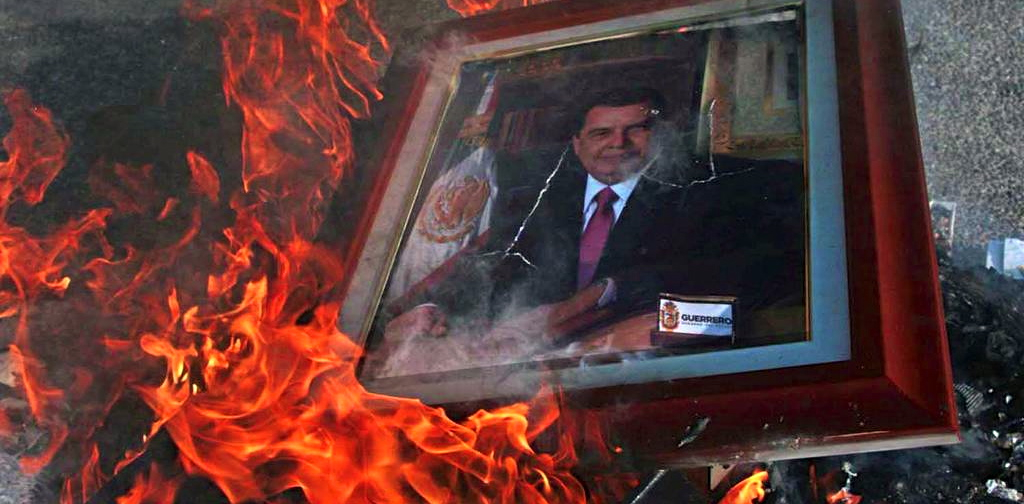 EspañolOver a month has passed since the forced disappearance of the normalistas (student teachers) of the Raúl Isidro Burgos Rural Teachers College of Ayotzinapa, and still 43 remain missing.
On September 26, members of the Iguala municipal police and the Guerreros Unidos drug cartel ambushed the caravan of students as they traveled by bus within their home state of Guerrero, Mexico. The students were headed back to Ayotzinapa after collecting donations for school supplies in the nearby city of Iguala.
After a series of attacks, six people lay dead, several students fled, and dozens more were seen taken away in police vehicles. The six dead include three normalistas, as well as a bus driver named Víctor Manuel Lugo Ortiz, a 15-year-old soccer player named David Josué García Evangelista, and a woman traveling in a nearby cab named Blanca Montiel Sánchez.
The three students confirmed dead include 19-year-old Julio César Mondragón, who after running away on his own the night of the attack, was later found on September 30, his face skinned and eyes removed.
All in the Family
Following the attack, suspicions were almost immediately directed at the local city government of Iguala, including Mayor José Luis Abarca, his wife María de los Ángeles Pineda, and his cousin Police Chief Felipe Flores.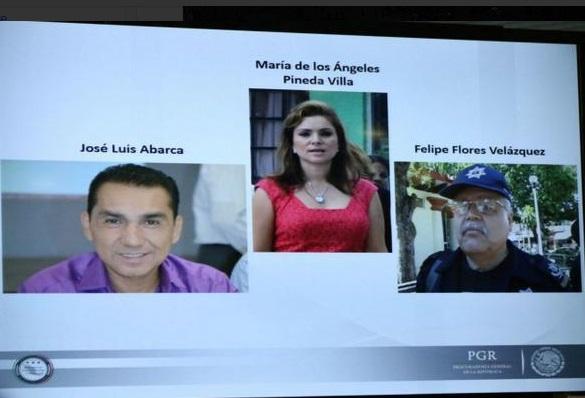 Since then, Mexican Attorney General Jesús Murillo Karam has issued arrest warrants for the trio, naming the mayor and his wife as the "probable masterminds" behind the ambush. All three suspected city officials went into hiding shortly after news broke of the disappeared Ayotzinapa students.
Questions surrounding Mayor Abarca and the first lady of Iguala have intensified in recent weeks, as revelations surface regarding their associations with organized crime. Investigative reporter Anabel Hernández, writing for Proceso, recently provided a detailed criminal history of the Pineda family.
According to court documents Hernández uncovered, three of María de los Ángeles Pineda's brothers — Alberto, Mario, and Salomón Pineda Villa — were not only members but founders of the Guerreros Unidos cartel. The Pineda Villa criminal enterprise began in 2000, according to Hernandez's information, and expanded when alliances were drawn with the Sinaloa Cartel in 2002, before a split with the Beltrán Leyva brothers.
In 2009, the Federal Secretariat of Public Security (SSP) announced Alberto and Mario had been killed in a dispute with Arturo Beltrán Leyva, and recently, on October 9, federal officials declared that marines had captured Salomón Pineda Villa in Cuernavaca.
The arrest, however, has yet to be confirmed, and the governor of Morelos, Graco Ramírez Garrido, has publicly denied Salomón was among those captured. When asked for the criminal case number of Pineda Villa's arrest, the Assistant Attorney General's Office for Special Investigations on Organized Crime (SEIDO) replied, "We do not have it."
On Friday, October 17, Attorney General Murillo then announced the capture of who he termed the "supreme leader of the Guerreros Unidos cartel," Sidronio Casarrubias Salgado.
Since his arrest, Casarrubias has reportedly provided authorities with information as to the Iguala First Lady's role in the murder and kidnapping of the Ayotzinapa students, and identified her as the gang's "highest ranking member in government."
Teach Them a Lesson
The night of the attack on the students, María de los Ángeles Pineda was holding a campaign event at the Plaza de las Tres Garantías in Iguala, preparing to succeed her husband as mayor in the next election.
According to Casarrubias, Pineda received word that the normalista students were in Iguala and assumed they were on their way to disrupt her event. "Teach them a lesson," was Pineda's order, says the captured Guerreros Unidos leader.
As Abarca and Pineda celebrated and danced among Democratic Revolution Party (PRD) supporters, a team directed by Police Chief Flores and then Guerreros Unidos leader Benjamín Mondragón Pereda was sent after the students. They were given the code word, "A-5," to note the order came from the mayor and his wife.
"I would not call these police 'police,'" said Attorney General Murillo of the officers involved in the attacks. "I would call them [cartel] hitmen," suggesting there is little distinction in the city of Iguala.
On Tuesday, October 14, Mondragón reportedly killed himself after a gun battle with Mexican federal police. The new alleged head of the criminal gang, Casarrubias, has told officials that he is unaware of the exact number of students killed or taken.
"I don't know where their bodies were dumped, but the order was to disappear them," said Casarrubias, according to court documents.
Narco State's Open Secrets
According to numerous testimonies from Iguala residents, the connections between the mayor, his wife, and organized crime in the state of Guerrero have been widely known for many years. "It was an open secret. All of Iguala, all of the state of Guerrero, knew who Abarca was," Iguala businessman Sergio Fajardo told the LA Times.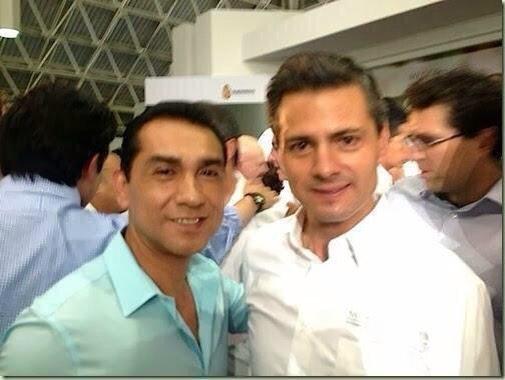 Prior to winning his election for mayor in 2011, Abarca possessed no experience in politics, and was reportedly working as a straw hat and jewelry salesman before marrying into the Pineda family. By 2008, he had amassed enough financial capital to construct the largest shopping center in Iguala, a 70,000 square meter plaza called Galerías Tamarindos.
Accusations of blatant criminality on the part of the first family of Iguala trace back to as early as May 2013. On May 29, 2013, Abarca allegedly confronted publicly a group of striking miners and other activists of the Emiliano Zapata Popular Unity (UPEZ) organization and told them to "stop fucking around" with him. "I have people who work for me who can take care of this," the mayor said, according to UPEZ members.
The next day, armed men kidnapped eight UPEZ members, including Arturo Hernández Cardona, leader of a local PRD faction that opposed the mayor. Of the kidnapped activists, four managed to escape, including Nicolás Mendoza Villa, who provided statements to state judicial officials that he witnessed Mayor Abarca shoot and kill Hernández.
"You fucked with me, so I will have the pleasure of killing you," Abarca allegedly said to Hernández, before shooting him in the face and chest with a shotgun.
Hernández's widow, Sofia Mendoza, sits on the Iguala City Council, and has made appeals to state and federal officials to investigate Abarca — all of which have gone ignored. In late September, Mendoza visited Washington and provided testimony to the Inter American Commission on Human Rights. It was only three days later that the attack on the Ayotzinapa students occurred.
In addition to the testimony of the Hernández killing, further evidence suggests state and federal officials, including Guerrero Governor Ángel Aguirre Rivero and Attorney General Jesús Murillo Karam, were aware of the Abarca-Pineda-Villa criminal enterprise.
On October 17, 2013, a group known as Agora Guerrero posted a YouTube video depicting a woman who identifies herself as Maria Leonor Villa Ortuña, mother of María de los Ángeles Pineda, and mother-in-law of Mayor Abarca.
http://www.youtube.com/watch?v=nEx0gC8FLI4
The woman, bound and blindfolded, presumably the victim of a kidnapping, then details her family's criminal history, their association with the Beltrán Leyva cartel, and the mayor's relationship with the Guerreros Unidos. She also states her sons funded Ángel Aguirre's campaign for governor in 2011 on behalf of the Beltrán Leyva cartel, and that Aguirre is the first cousin of Victor Hugo Aguirre Garzón, leader of the Independent Cartel of Acapulco — ally of the Guerreros Unidos.
Furthermore, according to Salvador García Soto, writing for El Universal, Governor Aguirre and Iguala First Lady Pineda were openly involved in a romantic affair, and were seen together at the governor's office in Acapulco in the days following the attack on the student activists.
Amid growing political pressure and international outcry over the disappeared students, Aguirre resigned as governor of Guerrero on October 23.
Mexico is a Mass Grave
Since the September 26 attack on the normalistas, several captured Guerreros Unidos members have told authorities they killed many of those taken and deposited their bodies in mass graves. Since the search began, federal officials have located 26 mass graves in the Iguala area, but the bodies recovered that have been identified are not the missing students.
According to an officer in the Guerrero State Police who spoke to Milenio, over 300 bodies have been recovered from one clandestine grave in the nearby town of Las Parotas in the last two years.
"All of Mexico is a mass grave," says priest and human-rights activist Alejandro Solalinde Guerra, an outspoken critic of the Mexican government and their handling of the Ayotzinapa case.
You Took Them Alive, We Want Them Alive
Meanwhile, family of the missing students hold out hope that their children will be found alive, and are strongly skeptical of information coming from official Mexican government sources. "You took them alive, and we want them back alive," has been their rallying cry.
President Enrique Peña Nieto met on Thursday, October 30, with parents of the missing students to express his desire to ensure there is no "chance of impunity" in this case. According to Vidulfo Rosales, a human rights attorney who represents Ayotzinapa students and parents, an agreement was signed with Peña Nieto to provide support for the families of the students who were killed or injured and to seek "technical assistance from international organizations" in the search for the missing.
In a press conference following the meeting, however, parents expressed their dissatisfaction with the result. "We are not going to trust the words of the president nor the commitments that were made public … until they present the 43 students to us alive," said Felipe de la Cruz, one of the grieving parents. "What happened at the meeting today for us was just simple promises," added student spokesmen David Flores Maldonado. "We want actions. We want our colleagues back."