EspañolTexans may love their guns, or so the perception goes, but they cannot openly carry handguns in public. They can, however, carry rifles and shotguns, and there is an exception for pre-1899 black-powder handguns.
This odd application of gun control is fueling the growth of a Texas-based advocacy organization called Come And Take It (CATI). Founded in 2013, CATI already boasts 33 chapters, according to vice-president Jason Orsek, and this weekend saw two new locations join the list and engage in their first open-carry marches.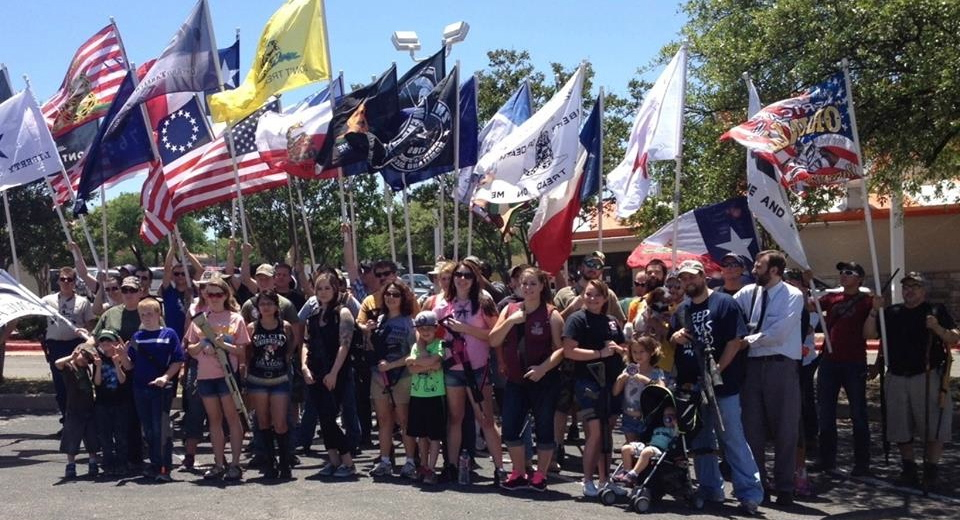 With weapons legal for open display — unloaded, as reported by KFOX 14 — approximately 60 and 20 individuals gathered on Saturday in Round Rock and El Paso, respectively. Then, waving Texan, US, CATI, and Gadsden flags, among others, they joined about a dozen walks going on statewide for "the right to defend ourselves and loved ones as we see fit."
Michael Keoughin, a leader of the Midland-Odessa CATI chapter and present in El Paso, notes that "Texas is surrounded by states that have the ability to carry their modern-day firearm[s], their pistols, and Texas does not."
Orsek, also a cofounder, says there are now so many of these walks going on each weekend that he has a hard time keeping track. Although CATI has regional managers, there is a great deal of autonomy in each chapter's activities. This month, for example, the Austin chapter will engage in an open-carry "homeless feed."
"It takes [one] spark to start a fire," Orsek says. "Every week we expand into new ground.… Great job El Paso and Round Rock."

The El Paso chapter notified local police in advance, and a couple did drive by to observe, but neither event drew resistance or conflict with law enforcement, since no laws were broken.
Similar events in other locations, though, have drawn both alarm and a large police presence — precisely the motivation for the marches, to demystify the practice of openly carrying in public. This past week, for example, 10 police cars arrived at an Open Carry Texas march in Fort Worth, after employees at a Jack in the Box restaurant misunderstood the event and locked themselves in a freezer for protection.
Regarding why seemingly arbitrary gun control laws remain in place, James Peinado, president of Freedom Libertad in El Paso — which produces the El Paso Liberty Hour — spoke with the PanAm Post. He notes that being on the border means government entities and their restriction-oriented, urban employees dominate the region, including the media.
They are the ones that promote and keep gun-restrictive ordinances in place, and they are the ones who vote, keeping the Democratic party very healthy and well funded.…

While perhaps many in the Army, Border Patrol, and law enforcement believe in a Second Amendment right, they may not all grasp it as more than something in writing, and see it as something to be altered when political support for that is present.… An inalienable 'shall not be infringed' right is something in the minds of many but not all.
On the other hand, he says that among the poor "there are many who have been wronged by government force in some way or another, and they are skeptical of gun control. The people I meet and converse with on the streets believe in the inalienable right to defend oneself with a gun."
Further, while there may be many Second Amendment enthusiasts in El Paso, "seeing people walking down a populated street in El Paso was a shock to the system for many. One hopes that groups like Come And Take It and Open Carry Texas will over time be able to successfully desensitize people to this sight … but we have only begun on that front and there's much work to do."