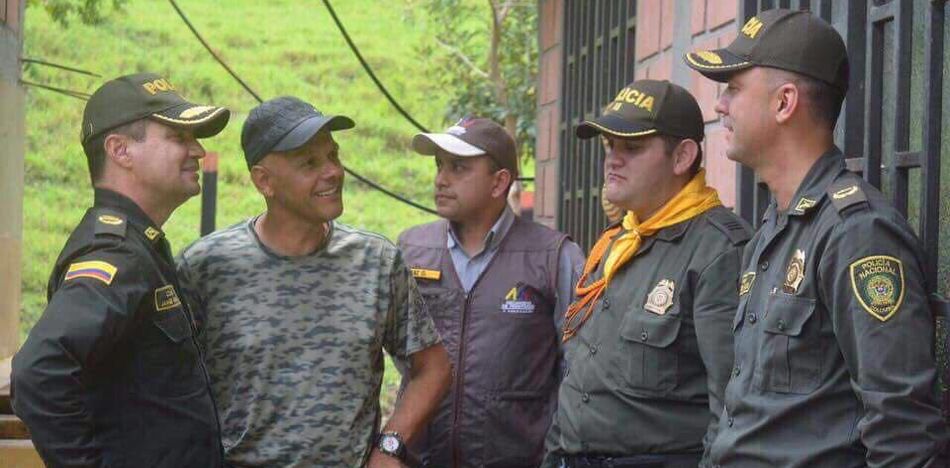 EspañolThe Colombian government and the Revolutionary Armed Forces guerrilla group are working to keep a disarmament deal from falling apart, but have encountered a new problem last week: They can't find Hernán Darío Velásquez Saldarriaga — alias El Paisa — the country's most feared guerrilla.
The former commander of the FARC regiment Teófilo Forero disappeared on October 26 from Miravalle, Caquetá. Members of the FARC claim he fled for fear of his life, but the country's Peace Committee Office said some former guerrillas are authorized to leave designated disarmament areas assigned during the surrender, as it is a policy intended to reintegrate them into society.
https://twitter.com/juanjo311/status/924245339829342208
Tweet: So the terrorists El Paisa took photos with compliant police, who he is now planning to kill. Good job.
"Members of the FARC political movement can come and go from their designated training areas," a statement said. "These areas were designated to facilitate their reintegration. They were never intended for long-term use. The government is aware of El Paisa's disappearance."
El Paisa helped plan the bombing at Club el Nogal in Bogotá. He gave the orders while his contact in Bogotá planted the bomb. The location of the attack was selected because the club is frequented by members of the Colombian parliament and other political leaders.
President Juan Manuel Santos and his administration have insisted that the feared guerrilla leader "personally" contacted the Peace Commission and told officials there that he left the area due to concerns about his safety. Citing threats from gangs, he told officials he would not be returning until the safety of former guerrillas could be ensured.
El Paisa is allegedly at large with 90 former FARC soldiers, among them four commanders who used to be a part of the Teófilo Forero regiment.
The opposition considers El Paisa to be a dissident of the peace process, despite criticism from local media claiming it's a ridiculous stance.
El gobierno vuelve a hacer el ridículo con la fuga de El Paisa. Creyó que lo grandes matones son monjitas de la caridad y no los controlaron

— Salud Hernández-Mora (@saludhernandezm) October 27, 2017
Herbin Hoyos Medina, President of the Colombian Federation of FARC Victims, claimed El Paisa is participating in an attempt to reignite FARC activity.
EXCLUSIVO:Lo anuncié la semana pasada que alias "el paisa" no pasaba de esta semana en escaparse para manejar el frente 1 activo de las Farc

— Herbin Hoyos Medina (@herbinhoyos) October 27, 2017
Santos' former Defense Minister, Rafael Guarín, said there are also 1,100 soldiers from the Mono Jojoy regiment who have abandoned the peace process, causing him to doubt the success of the disarmament.
Alias "El Paisa" no sería el único en volver a la violencia! En solo el bloque oriental, Mono Jojoy, son más de 1100. Cuál desmovilización?

— Rafael Guarín (@RafaGuarin) October 27, 2017
Representative of the Centro Democrático party, Samuel Hoyos Mejía, said that El Paisa has permission from the government to continue his criminal activities.
Gobierno aclara que alias "el paisa" tiene permiso para delinquir. https://t.co/MkNKuQxPwn

— Samuel Hoyos Mejía (@SamuelHoyosM) October 27, 2017
Former Attorney General Alejandro Ordóñez and current presidential candidate wondered "if alias El Paisa is promoting peace or terrorism?"
Así las cosas, ¿alias "El Paisa" es disidente, comandante, gestor de paz o terrorista? Todo al tiempo, con aval de Santos y su falsa paz.

— Alejandro Ordóñez (@A_OrdonezM) October 28, 2017
On the other hand, FARC leader Rodrigo Londoño, also known as Timochenko, said that Hernán Darío Velásquez Saldarriaga is still committed to the peace process and rejected the "misinformation" being distributed by some local news sources about the case.
No hagan caso a la desinformación, El Paisa sigue siendo un militante de la paz, salió de ETCR por motivos de seguridad.

— Rodrigo Londoño (@TimoFARC) October 28, 2017
"Don't pay attention to misinformation, El Paisa is still fighting for peace. He left ETCR for his own safety," he said.
The statement made by Timochenko was added to a record kept by the Peace Commission, which is not endorsing either version of the incident. "At this time is is unclear whether or not El Paisa has turned his back on the peace agreement," officials said in a statement.
Sources: Cablenoticias, Semana.