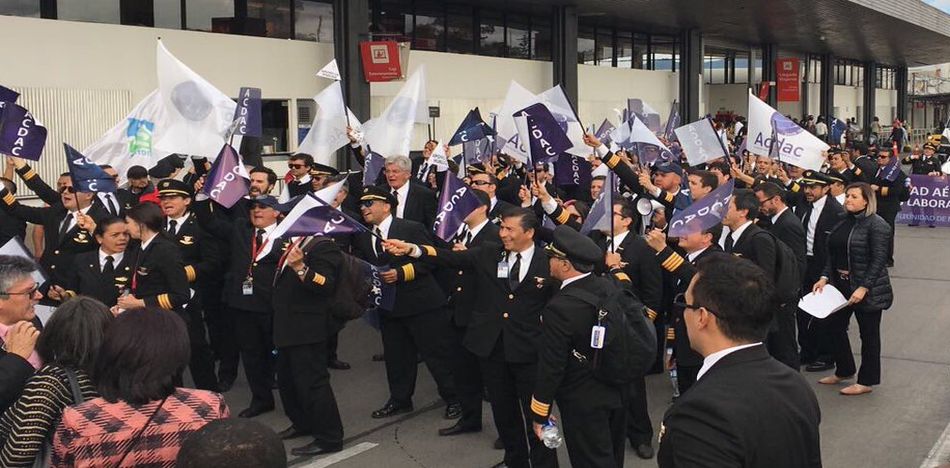 Español Colombian Airline Avianca will contract foreign pilots during an ongoing strike, thanks to a resolution passed by the Office of Civil Aeronautics (Aerocivil). Though the measure will only remain valid for three months, it's caused a significant stir in the country, as the policy goes against a law establishing the collective right to work.
A few days after filing a claim that argued the strike was illegal, Avianca released a statement saying that air transport is too essential a service and will therefore not allow its employees to cease working when it directly affects the interests of passengers — even if workers are protected by trade union immunity.
Implementamos de forma inmediata aprobación de @AerocivilCol para incorporar Pilotos extranjeros y fortalecer nuestra operación. #YoNoParo pic.twitter.com/9ddmtKtv5E

— Avianca (@Avianca) October 3, 2017
We will immediately put into effect the approval of @AerocivilCol to allow the hiring of foreign pilots, and strengthen our operation. 
Aerocivil stipulated that there must be a Colombian co-pilot alongside every foreign pilot operating an aircraft. If the captain is a foreigner, he must speak Spanish or at least certify his level of English, and can only fly to international airports. He must also take a course in Colombian regulations and certify his license.
Additionally, hiring foreigners can't exceed 10 percent of the airline's total payroll.
"We will immediately implement the Aerocivil standards. Avianca, with its operation in several countries in the region, has highly qualified pilots who will travel today to reinforce the operation nationwide. This measure is complemented by the recruitment plan for new Colombian pilots that is already under way," Hernan Rico, owner of the airline, said.
He added that Avianca is also reviewing the availability of pilots in companies that have qualified crews to reinforce the operation. The airline has already begun a recruitment effort to hire new Colombian pilots who are not striking union members. Rincón said the airline has identified more than 1,800 candidates so far.
The pilot's union, Colombian Association of Civil Aviators (ACDAC) rejected the measure that, according to them, violates labor, commercial and constitutional regulations.
Acdac rechaza la autorización para la contratación de pilotos extranjeros pic.twitter.com/ltIAKT0ZPh

— Acdac (@Acdac1) October 3, 2017
Acdac rejects the authorization to hire foreign pilots.
"With this decision, once again the Colombian state has sided with the company rather than labor rights" an official statement from the union, ACDAC, said. The union added that it would "advance administrative and legal processes" at its disposal and urged pilots throughout the region to maintain "solidarity and support for Colombian pilots on strike" by rejecting "the call of Avianca to come and supplant our labor force."
The debate as to whether or not ACDAC's strike is legal is awaiting a court's decision. It's also unclear if Avianca's proposed reaction is legal or not, or how long it will take them to put Aerocivil's new permits into practice.
Source: El Espectador, Finance Colombia.