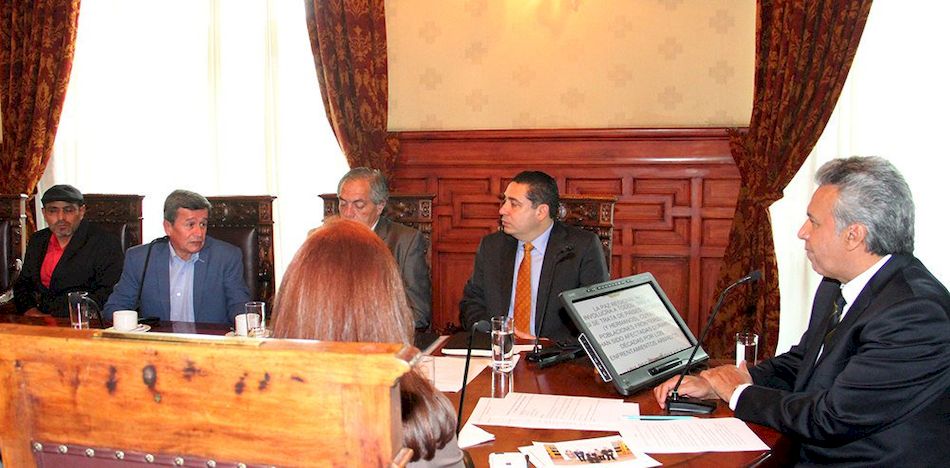 The president of Ecuador, Lenin Moreno, expressed full support for the negotiations being hosted in his country between the Colombian government and the Marxist rebel group the National Liberation Army (ELN), and called for a ceasefire before the pope's visit in September to Colombia.
The negotiations, first undertaken under the auspices of former president Rafael Correa, represent an opportunity for Ecuador to curry international favor and prestige, as they seek to build on the FARC-Santos Agreement, which ended a six decade armed dispute with the Colombian government.
Last Monday, the delegations held a meeting led by Moreno, in the city of Quito, where the Ecuadorian president said "there is nothing more precious than peace."
Both the delegations of the Colombian government, headed by Juan Camilo Restrepo, and guerrilla commander Pablo Beltrán of the ELN, expect the negotiations to reach a bilateral ceasefire before the arrival of Pope Francis to Colombia in early September and thus be able to alleviate the pressing humanitarian concerns of communities living in the surrounding areas where violence has flared up between the ELN and the Colombian military.
"We are determined to live up to the expectations associated with the Pope's visit, and also to take the first step towards peace by agreeing to a bilateral ceasefire that will benefit the civilian population," said the guerrilla leader.
At the meeting, Moreno received a report on the progress of the dialogues that have taken place in the Ecuadorian capital since February in which he maintained his desire for the parties to reach an early peace agreement in his northern neighbor.
For his part, Juan Camilo Restrepo thanked the government of Ecuador for the opportunity to dialogue with the ELN in that country and assured that the respective efforts are being made to announce as soon as possible the bilateral and temporary ceasefire by the end of the third cycle of negotiations, which will take place next Friday, September 1st.
The meeting at the Carondelet Palace, the official workplace of the Ecuadorian president, also included the Ecuadorian Foreign Minister and representatives of the countries acting as guarantors of the peace process: Brazil, Chile, Ecuador, Venezuela, and Cuba.
The ELN has historically been Colombia's second largest guerrilla group, and is estimated to have 1,500 fighters. It is considered even more radical than then now defunct FARC, and was heavily influenced by the ideology of Liberation Theology.
Source: La Republica