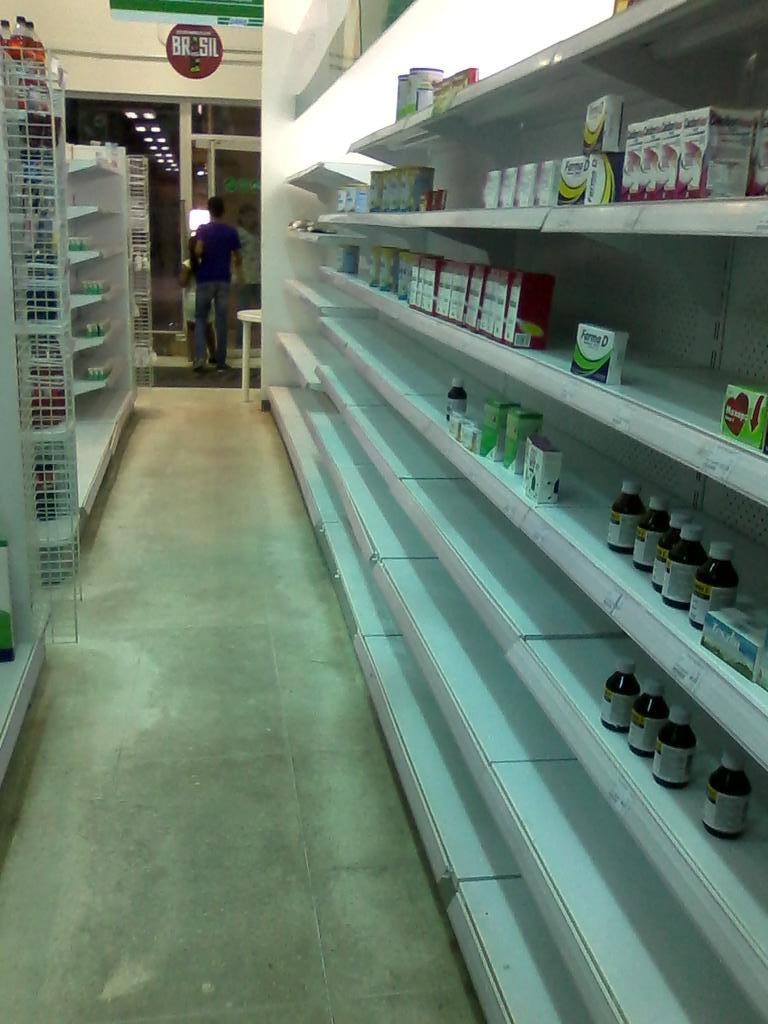 EspañolAriana Guevara's brother, 26, depends on an anticonvulsant to live. It's called Valcote ER. He has been taking it religiously for the last five years, morning and night. Three months ago, however, with only one box of the medication left, his family realized it was disappearing from pharmacies throughout Barinas, in southeast Venezuela, where they live.
This is how the Guevara family began their cross-country journey in search of badly needed medicine. Through social media and WhatsApp, they alerted everyone they knew about their search, and found a few boxes of Valcote ER in other cities like Caracas, where Ariana lives. There are now Twitter accounts entirely dedicated to finding medicine in Venezuela.
The story is the same for her grandmother, 82, who was prescribed 20 mg of Adalat Oros for high blood pressure. Arianna rummaged through pharmacies in Caracas looking for it, and her family did the same in Barinas, but they were only able to find the medication in 30 mg.
"The doctor said she couldn't take this medicine because it would be too strong for her," Ariana explained. The same doctor instructed her grandmother to take half of the pill they found, even though it wasn't the dosage she actually needed.
Venezuelans make daily pilgrimages to pharmacies throughout their country. The recent medication-shortage crisis has shined a light on the many thousands of people who depend on pharmaceuticals. Many are now unable to get the prescriptions they need to stay healthy, or alive.
Among the medications that have disappeared from shelves are those used to treat seizures, high blood pressure, thyroid disease, serum sickness, HIV/AIDS, Parkinson's, and Alzheimer's disease. Adult diapers have also been in increasingly short supply.
Ariana says she has been forced to search elsewhere for diapers for her grandmother: "The lack of medicine is horrible, and the shortage of adult diapers is worse. An aunt went to the United States and brought back a bunch of packages, because here you can only find postpartum clinical towels or bed pans. When we run out of the ones from the United States, I don't know what we are going to do. I have gone to all the pharmacies I can."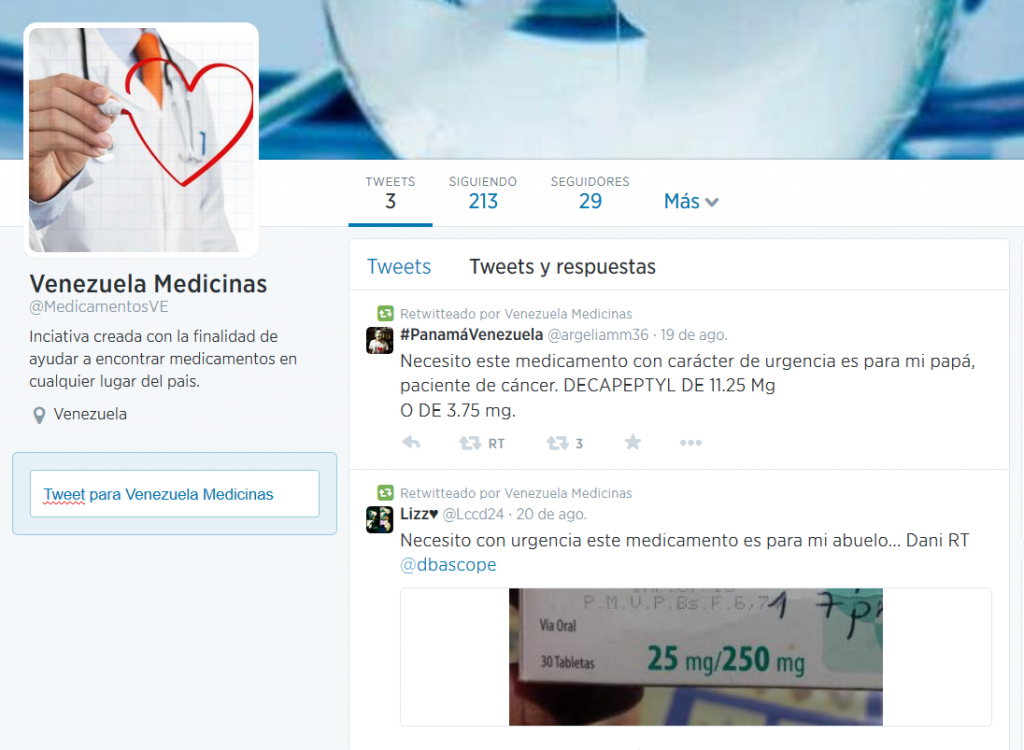 Maritza Quevedo, from Caracas, finds herself in a similar situation. Her father uses an average of three diapers per day.
"Not too long ago the diapers were in Locatel [a chain of pharmacies in Venezuela], and they sold two packages per person. Each package has just six diapers, so I went with my sister, and we bought what we could. We put them in the car and we went back inside, but the employee at the store recognized us and didn't want to sell them to us again. So, we gave the money to other customers in the store to do us a favor and buy them for us," she said.
Her brother also purchased some diapers in Panama to save for later.
He has to take this pill with every meal, but I only give it to him twice a day so we don't run out of what we have.
However, what concerns Martiza the most is the absence of the medicine that reduces the stiffness caused by her father's Parkinson's: "I have to dedicate my mornings to finding the medicine in pharmacies, because I have to take care of my father. Sometimes I just decide to call all the pharmacies in the yellow pages, but this medication still has not returned to stores. He has to take this medication with every meal, but I only give it to him twice a day so we don't run out of what we have."
For those unable to ration, the situation becomes heartbreaking. Natacha Pintohad had to hospitalize her 10-month-old baby due to a pulmonary complication. She could not find the antibiotic her child needed in any pharmacy in the city, and they were only able to get it from a pharmaceutical representative who gave them a free sample. The situation has repeated itself for almost every medication the baby has needed.
"He's a baby; he can't take pills. Basic medicines, like an analgesic, are not available in any other form. When I find three or four, I have to save them."
There are others who exhaust their reserves and have to opt for alternative medicines that are less effective. For 12 years, Fátima Arévalo's father has depended on a high blood pressure medication, Benicar, which appears to have vanished from the country.
He has to very careful when he takes it. Fátima says one time he took a little more than recommended and he fainted. But now just the search for Benicar has become agonizing. If he goes a day without it, all she can do is give him a mixture of honey and garlic.
"The doctors said hypertension is silent, and if he goes a day without his medicine, he can have a sudden attack," she said with anguish.
Both inside and outside hospitals and clinics, the health of Venezuelans is dependent upon financial status. From Spain, Adriana Gomez witnessed the struggle of her family in their search for a chemotherapy drug to treat her great uncle's lymphoma.
After three months of knocking on pharmacy doors, without a single positive response, the family followed the doctor's suggestion: use a stronger form of chemotherapy that they could actually obtain. One month after starting the treatment, Gomez's uncle died.
I can't stop thinking that, if I could have found the appropriate chemotherapy, he could have survived.
"He was sick for many years, and I was blinded by how long the cancer had lasted. I can't stop thinking that, if I could have found the appropriate chemotherapy, he could have survived," she said with regret.
Origins of the Shortage
On Friday, the Pharmaceutical Federation of Venezuela (FFV) requested that the government establish an "emergency policy," to combat the medicine shortage that has resulted from an inadequate supply of foreign currency.
"As we have said … there needs to be an emergency policy in place so that these drugs can get to our country," said FFV President Freddy Ceballos.
"This cannot keep happening. Patients are going to die due to the negligence and incompetence of a government that does not know what it is doing," said Ceballos, who asked that the liquidation of dollars that the state controls be done "in a planned, programmed, and systematic way."
https://twitter.com/tareksaidb/statuses/477656092017963008

Nobody told me! The pharmacies in the beautiful tourist town of Caripe are also like this.
On August 18, Minister of Health Francisco Armada admitted on state-run Venezuelan Television (VTV) that there is a "group of drugs that effectively do not exist" in the country.
Without clarifying which ones, nor in what quantity, he said they would return to the market in a "very short" time. Armada assured Venezuelans that the Center for Foreign Trade (Cencoex), responsible for authorizing foreign transactions in Venezuelan currency, would soon approve US$1.47 billion in imports for 174 companies.
In May, the pharmaceutical federation established a debt of $4 billion. In August, Ceballos said a pronounced shortage would continue until the end of the year, since it takes three to four months after the payment of imports for them flow through to the market.
The Regime's Hand on All Sides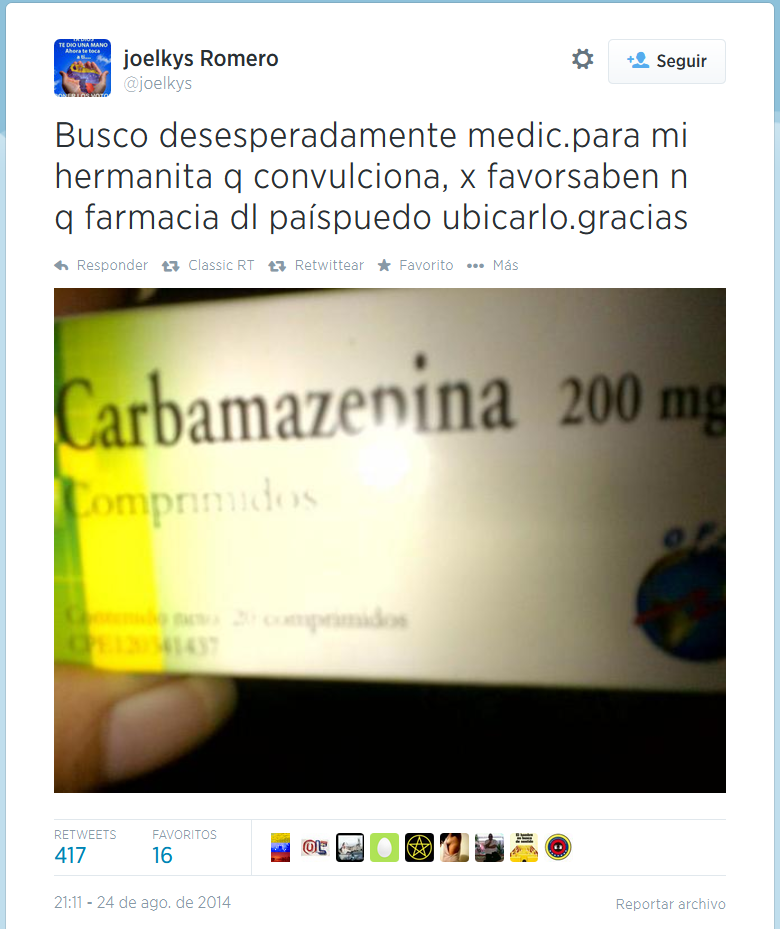 Venezuelan state control over medicine is not limited to the supply of foreign currency for the importation of drugs and other supplies. It extends their marketing and management as well.
Carolina Pérez — who chose to use a false name for her protection — must travel once a month from Maturín to Puerto La Cruz to get the growth hormone Genotropin for her son.
The trip lasts two hours, and she must leave at 3 a.m. to get in line early with the other patients who depend on the Venezuelan Institute of Social Services (IVSS) for their medication.
Carolina tried to find this drug in commercial pharmacies, but several locations insisted the drug had been taken off the market, by government decree, because it was used for aesthetic purposes. Now, only the government sells it.
While it's been hard for us, it's even worse for the elderly who are in the sames lines looking for cancer and Alzheimer drugs. Some arrive at 2 a.m., and by morning some are told there's nothing left.
"While it's been hard for us, it's even worse for the elderly who are in the sames lines looking for cancer and Alzheimer drugs. Some arrive at 2 a.m., and by morning some are told there's nothing left," she said.
The central government's control also extends to and delays the shipment of drugs. Ariana Guevara says that when she finally got a few boxes of medication for her brother, getting them to Barinas was like trying to send an extremely valuable cargo.
"Courier services and bus terminals do not want to transport parcels containing basic food and medicine. I had to wrap them in thick clothing, put them in a shoe box, and pack it so it looked like I was sending something else."
Adriana Gomez says her family did something similar when a new cousin was born in Bolívar City, in southeast Venezuela. The infant had high bilirubin, and the medicine to treat it could only be found in Caracas: "An uncle who works for the government had to bribe the bus driver to get him to agree to bring the package. He had to offer him a reward if the family successfully received the medicine for the baby."
Unintended Consequences
In addition to the health consequences attributed to the medicine shortage, the drains on time and energy in the search for proper medication bring their own lingering side effects.
Vanessa Raga, a school teacher in Caracas, says that classrooms are suffering the consequences. She says Ritalin disappeared from the shelves six months ago, and children with attention issues are not being treated as needed. According to Raga, this has caused children to behave aggressively, have trouble sleeping and resting, and has subsequently required more time from their parents, who must frequently leave their jobs to visit the school.
"Children with these needs, who are not being medicated, can become depressed, out of the frustration with not being able to achieve certain goals, due to the trouble they have concentrating. They may be prescribed another drug as a replacement, but then not able to find it as well," she says.
No Human-Rights Guarantees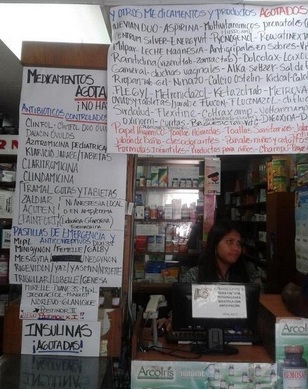 The Venezuelan Education Program of Human Rights Actions (PROVEA) issued a statement on Thursday, August 28, asking the government to prevent the economic crisis from turning into a human-rights crisis.
In their latest annual report, PROVEA noted an 84 percent increase since 2012 in the number of "impediments to the provision of public-health services," a figure supported by 1,976 complaints.
The Venezuelan Pharmaceutical Federation and the Venezuelan Association of Distributors and Medical Teams, Dentists, Laboratories, and Related Fields reports a 60 percent shortage in medicine and an 85 percent shortage in medical supplies.
PROVEA also stated that Ombudswoman Gabriela Ramírez should declare a public-health emergency in Venezuela: "The absence of effective, appropriate, and sustainable policies to address the constant failures and deficiencies in the provision of services has deepened the crisis, causing the population to be deprived of essential treatment. The setbacks and stalemates in the availability and accessibility of free, quality care affect Venezuelans' right to health and life."