EspañolYesterday morning, a group of Venezuelan residents in Panama City protested outside the residence of the new president of Panama, Juan Carlos Varela. The demonstrators expressed their opposition to the possible presence of the President of Venezuela, Nicolás Maduro, at Varela's presidential inauguration. They also asked Varela to take a firm stance against ongoing human rights violations inflicted by the Maduro regime in the oil-exporting country.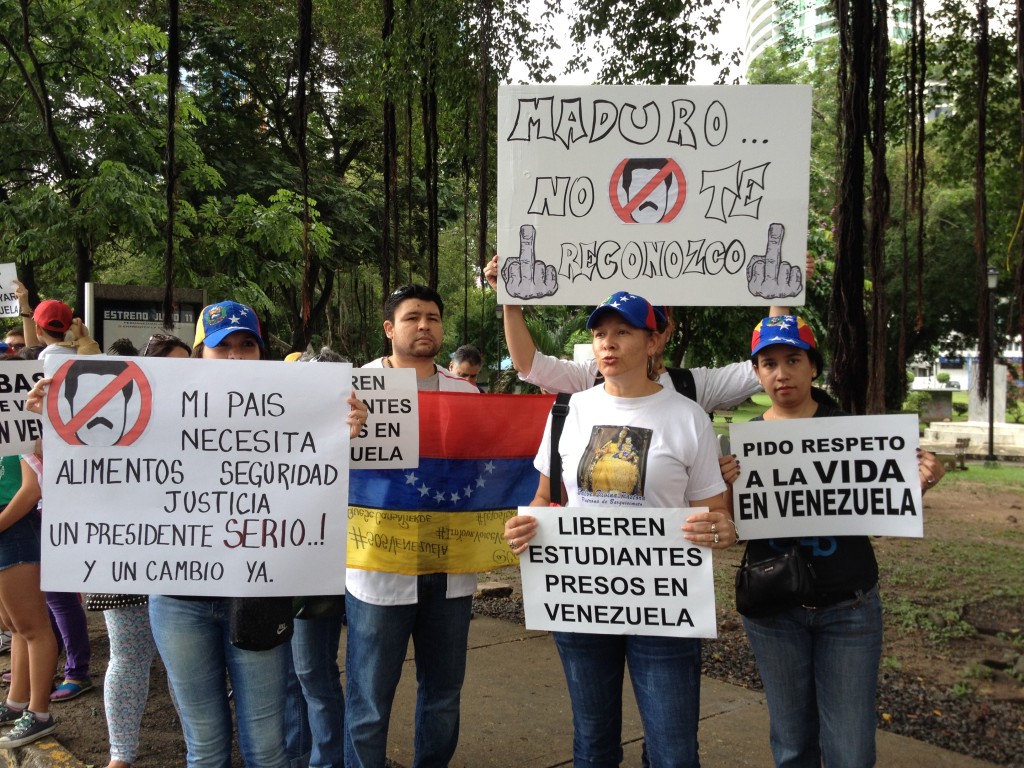 The Venezuelan demonstrators acted in preemptive manner, since the Venezuelan president has yet to confirm whether he will attend the inauguration ceremony. The presidents of other countries, such as Costa Rica, Guatemala, El Salvador, and Spain, have given such notice, and unofficial sources suggest that Venezuelan Vice President Jorge Arreaza will travel in Maduro's place.
Still, Andreína Chacín, a representative in Panama for the Venezuelan opposition party Popular Will, says the protests were carried out in advance precisely to let President Maduro know how the Venezuelan community there feels about the possibility of him visiting the country.
"He is a dictator. He is suppressing the democrats who took to the streets to protest against him, which is a legitimate right protected by our constitution," said Chacín. She was referring to the deaths of 42 people and the arrests of more than 3,000 during the wave of protests that began in Venezuela on February 4.
Chacín also recalled that following the breakdown of diplomatic relations between Venezuela and Panama last March, Maduro was disrespectful to the Central American country.
"We do not support his visit. He disrespected Panamanians, and we want the international community to break its complicit silence. To the extent that they don't make use of the international mechanisms to enforce respect for human rights, the death toll will keep rising. Many leaders that have not spoken out will have to live with the fact that they did nothing to stop the killings," Chacín said.
After the delegation of the Central American country ceded their turn to speak to opposition leader María Corina Machado at a meeting of the Organization of American States (OAS) held in March, Nicolás Maduro called Panama's ex president Ricardo Martinelli a "lackey."
The Popular Will representative asked Panama's new president to continue the struggle for human rights and democracy in Venezuela, as allowed by international law.
Demonstrators, who remained protesting until noon, told the PanAm Post that both Varela and his wife, Lorena Varela Castle, waved their hands in a friendly gesture towards them while they were leaving their home.
"Here I Can Express my Opinion and not Die in the Process"
Many of the banners held by demonstrators protesting in Panama highlighted that in Venezuela they simply "cannot protest," since between February and June, 3,000 peaceful demonstrators have been arrested there.
https://twitter.com/elisavasquez88/status/484000783273168896/
Norema Asilah, a Venezuelan vacationing in Panama, said she was happy to be able to protest in the way that she is not able to in her home country.
"I came to visit my daughter, and I'm happy to be here to express the sadness and despair we Venezuelans feel. Our children have to look for a better future in other countries. In Venezuela, the government keeps wasting money while the misery of the people grows in front of our eyes," she said.
Another protester, Verónica Velásquez, arrived in Panama a month ago with the intention of settling in the country.
"I lived through the protest period in Venezuela and did not dare to go out, because it meant putting a bullet to my chest. Here at least we can have our own small space for telling the world what we are going through back home," she said.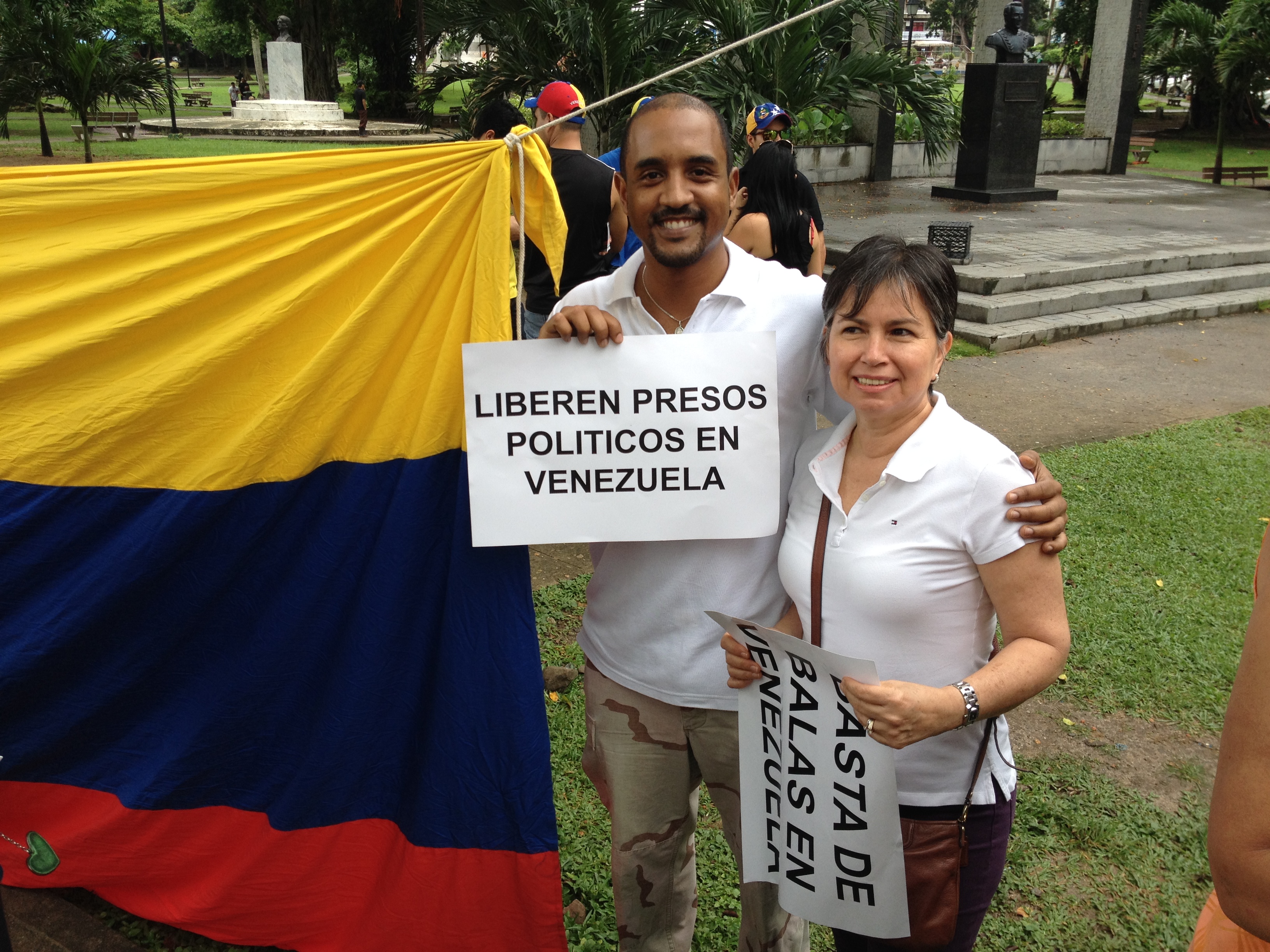 Panamanians also approached the protest to show their support and solidarity.
"Given what is happening in our brother country, we cannot pretend to be deaf and blind. Students are being repressed in Venezuela.… Panama went through a dictatorship in the past, and many of our people had to flee to other countries. We must be unified," said Rey Furtado, a Panamanian citizen who participated in the protest.
A group of Colombians also attended the demonstration in the company of family and Venezuelan friends.
"Human rights are violated all the time in Venezuela. That's not what Simón Bolívar would have wanted for his country," said Luis Fernando Cardona, who proudly wore the Colombian football team jersey, but held a banner against repression in Venezuela.
His Venezuelan friend, Jenny Ramirez, added: "How could they not show solidarity if they are our brother country? Maduro's visit would be disrespectful. It is a government that indoctrinates our children and represses our youth."
Citizens Affected by the Breakdown of Diplomatic Relationships
Chacín said that although Maduro and Varela have mentioned re-establishing diplomatic relations, in practice there are still unresolved issues between the two countries. Venezuelan nationals cannot solve their banking and consular problems due to the inactivity of diplomatic offices, along with Venezuela's rejection of foreign currency transactions with Panamanian intermediaries.
Because the Chavista regime has established severe foreign-exchange controls, state officials can decide what type of operations are authorized for currency trading. Venezuelans who travel to Panama, for example, cannot exchange their currency into US dollars freely. But the situation is even more complicated for Venezuelans who reside in Panama and who study or receive their old age pension, as they need to convert their bolivars into dollars to cover their most basic living expenses.
"As Venezuelans in Panama, we are still not able to freely access our own money. It is important to note that this is not about the government giving any money to Venezuelans, it is about the inability to change our own money into dollars," said Chacín. "With the high inflation rates prevalent in Venezuela, it is too expensive to buy dollars on foreign-exchange black market that has gown so large in [her] country."
Over 60,000 Venezuelans live in Panama, and the figure is expected to increase due to the emigration wave currently sweeping Venezuela.
Chacín also noted that just like payments for remittances and pensions are frozen, traders in the Colón Free Zone in Panama still haven't been payed either. "Venezuelan companies paid what they owed in bolivars, but the government does not pay the dollar equivalent here in Panama."