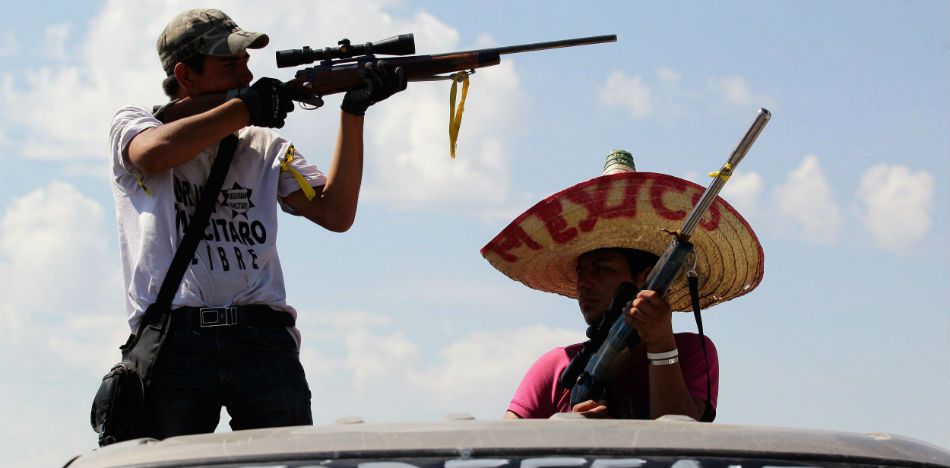 EspañolAn estimated 40 members of an armed group in Mexico were caught on tape praying in preparation for "war."
The footage was broadcast on TV, showing soldiers carrying rifles and wearing bulletproof vests, praying "prepare my fingers for war."
In Reynosa, Tamaulipas, where the armed group originates, there have been clashes with federal law enforcement over the past week that resulted in an estimated 25 fatalities.
In the video, armed men can be seen asking God for protection during the confrontations. One member led the prayers:
"Praise the Lord, prepare my fingers for war, and my hands for battle because He is my milestone, my glory, my salvation and my honor. Forever and ever, Amen." Afterward, they shout "Long Live the Gulf Cartel!" Then, they are immediately ordered to break ranks, similar to an army platoon.
The people of Reynosa have been caught in the middle of these armed groups' constant fighting, resulting in civilian deaths as well as deaths of gang members and police officers.
The city of Reynosa has activated warning lights at least eight times to alert citizens of potential shootings and blockades.
Federal authorities have already begun investigations that have resulted in seizures of long arms, 9mm caliber weapons, 78 9mm caliber cartridges, one fragmentation grenade, two 7.62x39mm caliber chargers, nine 308mm chargers, four caliber 8 chargers mm and a van.
Source: Animal Político