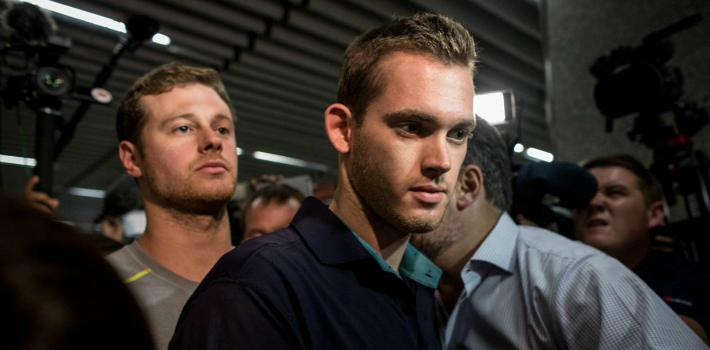 EspañolFour US swimmers who participated in the Olympic Games in Rio and claimed they had been assaulted by men wearing police uniforms early Sunday as they returned to the Olympic Village were questioned by Brazilian authorities, as no solid evidence could be found to support their claims.
Brazilian officials reportedly said there is a video showing US swimmers breaking down a door of a restroom at a gas station while "fighting" with a security guard, meaning Ryan Lochte, Gunnar Bentz and Jack Conger had made up their story about the alleged assault.
Lochte's father said his son returned to the United States before a Brazilian judge could confiscate his passport.
It was later revealed the swimmers stopped at the gas station to use the restroom, where one of the athletes committed an act of vandalism, according to reports. An argument broke out between the swimmers and security staff, who ordered the athletes from the car and forced them to pay for the damage.
The swimmer's father, Steve Lochte, said his son called him on Tuesday after reaching the United States with plans to pick up his vehicle and buy a new wallet to replace the one he said had been robbed.
"I'm just happy because he is safe," said Lochte's father. "It was an unfortunate experience for him and the other three. I do not understand why there is so much controversy. They took the taxi and were assaulted. The most important thing is that he is very fortunate because he is safe and sound, and that all that was taken was the money and the wallet."
He said his son's cell phone was never taken, nor his credential during the incident on Sunday morning.
"Why invent something?" Steve Lochte said. "It's absurd."
Two of the swimmers involved were taken off the plane before it left Brazil.
At the moment Feigen's whereabouts are unknown, though some media outlets have reported he is still in Brazil.
The US Olympic Committee said police went to the Olympic Village on Wednesday morning to confiscate the documents, but the swim team was gone.
"We will continue to cooperate with the Brazilian authorities," said Committee Spokesman Patrick Sandusky. The United States Department of State also issued a statement Wednesday urging those involved to cooperate with the authorities.
A spokesman for the swimming federation said he could not reveal the location of athletes for security reasons.
An agent with knowledge of the investigation said police could not find the taxi driver or any witnesses.
Source: Univisión, Sports Illustrated