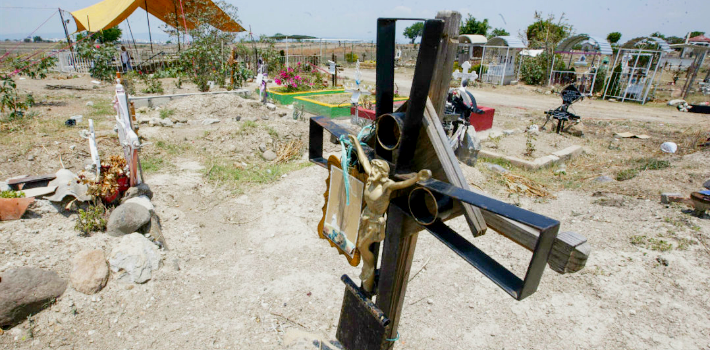 EspañolThe recovery process of the approximately 150 bodies thought to be secretly buried at a site by the Morelos state prosecutors' office in Tetelcingo Mexico continued this week with the exhumation of four corpses.
Work began on Tuesday around noon, taking around 45 minutes for the recovery of each corpse's remains with the use of a tractor tied to a forensic gurney.
By 4:30 pm, the fourth body was uploaded to the Medical Examiner's vehicle, which took them to the private cemetery Gardens of Remembrance in Oaxaca.
Maria Concepcion and Amalia Hernandez, mother and aunt of Oliver Wenceslao, accompanied and witnessed the burial of the bodies, as well as Prosecutor Javier Pérez Durón.
At a press conference in Tetelcingo, Juan Valdivia and Abimelech Morales, the Universidad Autónoma del Estado de Morelos (UAEM) forensic team, presented a report detailing the excavation process, which found "serious irregularities" with some bodies due to their lack of any identification number, among other issues.
They said the corpses were "necropsied," and the way they were packed "leaves much to be desired. It was just black plastic, and did not adhere to protocols."
"I dare say the site was altered because there was no proper procedure carried out to prevent contaminating the scene. … I do not know if they were well in the first interment or into the second," Morales said.
He also noted it is not possible to tell at a glance if the bodies were men or women without genetic testing.
A prosecutor said in an interview that they don't have any information about the third grave in Tetelcingo. It's possible officials will need to explore further into the site to determine if there are more graves.
Tranquilina Hernandez, mother of a missing girl in 2014, and who got a judge to order the opening of the graves, spoke during the excavation process.
"The truth is that the bodies were arranged without any order — good God, like garbage."
Source: El Universal.
Editor's note: A correction has been made in the first paragraph to note a mistake in translation. The clandestine grave site allegedly belongs to the Morelos state prosecutor's office.