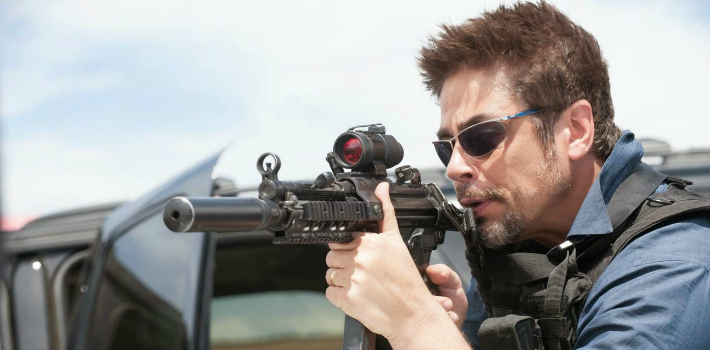 EspañolIt never ceases to amaze me how Hollywood can get away with exposing the US government's greatest violations on film. Sicario, the latest action-narco movie, is yet another sad example.
The backdrop is the US-Mexico border, which a billboard in the film written in Spanish declares a "no man's land." Cartels operate freely in northern Mexico, but the film focuses on how the US counter-narcotics apparatus also abuse its power.
We follow Kate, the main character played by Emily Blunt, an idealist FBI agent who joins an elite task force assembled to help fight the escalating drug war. Her mission is to eradicate the drug cartel responsible for murdering several members of her team.
She is soon confronted with ethical dilemmas, as her squad's methods are far from the professionalism she has vowed to abide by throughout her career. Her new partners Ted (Jon Bernthal), Matt (Josh Brolin), and Alejandro (Benicio del Toro), a mysterious consultant with a questionable past, show her the ropes in this highly dangerous environment.
The team embark on an unofficial trip across the southern border to apprehend an important drug-cartel boss. Once in Mexico, the operation fails to go as planned when unexpected threats come lurking. Events quickly thrust Kate into a crossroads where she must abandon all her principles or risk dying.
The plot is quick-paced and doesn't dwell on dialogue, revealing the darkest side of the war on drugs as it unravels: a lawless underworld that can be more violent than the constant infighting between cartels we see on the news.
[adrotate group="7″]Sicario, which means hitman in Spanish, alludes to the fact that both sides of this war have set up a system of clandestine murder operations. Using the FBI and DEA as cover, officials become mere assassins for hire, who see no other means to solve the problem. "Judicial prosecution has changed nothing on the streets," they argue.
Kate is the emotional character who reflects how several spectators view the crude plot's cynicism. The impunity with which one country's law imposes itself onto another goes beyond our wildest imaginations.
Sicario demonstrates that the war on drugs, instead of curbing substance abuse, is a criminal business in which "both sides" profit. They fight over money, territory, and political influence — all while countless innocents die.
The movie unfolds on the Mexican border, but there's no reason why it couldn't have been set in Colombia, Honduras, Guatemala, or any Latin American country that is on the "death corridor" toward the United States.
It should gives us pause that the largest consumer nation of drugs in the world also presents itself as the savior who will liberate other countries from their narcotics problems.