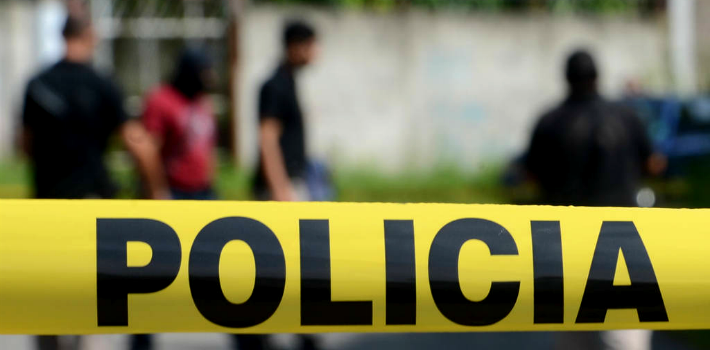 EspañolEl Salvador closed out 2015 with a staggering, record-breaking murder rate: 104 homicides per 100,000 inhabitants, which makes it the most violent country in the Americas, and one of the deadliest place on Earth to live, excluding war-torn nations.
Last May, Salvadorans experienced the most violent month since the end of the devastating civil war 24 years ago (1980-1992), and analysts at La Nacion predicted at the time that the homicide rate could worsen as the year progressed.
According to the police and forensic authorities, 6,670 homicides occurred in the country in 2015, 70 percent more than in 2014, and very close to the 1983 figure of over 7,000 homicides.
Miguel Montenegro, an activist from El Salvador's Human Rights Commission (CDHES), told the AFP news agency that Salvadorans "are really worried."
"We are living in unrest, because deaths are the result of continued impunity, lack of justice, and inequality."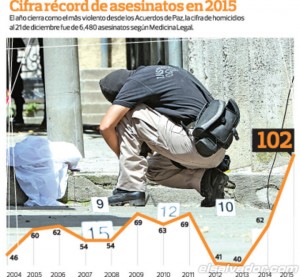 When President Salvador Sánchez Cerén took power in 2014, he abandoned the previous administration's policy of negotiating with gangs, and instead adopted a tough-on-crime approach through the program Plan Safe El Salvador.
Despite the surge in homicides, the president assured during his televised Christmas address that he would "firmly keep guaranteeing the safety and peace of communities."
To that end, he announced he would devote more resources to boost law enforcement and the armed forces, who had 85 officers die in 2015 while facing gangs in the country.
When compared to neighboring nations with higher populations, El Salvador recorded 1,500 more homicides than Honduras in 2015, and 900 more than Guatemala.
And the new year started off just like the previous one, with 72 people murdered so far.
More Homicides than Venezuela
Central America's smallest country has even surpassed Venezuela's homicide rate, which, according to the Venezuelan Observatory on Violence (OVV), also outdid its own record in 2015 with 90 homicides per 100,000 inhabitants — the second highest rate in the world.
The Spanish newspaper ABC analyzed homicide data in Latin America and the Caribbean and concluded that of the region's 145,000 murders in 2015, 19 percent occurred in Venezuela. In other words, for every 10 homicide victims in Latin America, three are Brazilian, two are Venezuelan, one is Colombian, and one is Mexican.
Positive Outlook in Honduras
Honduras, which once held the title of the world's most violent country, experienced a significant drop in homicide rates in 2015.
Despite ongoing and serious security challenges, the Honduran police reported that there were only 5,039 violent deaths last year, 852 less than in 2014.
Over Christmas and New Year's Eve this past year, the Central American nation registered its lowest murder rate in the last decade.