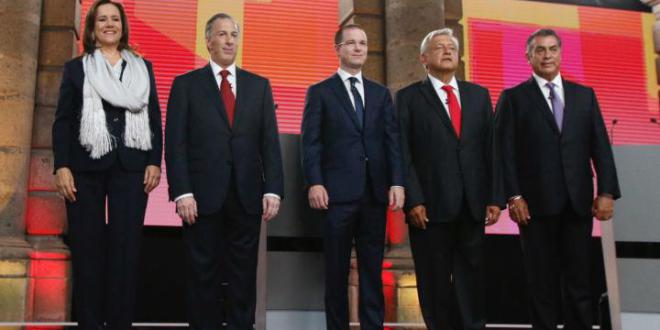 By Victor H. Becerra
This Sunday Mexicans saw the first of three debates required by electoral law between the presidential candidates. It was a debate with little space for discussion, improvisation, or surprise, clearly more concerned with protecting party interests than the right of citizens to an informed choice, displaying the candidates' contrasts. It was, to put it graphically, like a football match played in a stadium without an audience, without emotion or urgency. Although to be fair, when comparing it with any other presidential debate since 1994 (when the first was held in Mexico) it was agile and inquisitive, thanks in large part to the moderators Denisse Maerker, Sergio Sarmiento, and Azucena Uresti, who asked the candidates to go deeper into their proposals or respond to accusations. For the first time, the moderators did not resign themselves to the traditional role of merely controlling talk time allotted to candidates.
Realistically, the interest in this debate was the potential to watch an electorally serious setback for the leader in the polls, López Obrador, or else, a clear boost for either of the two candidates remaining major candidates, José Antonio Meade and Ricardo Anaya. Neither of those possibilities took place, at least for now.
And it is that López Obrador went to the presidential debate intent upon not falling into any traps, and with the aim of avoiding debate. He continuously returned, again and again, to the five or six key phrases of his campaign ads and speeches as always. It is no exaggeration to say that if the MORENA candidate had decided to send a hologram, programmed with the phrases that we have already known since 2006, perhaps he would have performed better than the elusive and fragile candidate, careless in his appearance, and looking tired and sick, that we saw. But he achieved his goals: to reiterate his talking points, not to stick his foot in his mouth, and not to risk his great electoral advantage.
As a result, Ricardo Anaya and José Antonio Meade are running out of time. So it is surprising that when they had managed to corral Lopez Obrador during the debate, denouncing the corruption of his collaborators and the properties that he allegedly hides, they decided to resume the attacks between them. It seems that Meade has learned nothing in these ill-fated weeks, during which his attacks on Anaya only sank him further behind. It is paradoxical that the PRI candidate, who throughout the debate boasted of his great "preparation", in reality, appears to have learned little to nothing.
In that sense, if there was a loser in the debate it was precisely Meade: without emotion, lacking in personality and charisma like a typical technocrat, bureaucratic, repeating until the point of exhaustion his many virtues (according to him), with few concrete proposals, with such poor preparation that he ran out of time to respond to Anaya's accusation that he was involved in the corruption scandal involving the PRI and its governors. If there is any change as a result of this debate, it will be that Meade may drop in the polls, points lost that I fear will not go to Anaya, but to López Obrador: Defections from PRI (and of other coalition parties around Meade or Anaya, like Nueva Alianza or the PRD) is for MORENA to López Obrador appear likely. If we continue on the same path in the less than 70 days remaining before the election, Meade will not have much of a political future. Thus, the idea that the government of Peña Nieto and the PRI could change their candidate, could be considered with growing concern, or force them to reach some kind of agreement with Anaya in the following weeks.
However, the first presidential debate did not foreshadow an inevitable winner of the elections. But it did allow us to see one of the leading candidates take a plunge, while another, López Obrador, appeared much less frightening, and even vulnerable. The debate will not mark a substantial change in trends. But for 50 years we have known that debates do not decisively influence the vote of citizens; rather their function, as far as possible, is to give information and clarity to the voter, and to discourage ignorance, confusion, and anger. And I think that for now, this debate fulfilled that purpose; it was not spectacular, but it covered the basics.