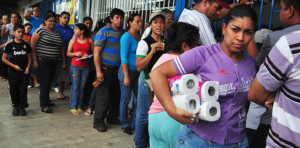 By Aurelio F. Concheso
Oddly enough, this is no joke. The Bolivarian Republic of Venezuela, through the Official Gazette No. 40.977, has appointed 17 senior military officers to solve the national food supply problem.
From now on, five major Generals, seven Brigadier Generals, three Rear Admirals and two Vice Admirals will act on overseeing specific items, without letting themselves be intimidated by irrelevant things like market rules, and the traditional distribution logistics that have worked effectively for many decades in other countries willing to pay attention to such things.
For example, there is a General now responsible for rice, whereas a Rear Admiral was entrusted with chickens. Three Brigadier Generals will be looking after cooking oil, sugar and beans. Chickpeas, peas, lentils and other grains, however, seem to have been left without oversight.
A Brigadier General from Military Aviation is in charge of toilet paper, sanitary towels and diapers, for some reason. He works, as well, as the Director of the Military Aviation Command Post.
Perhaps the appointment that makes more sense is that of the Vice Admiral Director of Staff of the Strategic Region of Integral Defense. This official is now responsible for fish, which is at least tangentially related to the ocean.
Venezuela is not going to improve if it tries to fix distortions that a mistaken economic conception created in the first place. This conception has lead to the harassment of private enterprises, a dysfunctional and absurd exchange rate system, price controls, an annual inflation of around 700 percent and the emission of fiat money, among other things.
If we apply solutions that aim to attack the effects instead of the causes, the result will be, most likely, a severe deepening of the already serious problems the Venezuelan population has to face.
The whole world, and more than 80 percent of Venezuelans of all political trends, know the government must admit that it followed the wrong path. Nothing will be fixed until it makes a 180-degree turn in economic policies.
Aurelio F. Concheso is a mechanical engineer and an entrepreneur moderating the economic radio show "Laotravía".