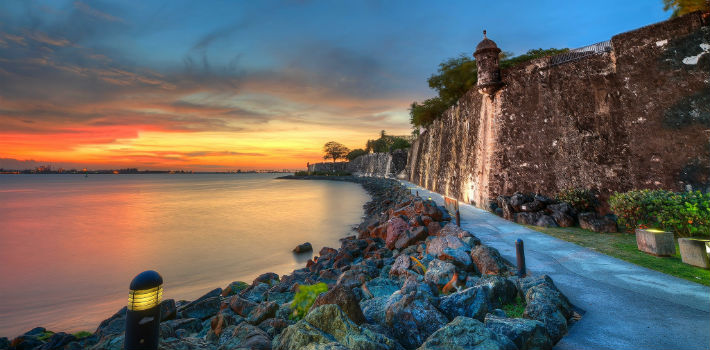 Thousands of sunsets ago, I fell in love with Argentina and its people: from the straits of Ushuaia to the wide Río del Plata estuary washing up to the nation's capital. During my first visit to Buenos Aires, I was mesmerized by the cats at the Recoleta cemetery and wondered why they felt so safe wandering among the cold mausoleums of the dead.
Little did I know that on my own island, Puerto Rico, there's a similar magical place. In the shadow of the walls of San José's Castillo San Felipe del Morro live thousands of cats who also prefer the dead rocks and the wild waves of the Caribbean Sea over the land of the living.
San Juan and Buenos Aires are some 6,000 kilometers apart, yet we share many similarities: the same language, culture, and sky. We share similar histories, and tragically, the same political failures. That must be why the cats avoid the city, exiled to the cold granite and marble tombs or the warm rocks by the sea, where they can live peacefully away from those who rule, or perpetrate misrule, as they please.
We now also share the pain of the tragic death of prosecutor Alberto Nisman, who fell victim to a system without soul, heart, or sanity. While newspaper headlines in Puerto Rico are not as sinister, they do announce a tragedy that we have long since seen coming: our commonwealth is flat broke. The colonial regime that has submerged the island in economic depression for the last two decades, and in political serfdom for over five centuries, is now bankrupt.
The press tells us that we have surpassed Argentina's government debt of US$167 billion. Like the Argentinean government, Puerto Rico has lived on borrowed money for the last 62 years, including the $500 billion that the United States has injected into our antiquated economy.
In other words, Argentineans should not feel alone. We Puerto Ricans have created our own corralito. Every Puerto Rican owes more than $47,000 in public debt from birth. The few of us who have a job owe more than $167,000. It's enough to make you want to join those cats on the rocks.
We've been a commonwealth tied to the United States for over half a century, and we don't have much to show for it. Six out of 10 Puerto Ricans are unemployed. Our property has dropped 40 percent in value. Savings and pensions are at historic lows, and over a million people, almost a third of our population, have been forced to migrate to the US mainland.
Puerto Rico is the epitome of a failed welfare state. If government incompetence were an Olympic event, we'd beat the Argentineans and the Greeks to the gold, silver, and bronze medals. We'd take the copper home with us as well if it existed, then sell it off to the Chinese for a few meager pennies. And it gets worse: unlike Argentina, we can't even take solace in soccer. There is no Club Atlético River Plate, Lionel Messi, or Boca Junior to save us.
Together, we're facing the collapse of our respective nations. But in either case, we can't blame the Yankees. Not even the seasoned lawyers played by Ricardo Darín and Solead Villamil in The Secret in Their Eyes would dispute that our governments have only themselves to blame.
We do have vultures around here, but they're not Wall Street investors. Our shared tragedies stem directly from the failure of our statist, centralized, populist, and authoritarian governments. They've succeeded in choking our middle class, our businesses, and the neediest among us.
We're both ruled by leaders that now lead the field in moral and economic bankruptcy. It's our own fault for voting in people who would be well suited to illustrations in the joint work of Carlos Alberto Montaner, Álvaro Vargas Llosa, and Plínio Apuleyo Mendoza: Guide to the Perfect Latin American Idiot.
We share in the same pain brought on by controlling governments, whether its the gaucho or boricua version. But we've also joined a worldwide club of failed economies and governments: Greece's Syriza, Argentina's Peronist Kirchners, Venezuela's Chavismo, Cuba's anachronistic Castros, Nicaragua's Chinese-backed Ortega, and now Puerto Rico, with its fraudulent Muñoz commonwealth.
The names may be different, but they all belong to the same cursed family of authoritarianism, populism, and neo-socialism. We may both find brief solace in our cemeteries and wild places. But in the end, it falls to all of us to return to society, and forge stronger, freer, and more prosperous societies — whether we're in the midst of the Caribbean, or at the end of the continent.
Luis Dávila is a lawyer and leading political commentator in Puerto Rico. Follow him @DavilaColon.
Translated by Daniel Duarte. Edited by Guillermo Jimenez.