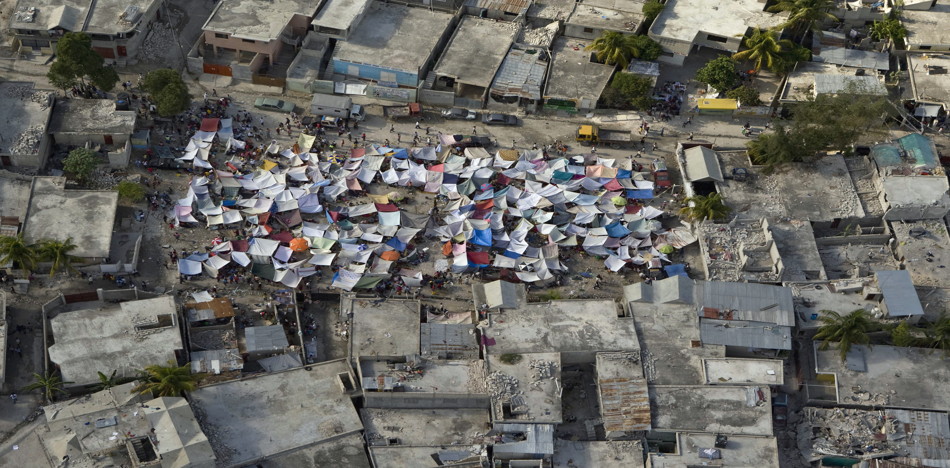 In 2010, a devastating earthquake rocked Haiti, resulting in the deaths of an estimated 200,000 people. Most of the important medical facilities in southern Haiti were destroyed, and the proximity of the epicenter to the capital Port-au-Prince was devastating. Haiti, already generally considered the poorest country in the Americas by most metrics, had woefully inadequate housing and infrastructure, even before the earthquake.
When I visited Haiti in 2012, I heard estimates that more than half of the rubble had yet to be cleared. Into the chaos and ruin left in the earthquake's wake stepped a number of international charities and aid organizations. Great Britain's Oxfam was a prominent one, with a large staff in Haiti.
Founded in 1942 as the Oxford Committee for Famine Relief, its original mission involved procuring humanitarian aid for war-torn Greece. Composed of a group of leading social activists, academics, and Quakers, it soon sprouted affiliates worldwide, and became a global icon with its mission of poverty eradication, disaster relief, migrant aid, and public policy advocacy.
Abuse of Trust in Haiti
Currently, it is reeling in the wake of a scandal involving alleged prostitution by numerous Oxfam staff members, and on Oxfam property, in Haiti following the earthquake. Obviously, it is a serious charge, and the optics look extremely bad. Oxfam and its activities are now being scrutinized by governments worldwide.
Winnie Byanyima, the director of Oxfam, pledged to eradicate this type of behavior in testimony before British Parliament, noting, "This is about abuse of power. This is about abuse of women and girls because they are powerless, they are vulnerable, they are voiceless…whether they have given them some money from an Oxfam program or from their pocket as their salary, it's still abhorrent, and we are ashamed and upset about it, and we're going to root it out of our organization."
Taxpayer Funding of Oxfam
But why was Byanyima testifying before Parliament? It is likely to do with the fact that Oxfam is, in fact, funded by British taxpayers.
Because of the good intentions purported by these organizations, often times few questions the operations and efficacy of their actions on the ground. When it comes to Oxfam, and aid organizations in general, this scandal is merely the tip of the iceberg.
Aid organizations are notorious for lavish amounts of spending on items that do far more to benefit the organization itself and its employees, than people on the ground: office space, paid fundraisers, outrageously overpriced supplies, rents, salaries, while only a small percentage of their annual budgets reach the neediest victims on the ground.
Advocacy for Left-wing Agenda
In the case of Oxfam, yes, they certainly do some good. But British taxpayers are questioning why they should be subsidizing Oxfam propaganda that often amounts to thinly veiled attacks on the fiscal responsibility being imposed by right-wing governments, and uses questionable statistics to greatly exaggerate metrics such as hunger and inequality.
Max Hastings notes that a 2011 study showed that not even a third of Oxfam's funds went to overseas relief efforts; rather, the bulk of its funding was used on domestic campaigns and advocacy, much of it with far-left undertones. And indeed, much of it could quite reasonably be classified as socialist propaganda.
There is no question that there are good people at Oxfam, with good intentions. But it is unseemly that as an organization that receives taxpayer funding, their "campaigns" often seek to sanctimoniously undermine capitalism, and call for bigger and more expensive government as the answer to all of our ills.
As Hastings further notes, half of Oxfam's funding comes from a British governmental entity called the Department for International Development (DfID), which also lavishly funds other charity organizations.
Oxfam has, as of late, specifically taken on government austerity measures of the Tory government, and claimed that Great Britain is in the throes of a massive hunger crisis. This latter claim has been widely scrutinized and questioned, and rightly so.
Of course, if Oxfam was an entirely privately-funded entity, then they would and should have the right to promote and pay for any advocacy campaigns within the confines of good taste and decency; but it hardly seems fair that an organization that spends most of its budget on domestic advocacy, as opposed to helping the developing world, should not be called into question.
Oxfam, in addition to aggressively investigating the Haiti scandal, should also consider whether it has seriously violated its premise of being an "apolitical" organization.