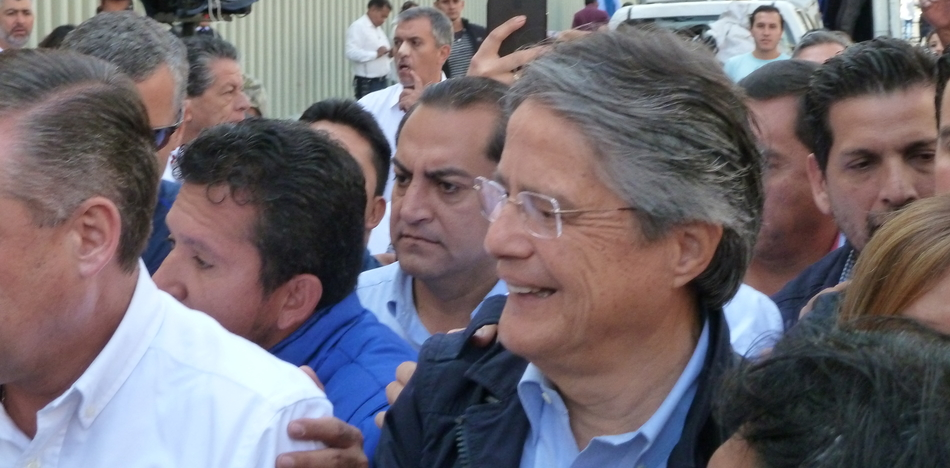 In the wake of a nerve-wracking 24 hours, former Guayas governor Guillermo Lasso appears to have narrowly advanced to face ruling party candidate and former vice president Lenin Moreno in a second round election, scheduled for April 2.
As of 11pm, the CNE (National Electoral Council) announced that with 92% of precincts reporting, Lenin Moreno led with 39.08%, while Guillermo Lasso trailed in second, with 28.43%. Both candidates asked for calm as results come in, with the CNE warning that they may not have complete results for 5 to 8 days. Andres Paez, Guillermo Lasso's running mate on the CREO ticket, called for their supporters to gather in front of the CNE in north Quito to make their voices heard.
Under Ecuadorean election law, a candidate needs 50%, or 40% with a 10% margin of victory to win outright in the first round. Lenin Moreno appears to have narrowly missed reaching the 40% threshold and will thus be facing a hard fought campaign with Bank of Guayaquil head Guillermo Lasso.
Both Alianza Pais candidate Lenin Moreno and current president Rafael Correa acknowledged the possibility of a second round, although Moreno still contends that according to his projections, he will triumph in only one. Rafael Correa further warned via his twitter account, that if Ecuador faces a second round, they should be prepared for a "dirty campaign" from the opposition.
Yesterday at 9:30am Lasso arrived at the Universidad Tecnologica Equinoccial in the north of Quito to accompany his running mate Andres Paez, where he was greeted by throngs of supporters of his Movimiento CREO. Just minutes after the departure of Lasso and Paez, Lenin Moreno arrived at the same polling place to vote.
Soon after the closing of the polls third place finisher Cynthia Viteri of the Partido Social Cristiano, announced that she would support Guillermo Lasso in eventuality of a second round. Paco Moncayo, on the other hand, acknowledged the election results but announced that he would support neither Moreno nor Lasso.
The four early exit polls that were released on Ecuadorean television at 5pm showed a range of outcomes. Two showed a second round, with Moreno failing to reach the 40% threshold, and two showed him reaching 42% and 44%.
Lenin Moreno's Alianza Pais supporters waved the party's trademark lime green and midnight blue flags on Avenida de los Shyris, in the north of Quito, with their confidence boosted by the exit polls. At 8pm when Ecuador's National Electoral Council showed a tighter race than expected, the crowd quieted. With results slowly trickling in, at 9:30pm Moreno took to the stage to address supporters, expressing confidence that he would win in one round, or "una sola vuelta", but also acknowledged the possibility of facing off against Lasso in April.
Moreno alluded to his confidence in oustanding returns from coastal Manabi province and votes from Ecuadoreans living abroad, which the Alianza Pais campaign believed would be favorable to them. The former vice president then proceeded to serenade his nervous supporters with nearly an hour of ballads, demonstrating his musical talents.
However, despite Moreno's confidence in strong support with Ecuadoreans abroad to put him over the finish line, the Miami Herald reported that after counting 57% of the ballots from the United States and Canada, Moreno led Lasso 38% to 30%, roughly the same as the margins within Ecuadorean territory.
Like its Andean neighbors in recent presidential elections, Ecuador is likely to be facing a fiercely contested race, with a photo finish. Despite Ecuadorean desires for change, Rafael Correa remains relatively popular, and his Alianza Pais party has deep support among the country's working class, as well as significant electoral resources at their disposal.
Should the elections head to a second round, Moreno and Lasso will face a nation that is suffering economically. Despite the relative political and economic instituted during Correa's ten year rule, Ecaudor has been hammered by falling oil prices in a nation where petroleum revenues account for 30% of government budgets and 40% of export earnings.
Moreno has promised to continue Correa's "Citizens' Revolution" and promised to expand social benefits for the poor and working class. Lasso has denied plans to reduce social benefits, but has heavily emphasized his entrepreneurial vision for a better Ecuador: lower taxes, less business regulation, free markets, and removing trade barriers. He has also promised to push for Ecuador to join the Alliance of the Pacific trade block, which includes key neighbors Chile, Peru, Colombia, and Mexico.
Perhaps no one has been paying more attention to the current elections that wikileaks founder Julian Assange, currently holed up at Ecuador's London embassy for more than 5 years. While Moreno will defer to Rafael Correa's decision to maintain Assange's asylum, Lasso has indicated that he will "respectfully ask Senor Assange to leave the embassy within 30 days."
Assange has called his Sweden prosecution politically motivated, and alleged that it is a pretext to seek his extradition to the United States. The relationship between Assange and the Ecuadorean government has been rocky at times. Diplomatic staff have complained of his nearly five year stay, and the embassy even went so far as to block his internet, when it appeared that he was influencing the 2016 US presidential elections.
Meanwhile, in Ecuador, all eyes are on the CNE as results trickle in. Both sides appear confident: Guillermo Lasso has predicted that there will be a second round, while Moreno has asserted, perhaps slightly less confidently, that final results will prove that he has won in one.
While the opposition has pledged to be vigilant of fraud, the president of the CNE, Juan Pablo Pozo, expressed confidence in the legitimacy and transparency of the election results.
The question on all Ecuadoreans' minds until the end of the tally: With 8% of ballots still outstanding, can Moreno gain a percentage point and reach the crucial 40% threshold?