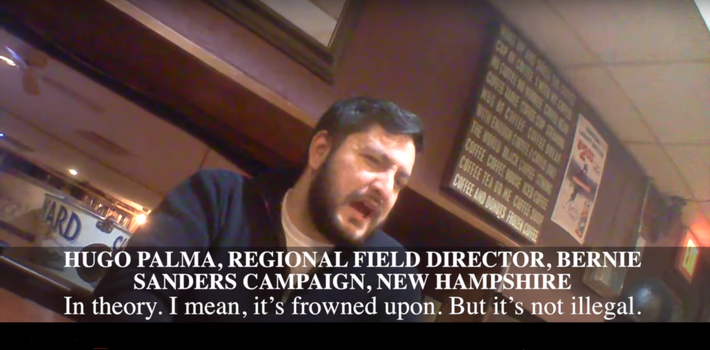 Project Veritas, a conservative group that carries out sting operations to expose wrongdoings in politics, reported that several staffers from Bernie Sanders's presidential campaign committed voter fraud in New Hampshire on February 9.
On February 10, Project Veritas released a hidden-camera video in which poll workers instruct non-residents to vote for Sanders in the New Hampshire primary.
In a follow-up video, released on February 18, top Sanders staffers are seen admitting to violating the state's electoral laws.
The Washington Times reports:
The second video focuses on Hugo Palma, Mr. Sanders' regional field director, who says on hidden camera that he had registered using the field office address in order to vote in the New Hampshire primary even though he lives in Colorado Springs.

Other staffers said the practice was commonplace. New Hampshire's election law says that voters "must be domiciled" in the city or town in which they register and must sign an affidavit when registering agreeing that their domicile is "that place, to which upon temporary absence, a person has the intention of returning."
[adrotate group="7″]However, as seen in the video, Palma used the Sanders field office address as his "domicile address," not the friends' home where he stayed for several days during the New Hampshire primary. Furthermore, the man says he has no intention of returning to the state.
The local staffers seem to have been acting with their supervisors' consent:
Another staffer said the "higher ups" in the campaign had encouraged them to vote in New Hampshire as long as they didn't also vote in another state.

"Everyone else in the office is also like claiming domicile here," said a woman identified as staffer Donna Waterman in an audio recording. "Even though that's not true. Even though we are not planning on coming back, but it's super, super easy to register in New Hampshire, because you bring in a piece of mail, and that's claiming domicile."
New Hampshire Assistant Attorney General Stephen G. LaBonte told the Washington Times that he had seen both videos and is conducting a formal investigation.