Undercover investigations have revealed brutal butchering of dolphins for shark bait off Peru's Pacific coast. Such has been the ire of conservationists, they have compelled Lima to pledge a crackdown against the carnage.
In a joint press release on Monday, nonprofits BlueVoice of Florida and Mundo Azul of Peru shared damning reports on the practice, and a separate Ecostorm expedition documented the "unbelievable cruelty." In addition, Hardy Jones, executive director of Blue Voice, told the PanAmerican Post on Wednesday that over thirty groups from eleven countries — including the United States, Great Britain, Japan, Hong Kong, Canada, Australia, Italy, and Mexico — have now signed a statement condemning this practice.
Stefan Austermuhle, president of Mundo Azul, said of his expedition, "what we saw was unimaginably horrific." After being harpooned and hauled on deck, fishermen beat "the pitiful dolphin" with a club. "All I could do was continue recording the event in the hope that making the world aware of this tragedy [would] somehow bring an end to it."
Austermuhle said fishermen capture approximately 15,000 dolphins for bait and food yearly in Peruvian waters. Mundo Azul based their calculations on a fleet of 545 local artisan vessels that set to sea at least six times per year and kill up to six dolphins each excursion.
Jones emphasized that just minutes after the network posting, pledges arrived to back a demand that Peru enforce laws already on the books that make killing dolphins illegal. BlueVoice fully funded the Mundo Azul expedition and gave a limited contribution to UK-based Ecostorm's earlier endeavor.
Since March of 1996, hunting dolphins has been completely banned in Peru, in accordance with international agreements and Peruvian Law No. 26585. It constitutes an environmental crime that must be prosecuted and punished, said the South American nation's Fisheries Deputy Minister, Paul Phumpiu. Peru's Production Ministry affirmed that it is state policy to protect the environment and condemned this illegal slaughter of dolphins committed by individuals who "tarnish the work of men of the sea."
Former Peruvian President Alberto Fujimori, in July of 1996, decreed that this law also prohibited their consumption through either fresh or processed meat and the landing of dead animals or their parts with the intention of consumption. It also outlawed the tormenting, injury, or intentional mutilation of these dolphins. Furthermore, protected species stranded alive with a chance for survival are to be returned to the ocean, as well as those caught alive as by-catch in nets.
Dolphin fishing was already prohibited the year before, yet the offense was punishable only with a fine. Violations currently carry jail sentences of one to three years with the loss of permits or licenses for 180 days.
Phumpiu noted that Peru's Fisheries Institute (IMARPE) has been commissioned for a study to assess the extent of the dolphin slaughter and potential damages to the ecosystem. Peru has also designed a National Plan of Action aimed at regulating and penalizing shark-related violations that will take effect in the middle of 2014.
"Action is needed now," said Austermuhle of Mundo Azul. "Viable and immediate measures [should] be taken in order to stop the massive ecological crime committed by Peruvian fishermen illegally killing dolphins for shark bait and human consumption. It is necessary to do more than simply conduct studies."
Our hope is that government actions go beyond a survey, Jones of BlueVoice added in a telephone interview.
"Mr. Austermuhle has been in constant contact with Deputy Minister Phumpiu and the ministries of environment and production — where the meetings show promise . . . [However,] if the government in Lima doesn't act immediately and forcefully, Peru may eclipse Japan as the world's villain when it comes to the slaughter of dolphins."
One of the measures pending IMARPE's recommendations is a temporary veto on shark fishing to discourage the use of dolphins as bait. Authorities are contemplating all kinds of actions, even "banning the fishing of certain species," Phumpiu insisted. The deputy minister also reminded people that regional governments hold jurisdiction over fishermen. Phumpiu said these regional bodies would ask local officials to investigate and identify offenders with the help of the national police, port authorities, and the Environmental Ministry.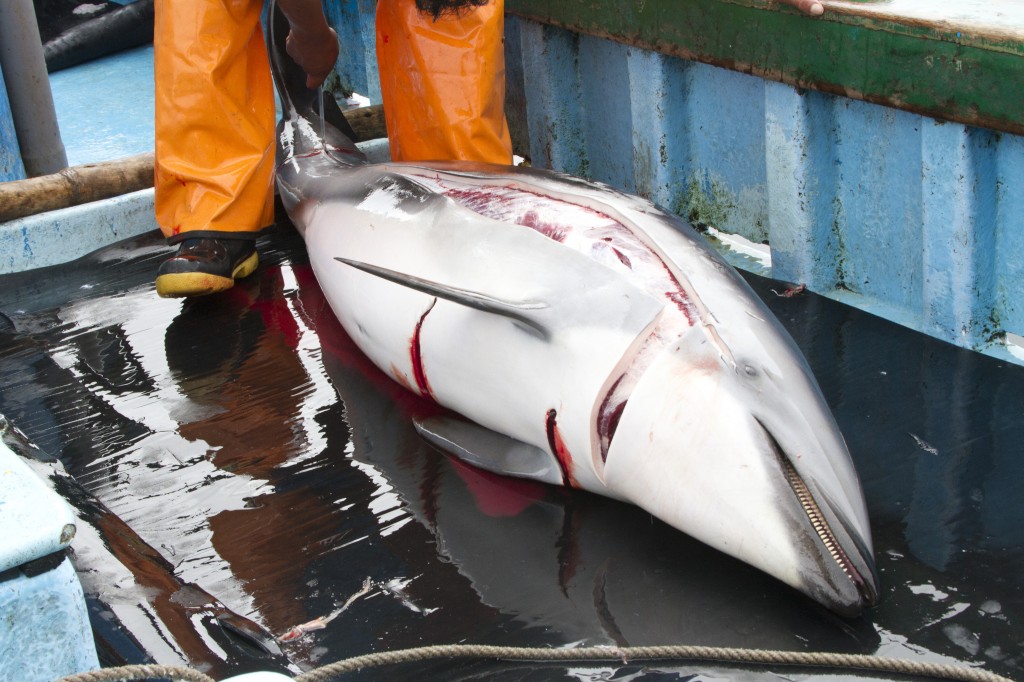 Jim Wiggins, from the Ecostorm investigative team, wrote that "an upsurge in shark meat consumption over the last decade within Peru, the high prices paid for shark fins from the Far East, combined with the ever-rising cost of fish bait" were contributing factors in the widespread hunting of dolphins, known as chenchos or "sea pigs" by Peruvian fishermen.
Chencho meat is effective bait for the blue shark, a fisherman told Wiggins. "I understand that to hunt the dolphin is illegal. But for me, it's a necessity . . . bait for shark is very expensive."
Sharks are no less the victims in this killing chain, but shark fishing is legal in Peru, albeit highly regulated. Fishermen then sell the meat on the national market, while fins — a delicacy in Asian markets with prices near US$800 a pound — are separated in port by an intermediate fish dealer for export.
Wiggins described his shock as fishermen — upon catching a blue shark — sliced off the snout just below the shark's eyes. Mako sharks hold a different fate, their spines are severed with a cut behind the head.
One blue shark was pregnant and "as the belly was opened up . . . dozens of perfectly formed baby sharks slid out of the mother's entrails," wrote Wiggins. His pleas to the crew to put the baby sharks back in the sea ended in a "novelty as the babies were rounded up and tossed over the side."
"Ultimately there can be no solution to the dolphin killing without controlling the shark fishery. As long as they fish sharks on the high sea they will kill dolphins," said Austermuhle.