El Salvador's struggle to "guarantee access to clean water" may end in landmark legislation that would ban metal mining to protect endangered freshwater supplies.
Water quality and accessibility hold a grim reality for Salvadorans. Some 90 percent of surface water is already contaminated, mostly due to agricultural runoff and deficient sewage processes, according to the country's Ministerio de Medio Ambiente y Recursos Naturales (MARN). A fifth of the rural population doesn't have an "improved drinking water source," according to the World Bank.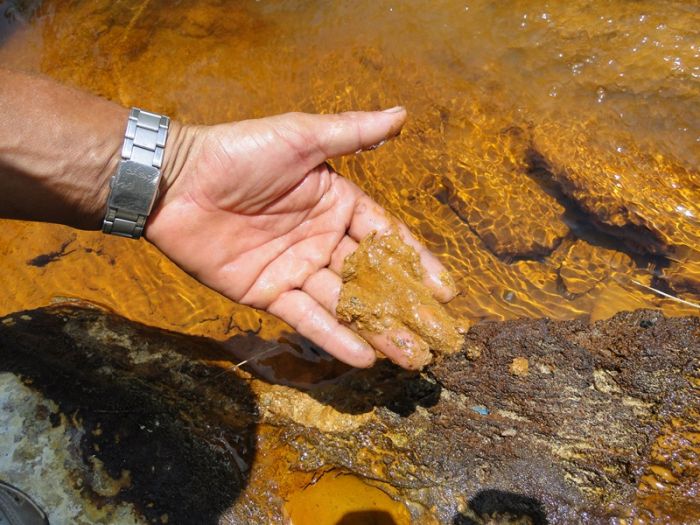 The 178-point Ley General de Agua, a broad bill that would prioritize human consumption over industrial and commercial uses of water, was introduced in March 2012 and is currently under debate in the Legislative Assembly. The MARN's website has posted a poll which questions whether lawmakers should "urgently pass" the bill — and over 95 percent of the almost 1,200 respondents have answered yes.
There are currently no active metal mining operations using water-intensive cyanide ore processes in this densely populated Central American country. President Mauricio Funes has continued a policy begun five years ago by his predecessor, Antonio Saca, against new mining permits, yet cross-border mining continues to threaten water sources.
That's one reason why the National Roundtable Against Metallic Mining in El Salvador (MESA), a coalition of environmental, community, and human rights organizations, claims that even the Ley General de Agua is not enough.
Their letter to lawmakers pushes for legislation that bans mining outright. A ban — which some 62 percent of Salvadorans back — would protect against the consequences of a "predatory" mining industry within El Salvador and "give legitimacy . . . to the Salvadoran government to require Guatemala and Honduras to suspend mining projects" located on their borders.
A ban would also help to end the "persecution and death threats" of environmental activists and journalists. Last week, MESA released a statement condemning the recent assassination attempt of an activist in his home in Ilobasco, a small town east of San Salvador and in the department of Cabamas.
Two mining companies — Vancouver-based Pacific Rim and Milwaukee-based Commerce Group — are challenging El Salvador's right to protect limited water sources in a costly legal battle at the World Bank's International Center for Settlement Dispute. Their US$400 million suit "is a form of extortion" against the Salvadoran government's decision to refuse permits for mining operations, wrote MESA.
Commerce Group ran a mining operation near the San Sebastián River basin until 1999. A 2012 water analysis by the MARN found that the river's readings reached nine times the accepted levels of cyanide.
Pacific Rim then received an exploratory permit in 2002 for a large gold mine in the basin of the Lempa River, which supplies nearly half of the country's water, including the capital of San Salvador. Pacific Rim has alleged in the lawsuit that El Salvador's failure to approve an extraction permit "violated its investors rights."
MESA contends that a law which codifies a ban on metal mining is preferable to a mining policy at the discretion of each successive president. The next presidential election is set for March 2014 — where a strong turnout for the pro-mining opposition could close the window on any possible ban.