Mexico is ready to work with China to put into practice the agreements reached by the countries' leaders, Foreign Relations Secretary José Antonio Meade has announced.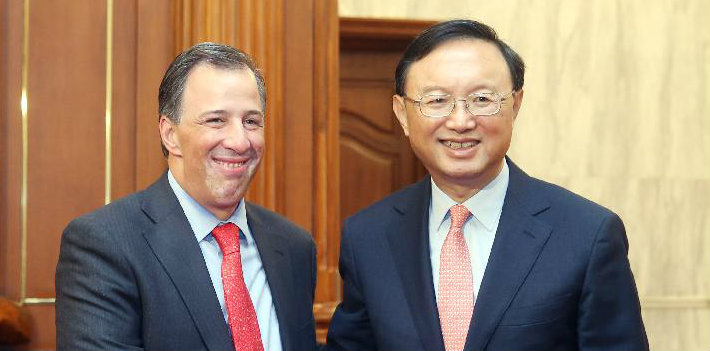 Meade led a Mexican delegation that met with Chinese State Councilor Yang Jiechi in Beijing on Monday to discuss expanding "bilateral cooperation in politics, trade and mutual investment in order to achieve common development goals." China is Mexico's second most important trade partner after the United States.
Yang told the delegation — that included Secretary of Communications and Transportation Gerardo Ruiz Esparza and Secretary of Tourism Claudia Ruiz Massieu Salinas — that China attaches "great importance to the development of friendly and mutually beneficial cooperation with Mexico." He added that his country will strive to enrich a bilateral strategic partnership to benefit the people of both nations.
Meade also met with Singaporean Deputy Prime Minister Tharman Shanmugaratnam and Foreign Minister Kasiviswanathan Shanmugam in Singapore, the second largest investor from the Asia-Pacific region in Mexico after Japan, last Saturday to finalize the details for a planned visit by President Enrique Peña Nieto.
Sources: Xinhua News Agency. Read More » Latin American Herald Tribune. Read More »