EspañolFor once, Argentina and Venezuela are moving in opposite directions. While Argentineans top the 2015 EF English Proficiency Index among Latin Americans, Venezuelans are in second-to-last place after Salvadorans. What is worse, Venezuelans' English skills have been declining during the past four years.
The 34-page report, released on November 3, presents the world's leading ranking of countries according to their English skills. The index also identifies global and regional English-language learning trends and analyzes the relationship between countries' English proficiency and their economic competitiveness.
The 2015 document ranks 70 countries on five continents using test data from 910,000 adult English-language learners. EF is an international education company that focuses on language, academics, and cultural experience.
[adrotate group=8]
"The EF index shows the power of big data to inform education policy, investment decisions, and classroom practices," EF's Director of Research Minh Tran said in a press release.
In other words, the report is groundbreaking in that it links the level of English proficiency in a country with Gross National Income per capita, quality of life, and internet connectivity, among others indicators.
Users can also find an online comparison between any two countries measured in the index. If we compare Argentina and Venezuela, for instance, we find that the countries are ranked 15th and 59th out of 70 nations, respectively.
The report also shows that, in Argentina, the average 25-year-old has 9.8 years worth of education. In Venezuela, meanwhile, the average 25-year-old has only 8.6 years of education, despite the fact that, according to the World Bank, Venezuela spends 20.7 percent of its GDP in education, while Argentina assigns only 14.7 percent of its GDP to education.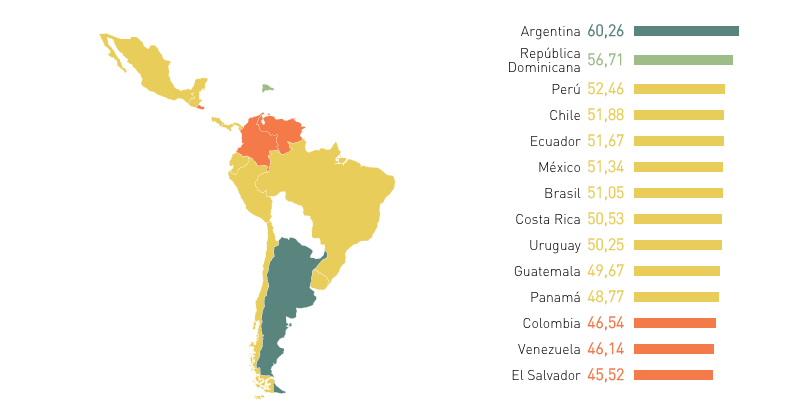 Argentina is the only country in the region with a "high" level of English proficiency. The next Latin American countries to appear in the ranking are the Dominican Republic* and Peru, which occupy places 24 and 35, respectively. Their low scores indicate that the residents of these countries have a "medium" to "low" level of English skills.
El Salvador (61), Venezuela (59), and Colombia (57), meanwhile, were among the lowest-ranked Latin American countries with a "very low" level of English proficiency.
The report explains that "Latin America has been on a positive trajectory since 2007, but adult English proficiency remains weak in the region."
Concerning Venezuela, it concludes that the country's results are consistently weak. "Despite mandatory education, poverty and social disparity limit educational opportunities for a substantial portion of the population."
Sweden, the Netherlands, and Denmark were the countries with the highest levels of English; Libya, Cambodia, and Saudi Arabia were among the world's lowest-ranked countries.
English proficiency among Argentinean adults is in line with European averages, and, according to the report, Argentineans "have made significant progress over the past eight years." Argentina also has the highest literacy rate in the region, as well as one of the highest TOEFL scores in the world.
Additionally, the index finds that women speak English better than men in almost every country surveyed, "but this gender gap is absent in the very high proficiency countries in Northern Europe."
However, in Venezuela, men (46.43/100) got better results than women (45.95/100.)
Also, the Middle East and North Africa, which are considered a single region, are alone in experiencing declining levels of English proficiency.
For Susan Bottini, an Argentinean English teacher who has just retired, her fellow citizens' high performance is due to the fact that a command of English is usually required at job interviews.
"Students notice that, if they don't have an acceptable level of English, they won't be able to find a decent job," she tells the PanAm Post.
Bottini, who has worked for both private and public schools in her professional career, says that the demand for English has increased in the past 10 years.
"Even the elderly want to learn. They need it to surf the internet."
She adds that a lack of basic English can leave someone "out of the system."
*Editor's note: a previous version of this article incorrectly listed Peru, and not the Dominican Republic, as next on the proficiency list after Argentina. We regret the error.