Español"Are we being followed?" I ask with a shaky voice, without shame. We are driving around Havana in a white car from the 1980s with three members of the Cuban Patriotic Union (UNPACU), including José Daniel Ferrer, its general coordinator and the regime's most feared man.
Even though Ferrer was born and raised under the island's communist rule, he managed to survive government indoctrination. He's been a fighter for democracy and the rule of law for years. He believes all men are born free, and Cubans should have the right to speak their minds without fear.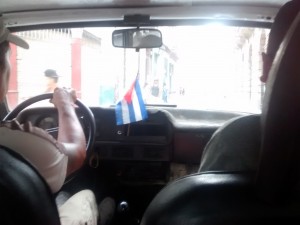 "They follow us to find out where I am, and where I'm going; who's with me; who I meet with; and what our plans are. Our organization is known for carrying out activities in parks and public spaces," he says.
He tells me about UNPACU's upcoming events while I capture everything on film, even though a car with two Cuban intelligence officers are tailing us.
"UNPACU's priorities are to secure the release of three activists who tried to get close to Pope Francis during his visit last month: Zaqueo Báez Guerrero, Ismael Bonet Reñé, and Lady in White María Josefa Acón Sardiñas," Ferrer explains.
He says all three began a hunger strike after the police arrested them. "Their situation is very concerning."
I invite him to lunch at a pizzeria, and he sits next to me and lowers his voice. While we wait for our food, he tells me about the time he was nearly killed.
"They were going to shoot me. A man was sent to my jail cell to persuade me to leave the country, or they would kill me. I told them, 'go ahead and kill me then.'"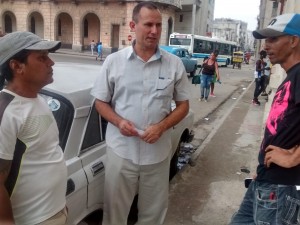 Ferrer is much more than a Cuban dissident. He was among the 75 activists the regime jailed during the Black Spring of March 18, 2003, for promoting a popular referendum to restore democracy in the country.
Seven years later, and despite heavy international pressure, he decided to stay in Cuba and rejected an offer to be exiled to Spain. In 2011, the government released him along with the last of the activists jailed eight years before.
These days, his top priority is to get Pope Francis to intercede in favor of the three activists arrested during his visit.
"[Cuban authorities] have told their relatives that they are prosecuting [the activists] for breaching the pope's security," he explains. "Their intention was precisely to raise awareness over human-rights violations and the increasing repression against Ladies in White, UNPACU, and other groups in Cuba."
As for assistance from other actors outside the island, Ferrer says they are in need of "international support and solidarity from the free world."
He had hoped to convey the plight of Cuban political prisoners to recently arrived US diplomatic officials, although he says they "already know" what their situation on the island is.
"We want them to hear it from us."
[adrotate group="8″]
In Santiago de Cuba, a southeastern city 870 kilometers from Havana and a UNPACU stronghold, their members regularly distribute leaflets and compact discs to locals.
"Down with the hunger. Down with the repression. For liberty and democracy. This is what we share with the people on the streets in the east," he recites by heart. "Enough of the Castros, I want a free Cuba."
Before paying for our food and leaving the restaurant, he shows me a video from one of his fellow UNPACU activists, who was jailed for writing a message with rocks on the side of the road: "Viva UNPACU."
As we leave the pizzeria, two other UNPACU members greet us outside. Both are eager to tell me the sorts of stories that will never make it to any Cuban daily.
Ferrer knows his phone is bugged, but he answers every call he receives anyway. He keeps track of his fellow dissidents — his "brothers in the struggle" — and everyone's legal situation.
Their day is just getting started. The activists plan to hand out leaflets in the streets of Havana as part of a campaign to promote the release of their colleagues.
He smiles as we say our goodbyes, wrinkles forming around his eyes — a tired, yet joyful look of a man who refuses to lose hope.