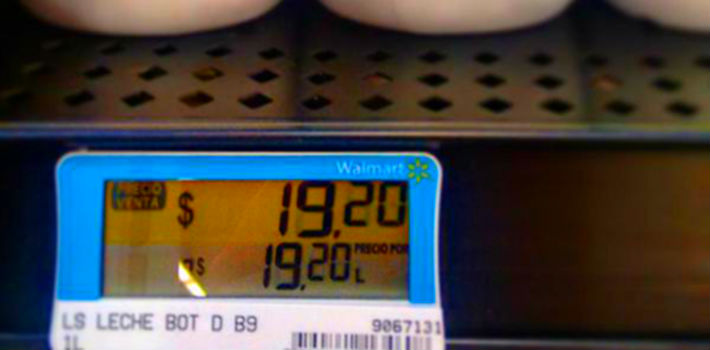 Español"I'm laughing to keep myself from crying," a Walmart customer in Argentina told the PanAm Post. She was talking about the brand new digital price tags that large supermarkets in the South American country have begun using, making it easier for employees to mark up prices at a moment's notice.
Both local and foreign-based chains, like Walmart, Coto, and Jumbo, have switched over to the new system, and far from being a passing fad, electronic price tags are here to stay.
Various customers told the PanAm Post that they believe it's no coincidence the new system was put in place following eight years of high inflation in Argentina, where marking up prices has become routine. Most customers were similarly pessimistic about the economy's future.
Current levels have placed Argentina behind only Venezuela as the country with the world's highest inflation rate. Display racks in stores offering price-controlled products, or "Careful Prices," are difficult to get, flirting between shortages and quotas.
Over the last month, the new digital labels have created a buzz on social media, where customers share pictures of a wide range of products, including soap, french fries, snack foods, coffee, towels, and milk.
The PanAm Post reached out to representatives of the Argentina-based Coto Supermarket, but they were unavailable for comment. A Walmart spokesman, however, said the labels were implemented "several months" ago and are currently installed only in select stores.

https://twitter.com/pablo_1905CAI/status/453299503781912577
"No, there is no inflation… at Wal-Mart, they're using digital price labels to change prices quickly."
Bloomberg predicts Argentina will face an inflation rate of 22 percent in 2015. This means the country will remain among the list of nations with double-digit inflation: Venezuela (72.3 percent), Ukraine (17.5 percent), Ghana (13.2 percent), Russia (13 percent), and Egypt (10.6 percent).
Argentinean shopper Gabriel Drach says he has no doubt the digital price tags are a way for stores that must constantly update their prices to save time and money. "This is very useful in inflationary countries," he says.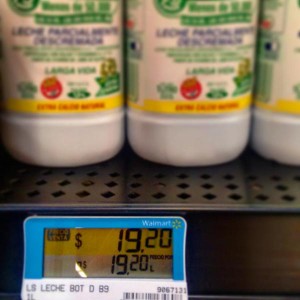 Another frequent supermarket customer, Sebastián González, says the new devices will provide an "easy and instantaneous" way to update prices. "I guess this way they can change prices while the store is open and customers are still shopping. They won't need to do it at night when they are restocking," he says. "It's ideal for inflationary times."
Argentinean economist Alejandro Sala agrees. "I assume the prices can be changed by way of a central computer by a single person, who can do so quickly, rather than several people [changing labels by hand]. Furthermore, I think its usefulness is not limited to times of high inflation," he says. "Even during more stable periods, supermarkets can adapt their prices to the changes in supply and demand."
The "Menu Cost" of Inflation
Iván Carrino, an economist and editor of the Monthly Economic Report of the Argentina-based economic research firm Inversor Global, says the electronic labels could become a way to reduce the amount of resources wasted on trying to keep up with the pace of inflation.
Problems with inflation, however, go beyond just the "menu cost," says Carrino, and what's more important is the issue of how newly printed money gets distributed.
"New money doesn't just fall out of helicopter to everyone below in equal amounts. Some get it sooner than others, and those who get it first will benefit from being able to spend new money at old prices. Everyone else only gets it after prices have already gone up," he explains.
"This is why inflation is considered a tax. The government (the first one to receive the money) increases its purchasing power at the public's expense."
Carrino adds that inflation yields uncertainty for the future of Argentina's economy. "It complicates planning, and it's impossible to think about the long term. It kills credit and investment, and the country ends up with worse living conditions, keeping the economy from developing."