EspañolDemanding freedom for political prisoners, reading a foreign newspaper, sharing anti-communist jokes, attending mass, and providing internet access to young people: all are activities that can land you in jail in Cuba.
In the weeks leading up to the Summit of the Americas in Panama, Cuban police arrested at least 610 individuals for thinly veiled political purposes, according to the latest report by the Cuban Commission for Human Rights and National Reconciliation (CCDHRN). The figure represents the greatest number of arbitrary detentions in the past seven months.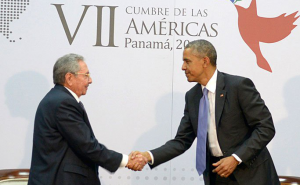 During the Summit of the Heads of State in Pamama on April 10 and 11, US President Barack Obama met with his Cuban counterpart Raúl Castro to move forward on efforts to normalize diplomatic relations between the two countries.
Obama emphasized that his administration would continue to defend human rights, saying that "not jailing people if they disagree with you, is the right idea." The US leader meanwhile noted that he had asked Congress to lift the economic embargo on the Cuban regime.
Castro told the Summit that 97.5 percent of the Cuban population had voted in favor of socialism, and that no one could accuse him or his predecessor and brother, Fidel, of forcing Cubans to live under communist rule.
Police Paranoia
The report, drawn up monthly by CCDHRN, details the arrests carried out by Cuba's political police, noting the city where the arrest took place, the names of victims, the alleged crime, and the name of their source.
The Institute for Cuban and Cuban-American Studies (ICCAS) has compiled the three most recent CCDHRN reports about the arrests, physical violence, acts of violence, and slander carried out by the Cuban regime.
According to the ICCAS document, January 2015 saw 178 arbitrary arrests, of which 48 involved violent assaults on the victim by police forces. The figure rose to 492 in February, and 610 were detained in March.
In January, police arrested Sergio Luís Pérez Betancourt, of the Patriotic Union of Cuba, and independent activist Rolando Reyes Rabanal, and detained them for almost three hours for having organized an event in commemoration of the birth of writer and national hero José Martí.
Other dissidents were arrested to prevent them from attending Sunday mass, and were later abandoned several kilometers from their home cities. In multiple instances, pro-government activists vandalized the houses of opposition figures and threw stones through their windows.
Reading the foreign press, trying to attend a political meeting, and seeking to open a headquarters for the Liberal Party of Cuba, were also among the causes registered in the ICCAS review of the motives behind arrests.
Other Cubans were harassed for their work in libraries: Lenier Cruz Safrán, a member of the Patriotic Union, was detained for 96 hours after police accused him of providing internet access to young Cubans.
Twelve members of dissident organization Damas de Blanco (Ladies in White) were attacked in February for trying to participate in a debate. Another 10 citizens were held under arrest for four hours for sharing copies of the UN Declaration of Human Rights.
"No Rule of Law in Cuba"
Kirenia Yalit Nuñez, a Cuban psychologist and a member of the Commission that carried out the report, told the PanAm Post that some had hoped that warming ties with the United States would produce greater flexibility from the Cuban authorities, "but once more they've shown that isn't going to happen."
The most common arrests, the activist explained, are of members of social organizations trying to meet for group activities. Police typically swoop in slightly before the meeting begins — or occasionally immediately afterwards, just as members are leaving the building.
Police tend to act against any gathering of more than 10 to 15 people, Nuñez added: "It depends on the number of people, the activity, and the kind of organization it is."
Those detained in such contexts are typically the luckier ones, however — "these kinds of arrests are of a short duration, they run between one and 72 hours."
While the majority are hauled off to police stations, Nuñez emphasizes that "now they're using a warehouse to put leaders of several organizations in." In some cases, no files are kept of the arrest, something which the Ccdhrn member described as "illegal as well as arbitrary."
Micaela Hierro, founder of the Network of Young Latin Americans for Democracy in Cuba, argued that Castro is playing a double game.
"On the one hand, he's seeking an opening, and it seems as though he's taking measures to open Cuba up; and on the other, he's taking measures to stay in power. He keeps repressing, and spreading fear so that no one is encouraged to call for more rights than the regime is disposed to recognize."
Hierro explained that in terms of political rights, little has changed, and that an anticipated economic opening up is "a farce," as the levers of the economy remain firmly under regime control. "There are no fair rules; there's no rule of law," she concluded.